AMERICANS WEIGH OPTIONS WITH SPITS
Americans weigh options with Spits looks at the likelihood of Windsor recruiting two prospects that they recently acquired in a trade a few weeks back. Has Warren Rychel and Bob Boughner burnt some bridges after calling out American Jordan Schmaltz in his decision to pursue NCAA hockey over the OHL.
SUBWAY SUPER SERIES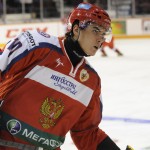 Last week the annual showcase series between the CHL and Russia wrapped up as Russia won the final game of the series against the Western Hockey League team. Russia ended up playing to a 3-3 series record with two wins over Team QMJHL and their split with Team WHL. Team OHL remains undefeated in the Subway Super Series (18-0) after winning both games versus Russia.
Not everyone was excited about the Super Series though….Super Series Super Boring
Also, Subway Super Series
2012 NHL ENTRY DRAFT
Neate Sager of Yahoo!Sports shares his interview with an upcoming NHL prospect making big strides in Plymouth. Check out Draft tracker: 5 questions with Tom Wilson, Plymouth Whalers
Player Profile
Tom Wilson – Plymouth Whalers (2012OHLDraftEligiblePlayers)
Rankings Released
The NHL's Central Scouting Bureau is the latest to release their rankings by league. Go ahead and see our own OHL ranking…Central Scouting Ranks Top OHL Players and other Leagues
Associated Article: Sarnia Duo Top NHL Preliminary Draft List
OHL Media Top Picks
OHLprospects.blogspot.com gathered a group of OHL enthusiasts and media represents to collaborate on their Early Season Media Top 10 Picks.
WORLD UNDER-17 HOCKEY CHALLENGE
The 2012 World U-17 Hockey Challenge is set to take place in Windsor, Ontario beginning December 27th and Ontario has announced 22 OHLers eager to represent their province and home roots on the international stage. You can view Ontario's announcement and roster here – Under-17 Team Ontario Squad Announced
THN: THE HOT LIST
The Hockey News' Ryan Kennedy addresses some of the hottest prospects of the year and of course the list is littered with OHL talent. The Hot List: Down by the Baie
OHL ROOKIES INVOLVED IN CONTRAVERSIAL HIT
The London Knights' rookie Max Domi laid out Owen Sound Attack rookie Artur Gavrus on Saturday night that leaves many awaiting on word from the league on whether a suspension is coming or not. What are your thoughts? Max Domi knocks out Artur Gavrus with Controversial Hit (video)
Is it a Clean Hit? (Sportsnet's take)
MORE OHL INTEREST STORIES
Knights forget to put fifth skater on ice, score anyway by Neate Sager
Paul Brandt unveils World Junior hockey song (Brandt is one of my favourite country artists)
 OHL SIGHTS AND SOUNDS
FIGHT:  Windsor's Nick Czinder vs. Oshawa's Andy Andreoff
WORLD JUNIOR POWER RANKINGS
Sportsnet's Patrick King is back at it this week as he unveils the hottest players in the nation competing for a roster spot on Team Canada at the World Junior. Of course, King also lists those players who are falling (or Cooling down). There are several OHL players who crack both lists.
World Junior Power Rankings
OHL NEWS RADIO EDITION
Terry Doyle focuses on the Subway Super Series and sits down with Guelph Storm Head Coach Scott Walker, Plymouth Whalers netminder Scott Wedgewood and the red hot Ryan Spooner of the Kingston Frontenacs. OHL News Radio Edition
TOP OHL SCORERS
(ending Monday, November 21st)
1. Tanner Pearson (Barrie Colts): 22GP-18G-33A-51P
T2. Nail Yakupov (Sarnia Sting): 22GP-16G-27A-43P
T2. Tyler Toffoli (Ottawa 67's): 22GP-24G-19A-43P
TOP OHL DEFENCEMEN SCORERS
1. Dougie Hamilton (Niagara Ice Dogs): 22GP-10G-23A-33P
2. Cody Ceci (Ottawa 67's): 24GP-5G-20A-25P
3. Beau Schmitz (Plymouth Whalers): 25GP-6G-16A-22P
TOP OHL ROOKIE SCORERS
1. Max Domi (London Knights): 23GP-9G-14A-23P
2. Radek Faska (Kitchener Rangers): 21GP-10G-11A-21P
3. Patrik Machac (Brampton Battalion): 23GP-8G-11A-19P
Artur Gavrus (Owen Sound Attack): 23GP-9G-10A-19P
OHL PLAYER OF THE WEEK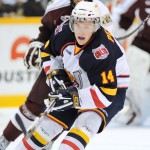 The Ontario Hockey League has announced that Barrie Colt forward Tanner Pearson is the OHL Player of the Week. Tanner Pearson scored three goals and ten points in three games last week including a 6-point performance on Friday night. Pearson is currently leading the league in scoring with 51 points through 22 games and this marks Pearson's second OHL Player of the Week award this season.
Congrats Tanner!