BREAKING NEWS: KNIGHTS' HUNTER ONTO BIGGER THINGS, REPLACE HEAD COACH
The Washington Capitals have fired coach Bruce Boudreau and replaced him with former Capital Dale Hunter.  The London Knights needed to replace their departing head coach and chose to hand that over to his brother Mark Hunter.
Good Luck Dale in Washington!
HOCKEY CANADA ANNOUNCES SELECTION CAMP ROSTER
At 11:30am today, Hockey Canada is expected to name the selection camp roster for Team Canada for the upcoming 2012 IIHF Under-20 World Junior Championship. The players named will compete for the 22-man roster that will head to Alberta to represent Canada on the international stage. Stay tuned to see which OHL players will participate in the selection camp.
UPDATED: Canada's World Junior Championship selection roster was named earlier today and includes 41 (including 15 OHLers) of Canada's best prospects under the age of 20.
OHL Players
G – Mark Visentin (Niagara), Scott Wedgewood (OHL)
D – Cody Ceci (Ottawa), Dougie Hamilton (Niagara), Scott Harrington (London), Ryan Murphy (Kitchener), Jamie Oleksiad (Saginaw)
F – Freddie Hamilton (Niagara), Boone Jenner (Oshawa), Tanner Pearson (Barrie), Mark Schiefele (Barrie), Ryan Strome (Niagara), Ryan Spooner (Kingston), Tyler Toffoli (Ottawa), Christian Thomas (Oshawa)
Give these good WJC topics a read:
2012 IIHF World Junior Championship: Looking inside Team Canada by yours truly, Brendan Ross. I take a shot at projecting Team Canada's roster (almost impossible to get correct) but also show some interesting statistics on which junior hockey leagues Hockey Canada has tradionally selected its roster from.
Team Canada Hopefuls by Sam Cosentino
World Junior Power Rankings by Patrick King looks at the CHL's hottest and coldest players leading up to the WJC.
Big Concerns in Goal for Canada by Guy Flaming
Stone Hoping for Reward Monday shows us a little why Ottawa Senators' prospect Mark Stone should make Team Canada's WJC squad.
Huberdeau's Status for start of Canada's camp in Doubt by Neate Sager
In Sam's World by Dean Millard looks inside Team Canada at some hot topic issues and speaks on other OHL relevant issues.
TOP 10 OHL DRAFT PLAYERS TO WATCH
Brock Otten of ohlprospects.blogspot.com examines eleven under the radar players in the OHL that will be eligible for the upcoming 2012 NHL Entry Draft. Good read on some OHLers making a name for themselves in their ever so important draft year.
2012 NHL DRAFT CORNER
Eligibles Sliding and Rising in Draft Rankings
Future Considerations' Dan Stewart breaks down some players who are sliding and rising in the 2012 NHL Draft Rankings as he continues to follow the progress of draft eligible leading up to the 2012 NHL Entry Draft.
Eligibles Sliding in Draft Rankings
Eligibles Ascending Up Draft Rankings
2012 Draft Blog: Mike Matheson Part II
Back in October, Dubuque Fighting Saints defenseman posted his first draft blog with ComingDownThePipeline. Now, one of the top USHL prospects for the upcoming draft has released the second part of his ongoing draft blog.
2012 Draft Blog: Mike Matheson Part II
Young Talent in Owen Sound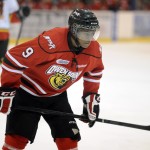 Owen Sound is home to three 2012 NHL Draft prospects who are climbing up the rankings with their stellar play improving the chances that two or three could become first round selections next June. Jarrod Maidens, Gemel Smith and rookie Artur Gavrus are names NHL teams are starting to focus on in Owen Sound.
Q & A: Draft Tracker: 5 questions with Tanner Pearson, Barrie Colts
Neate Sager sits down with the OHL's leading scorer, Tanner Pearson, as he continues his strong play to rocket up the 2012 NHL Draft rankings.
Q & A: Draft Tracker: 5 questions with Matt Finn, Guelph Storm
Matt Finn is quickly rising up the draft boards so there is not a better opportunity to get to know the Guelph Storm rising star than right now.
Grigorenko a Challenger to Yakupov as No.1 Prospect
While Yakupov sits with a mid-body injury (not concussion as many are stating), Grigorenko continues his strong play for the Quebec Remparts and will challenge Sarnia's Nail Yakupov as the top 2012 NHL Draft pick.
2012 Draft Player Profiles
Slater Koekkoek (D-Peterborough Petes)
2012 NHL Draft: Some Lesser Knows
Brian Huddle of HockeyBuzz gives us four names to familiarize ourselves with for the upcoming draft.
2013 NHL Draft: Early Top 5
Guy Flaming of ComingDownThePipeline posted his Top 5 with 9 honourable mentions for the 2013 NHL Entry Draft so head on over and see if you agree with his handful of top '13 prospects. I know that I agree.
STING TEAM DECIMATED BY INJURIES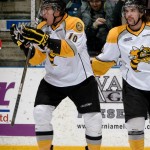 General Manager and Sting Head Coach Jacques Beaulieu was busy last summer improving the Sarnia roster and added a lot of quality depth players and it's looking as though it was needed. Currently, Sarnia has more top players sitting in the stands than they do suiting up on the ice. Nail Yakupov (2012 NHL Top Prospect, mid-body injury), Alex Galchenyuk (2012 NHL Top Prospect, knee), Connor Murphy (Coyotes 2010 1st Round pick, knee), Alex Basso (Sting leading scorer on defense, hand), Brett Ritchie (Dallas Stars 2nd Round pick, hip flexor) and Ludvig Rensfeldt (2010 Chicago Blackhawks 2nd Round pick) all sat out due to injuries/illnesses in Sunday's game versus the Kitchener Rangers. . You could say that Sarnia is without their six most talented players.
In relevant news, last Tuesday Lonnie Herman released his "Bolts' Connolly proving pre-draft injury not a deterrent" and Brett Connolly gave this piece of advice to Sarnia's Alex Galchenyuk and Moose Jaw's Morgan Rielly on their season-ending ACL injuries,
"Keep your head on straight and focus and don't look too far ahead," Connolly said. "Keep your whole career in perspective. At the end of the day, an injury won't dictate your career in the NHL, if you don't let it."
AARON EKBLAD DOING EXCEPTIONAL THINGS, AS EXPECTED
Neate Sager of Yahoo Sports takes us to Aaron Ekblad who tells all about "Settling into Junior Hockey." The article is complete with a video interview and really shows the OHL fans how quickly he's developing into the leagues next defensive star. I was able to catch Ekblad in Sarnia last Thursday and it's hard to imagine that the kid is 15 years old.

OHL TRADE BRINGS DANIEL ERLICH TO BARRIE
Last Thursday, the Barrie Colts made roster move to acquire former London Knight Daniel Erlich from the Guelph Storm who was not actively playing for the Storm. In exchange, Guelph received Niagara's fifth round pick in 2014 and a conditional eighth round pick in 2017. Yep, you heard that right – 2017. The 2017 conditional pick currently represents a 10-year old playing hockey somewhere and in my opinion the OHL needs to put a cap in place on trading draft picks that far into the future.
Daniel Erlich has already made his impact for Barrie scoring two goals and four points in two games.
OSHAWA GENERALS ADDRESS THEIR NEED FOR DEFENCE VIA TRADE
There was no secret that the struggling Oshawa Generals missed the departure of defenseman Calvin de Haan (New York Islanders) and last week they addressed their weakness by trading for Saginaw's overage defenseman Peter Hermenegildo. In exchange, Saginaw receives a 7th round pick in 2013.
HEAD CHECKS A COMMON OCCURRENCE IN OHL
Ross Head Check on Yakupov
Last Friday, Saginaw's Garrett Ross escaped further discipline for his head check on Nail Yakupov due to lack of video evidence. Ross received a five minute major for the head check but the Sarnia Sting lost another star player because of his careless act. Yakupov missed last Saturday's game in Saginaw as a result of the check but returned to face Barrie on Thursday scoring three points in a 4-3 loss. Unfortunately, Nail Yakupov is still feeling the effects of that check and missed last night's game versus Niagara (another loss) and is expected to miss a week minimum.
Rookie Darnell Nurse Receives 5-game Suspension
Darnell Nurse, the Greyhounds 2011 first round selection, will be sitting out five games due to his hit on Brampton Battalion Matt MacLeod a few Friday's ago. Nurse did not receive a penalty on the play but the league felt that a suspension was warranted.
Joseph Cramarossa of the Mississauga St.Michael's Majors Sits for 10 games
Cramarossa will be the lastest player to sit due to suspension following a 5-minute check to the head penalty versus the Sudbury Wolves. Video explanation here
Head Checks and Suspensions are the hottest OHL topics and Sunaya Sapurji asks, "Are tougher suspensions changing the OHL?"
ONE STOP OHL WEEKLY ARTICLE LIBRARY
Did you miss an article featuring your favourite OHL player or Team? Check here for articles trending this past week.
Spirit's Jamie Oleksiak Adjusting to OHL by Terry Doyle
Knights shopping for Goaltender to help Michael Houser by Ryan Pyette (LFP)
Hey, IceDogs Nation, how about starting to walk the talk? By Doug Herod. Are the Niagara Ice Dogs going to get a new home in St.Catherines? We will find out soon.
500th Career OHL Game for Marty Williamson by Sue Tromanhauser
Import Success and Injury Woes
(First) Winless Weekend for Sting by Dave Paul
OHL SIGHTS & SOUNDS
VIDEO: New Nail Yakupov (Sarnia Sting) Highlight

VIDEO: 2012 NHL Prospect Dane Fox (London Knights) Interview

TOP OHL SCORERS
(ending Monday, November 28th)
1. Tanner Pearson (Barrie Colts): 25GP-19G-37A-56P
2. Tyler Toffoli (Ottawa 67's): 24GP-26G-21A-47P
3. Nail Yakupov (Sarnia Sting): 23GP-18G-28A-46P
TOP OHL DEFENCEMEN SCORERS
1. Dougie Hamilton (Niagara Ice Dogs): 25GP-11G-27A-38P
2. Cody Ceci (Ottawa 67's): 26GP-5G-21A-26P
3. Beau Schmitz (Plymouth Whalers): 28GP-7G-16A-23P
TOP OHL ROOKIE SCORERS
1. Radek Faska (Kitchener Rangers): 24GP-14G-13A-27P
2. Max Domi (London Knights): 26GP-10G-15A-25P
3. Patrik Machac (Brampton Battalion): 26GP-8G-12A-20P
OHL PLAYER OF THE WEEK
The Ontario Hockey League has announced that Brendan Gaunce of the Belleville Bulls is the OHL Player of the Week after sniping five goals and one assist in three Belleville wins last week.  Gaunce also finished with a plus-five rating.  Brendan Gaunce is eligible for the 2012 NHL Entry Draft next year.