Six months ago, after a summer of radical overhaul, Flyers General Manager Paul Holmgren said, "I don't know if we got better or worse, but we got different." Now, as the Flyers embark on the crucial second leg of the 2011-2012 season,  a look back at their first half proves they not only "got different," but did indeed get better.
With 47 wins and 106 points last season, few would have predicted that after trading away both their captain and leading scorer, the Flyers would improve on those numbers.
Yet, after 49 games, the Flyers sit at 4th in the Eastern Conference, on pace for 107 points.
By now, Paul Holmgren has silenced most of his critics, as the Flyers have become a younger team, that skipped the maturation process, to become a league front-runner with no turnaround time. This phenomenon is primarily due to the excellent play of the team's corps of players under the age of 25.
The two most surprising members of this young crew are rookies Matt Read and Sean Couturier. 25 year-old rookie Matt Read's astounding campaign has him atop the list of rookie goal scorers with 15 on the season. Couturier, who turned 19 in December has developed remarkably since making the team out of his first training camp. Playing like an experienced five-year veteran, Couturier has contributed 18 points at even strength and 2 shorthanded goals. In all, Couturier has played in 15 more games, and scored 2 more points than 27 year-old Jeff Carter, the player he was traded for.
Also coming to Philadelphia from Columbus in the Carter deal was 22 year-old winger Jakub Voracek. The 8 goals and 20 assists that Voracek has compiled this season don't tell the whole story behind the speedy power forward. Voracek's defensive play has also been exemplary, more than replacing the injury-prone Carter.
In the Flyer's other blockbuster offseason deal, the orange and black acquired Wayne Simmonds and Brayden Schenn from Los Angeles in exchange for captain Mike Richards. A gritty right-wing at 23 years of age, Wayne Simmonds has shown he has more to offer than the typical grinder. Simmonds has tallied 27 points, including 5 power play goals and 79 hits. In his new west coast home, Mike Richards, Olympic gold medalist and former 80 point man, has managed just 26 points in 43 games.
Highly touted as a young Mike Richards, Brayden Schenn faced a challenging leg injury early in the season which sidelined him for 9 games, prolonging  the wait for his much-anticipated first NHL goal. As the 2011 World Juniors showcased, Schenn has a knack for the big stage. In fitting fashion, Schenn finally banged home his first goal January 2 on one of the NHL's biggest stages, the Winter Classic. This iconic goal would jump-start a productive month for Schenn, who tallied all 6 of his points in January.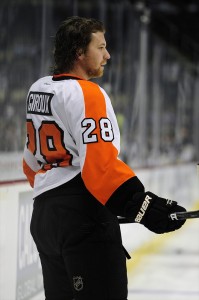 The heart and soul of the Flyers' under-25 group however, lies in one Claude Giroux. At 24, Giroux has amassed 55 points, good for second in the NHL. Distinguishing himself as one of the league's most versatile players, Giroux plays power play and penalty kill with an average of over 21 minutes of ice time per game. All this while rejuvenating the career of his linemates: scrappy power forward Scott Hartnell and NHL legend Jaromir Jagr. The line has a combined 134 points, accounting for 34% of Philadelphia's 163 goals.
The production of these young Flyers, combined with All Star caliber seasons from Flyer veterans Scott Hartnell and Kimmo Timonen has Philadelphia nestled in a familiar spot high in the Eastern Conference, well ahead of schedule.
Set to faceoff with the Nashville Predators tonight, Paul Holmgren, sitting high above the Wells Fargo Center ice, can watch his "experiment" take the ice with a smile on his familiar, scarred face. For, he has artfully created this dynamic mix of remarkably mature youth and skilled veterans, poised to make yet another Stanley Cup run. And they're only going to get better.
A product of the Philadelphia suburbs and a current Penn State Print Journalism major, I have been playing hockey since age 4. Whether playing on the ponds, in organized leagues, or just watching on TV, hockey will always be my passion. While all aspects of professional hockey interest me, the Flyers will always be my greatest focus.