Arguably the most highly coveted players in the NHL are elite goal scorers. Such players are increasingly difficult to not only develop, but to secure, as players of such incredible value are amongst the most highly desired, and subsequently paid, players in the League.
However, there is a slight distinction between the NHL's best goal scorers and best shooters which must first be made clear in order to generate such a ranking.
Top goal scorers are considered as players who have the sheer ability to put the puck in the net, yet in a variety of different manners. These forms range from slap shots, wrist shots, snap shots and deflections, to greasy rebound goals in tight to the crease.
On the other hand, there are the top shooters, the focus of this ranking. The NHL's top shooters are players whose unique abilities include a lightning quick release, hard shot and pin point accuracy. On top of these abilities, top NHL shooters are able to apply these skills in scoring a large number of goals on a consistent basis, while retaining amongst the highest shooting percentages in the NHL.
Take a quick look at the five best shooters in the NHL today:
5. Vladimir Tarasenko – St. Louis Blues
One of the most exciting players in the NHL at the young age of 23, Vladimir Tarasenko is one of the most dangerous shooters in the League today.
A 37 goal scorer in 2014-15, good for fifth overall, Tarasenko also fired an immense 264 shots, the 11th most in the NHL. Further, Tarasenko scored another six goals in the Playoffs in a mere six games played. As a result, Tarasenko finished the regular season with a very respectable 14.0% shooting percentage, as well as a jaw dropping 42.9% shooting percentage in the post season.
In terms of consistency, elite production and overall greatness can be expected from Tarasenko in the coming years. In 2013-14, his first full season of play, Tarasenko scored 21 goals in only 64 games played, while he also added eight goals in 38 games in 2012-13.
Here's a quick look at some of Tarasenko's handy work in 2014-15, which included some incredible shots.
4. Joe Pavelski – San Jose Sharks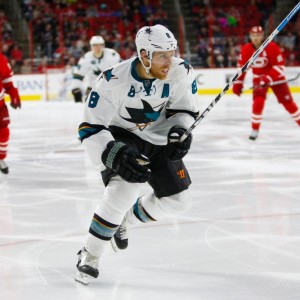 One of the NHL's most under-recognized offensive players, Joe Pavelski has truly been an elite offensive threat since he first entered the League in 2006-07. In his nine NHL seasons to date, Pavelski is a three-time 20 goal scorer, two-time 30 goal scorer and was a 40 goal scorer in 2013-14.
In his most recent season in 2014-15, Pavelski scored an impressive 37 goals, a mark which tied him for fifth in NHL goal scoring. Further, his 261 shots on goal were 14th most in the NHL, while his shooting percentage of 14.2% was slightly better than Tarasenko's 14.0% mark.
Having led the Sharks in goal scoring in three of the past four seasons, Pavelski is an elite shooter and legitimate scoring threat on a consistent, year to year basis whose shot and resulting offensive production warrants his place amongst the NHL's top shooters.
3. Tyler Seguin – Dallas Stars
Similar to Tarasenko, Tyler Seguin of the Dallas Stars is a young NHL star of seemingly endless talent.
Fresh off of the first 37 goal season of his career in 2013-14, Seguin followed with yet another tremendous 37 goal season, in which he was more dangerous than ever. In total, Seguin took a massive 280 shots on goal this past season, amounting to the fifth most in the NHL. Due to the high number of shots he took, Seguin's 2014-15 shooting percentage finished at 13.2%, a career high for Seguin and improvement from his mark of 12.6% in 2013-14.
In terms of his consistency, Seguin, like Pavelski, has been an elite shooter since his rookie season with the Boston Bruins in 2010-11. Other than in his rookie year, Seguin has scored, or has been on pace to score nearly 30 goals in each of his past four NHL seasons.
A model of shooting consistency and elite talent with the puck, Seguin is, and will be one of the NHL's top shooters now and for years to come.
The following video showcases all of Seguin's goals this past season, a number of which are the result of phenomenal shots.
2. Alex Ovechkin – Washington Capitals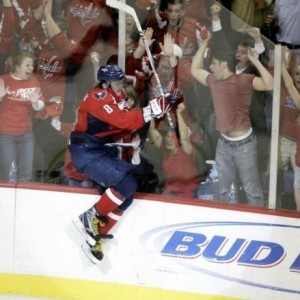 I know what you must be thinking. How could Alex Ovechkin, a five time winner of the Rocket Richard Trophy as the NHL's leading goal scorer, not be ranked as the best shooter in the League?
A three-time 30 goal scorer, one-time 40 goal scorer, five-time 50 goal scorer and one-time 60 goal scorer, Ovechkin is arguably the most consistent player in the NHL when it comes to scoring goals.
However, although Ovechkin undoubtedly retains one of the hardest shots in the NHL, it can consistently be erratic and inaccurate, an issue which is amplified considering his annual shot output.
Ovechkin's goal scoring prowess is directly related to the incredible number of shots on goal he takes every season. In 2014-15, Ovechkin fired 395 shots, by far the most in the NHL and high compared to his career seasonal average of 383. In comparison, in 2008-09, Ovechkin fired an incomprehensible 528 shots on goal, his career high, only 22 shots shy of the NHL single season record of 550 held by Phil Esposito.
As a result, Ovechkin's shooting percentage, likely the most important statistic in evaluating shooter efficiency, is low, especially so when compared with other top shooters in the league. In 2014-15, Ovechkin's shooting percentage was 13.2%, slightly higher than his career mark of 12.4% and much better than his career low of 8.7%. However, consistency is the key, and such a low shooting percentage both this past season, as well as in his entire career results in a runner-up finish in ranking the NHL's top shooter's.
1. Steven Stamkos – Tampa Bay Lightning
The best shooter in the NHL today is Steven Stamkos.
Like Ovechkin, Stamkos has a blistering shot and quick, elite release. However, what sets Stamkos apart from Ovechkin is his shooting accuracy, consistency as well as efficiency when it comes to his scoring chances and shots on goal.
At the end of the day, Stamkos' accuracy with the puck and his consistent scoring efficiency trump Ovechkin as the League's top shooter. In 2014-15, Stamkos registered a 16.0% shooting percentage, a mark which was nearly 3% higher than fellow 40 goal scorers Rick Nash and Ovechkin. Further, throughout his career, Stamkos has been a model of consistency, averaging a 17.2% shooting percentage, nearly 5% greater than that of Ovechkin. At his peak, Stamkos recorded an incredible 19.8% shooting percentage in 2011-12 when he reached the 60 goal plateau.
Quite obviously, both Stamkos and Ovechkin have been side by side in goal scoring over the past number of NHL seasons, making it extremely difficult to truly determine which of the two is the League's best shooter. This topic is highly debatable and is certainly open to various interpretations, however in my perspective, the best shooter in the NHL is the player who best exemplifies the key qualities of an elite shooter, being accuracy, efficiency and consistency, qualities which I believe are best represented by Stamkos rather than Ovechkin.
 Who do you think is the best shooter in the NHL today? Comment below!