The Vancouver Canucks dropped a tight game to the surging Los Angeles Kings Tuesday 3-2 in a shootout. While the Canucks were still able to earn a point and did come back from a goal deficit twice during the game, this loss was somewhat of a big deal.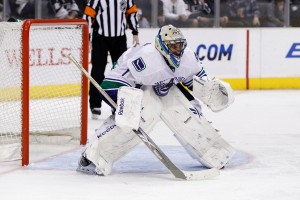 Now, it was hardly the end of the world. After all it was only a regular season game in mid-January and nobody is going to suggest the sky is falling. At least not the rational ones that are scattered amongst Canucks nation.
But the loss does sting.
Without a doubt the Canucks have been scuffling for at least the past week or so. While they have won games and picked up points their play overall has become a concern.
Losing to the Kings only magnifies those concerns.
Winning cures all and losing magnifies problems, even when you lose in the shootout.
All of the Canucks issues were on display early against Los Angeles. In the first period their depleted defense was miserable. The Kings had several odd man rushes and golden scoring chances which they eventually cashed in on. Thankfully, Roberto Luongo was brilliant and kept the game at 1-0.
Despite playing better the remainder of the game there were still plenty of giveaways and defensive gaffes that are simply unacceptable. Again, Luongo bailed out the Canucks over and over. They were outshot again, which has been happening more and more and their power play was inconsistent for most of their four chances.
Keith Ballard was especially bad with lazy outlet passes that found Los Angeles sticks more often than naught. Don't be surprised if he is a healthy scratch Saturday which will force Alex Sulzer back into the lineup. In other words, out of the frying pan, into the fire.
Coming into the game the controversy do jour was the supposed Ryan Kesler-Alain Vigneault feud. Vigneault made a comment about Kesler not "using his teammates" more and it got Kesler's back up a bit. While in reality this is a non-story the loss will fuel it.
Kesler played with his normal high energy but only managed three shots and was minus one on the night. Winning or Kesler scoring would have squashed this story. Now, we may be stuck with it for a few more days.
Had they won the narrative would have been about how good teams find a way to win despite not playing their best. A win would have resulted in praise heaped on Luongo who kept the game from getting out of hand early. Kesler's energy and pass to Chris Higgins on a three on two would have been evidence that he heard the coach's plea to pass more.
Now the narrative will be a two game losing streak dripping with doom and gloom.
Most of the questions head coach Alain Vigneault faced after the game were about his defense and their lackluster play. He had few answers other than commending the Kings play and calling his blue-liners "uncharacteristic"
The problem is for a few games now that kind of play has been the norm.
While the Canucks are talented enough to overcome all of this, the pressure and freak out will intensify. The Vancouver market is an intense one for hockey players and it will get more intense as losses start to pile up. Tuesday after noon already saw sports radio callers wishing they would trade Ryan Kesler. Will Wednesday bring more of the same?
These are not rational thoughts and Tuesday's game won't help.
What about the Kings?
This loss also stung a bit because the Los Angeles Kings are playing really well. They have yet to lose in regulation since Daryl Sutter has come on and they are climbing the Western Conference standings. The Canucks now have lost two straight to them, giving them confidence should they meet again this spring.
In their last meeting the Kings took a page out of the "How to beat Vancouver by trying to push them around" script, and it worked. In a New Year's Eve 4-1 loss the Kings brought out the rough stuff and the Canucks fell for it, and off their game. While Los Angeles toned that kind of play down somewhat on Tuesday they now have a swagger when playing Vancouver.
The good news?
The good news is that this was just one game, in January, and the Canucks still got a point out of it. They have three days off before facing the Sharks at home and then only have one game in the ten days that follow.
In that time they can rest, work on their kinks, make moves, anything to clean up their play and get back to playing Vancouver Canucks hockey.
It almost makes one long for the days when this team had a goalie "controversy"