It is well known that Columbus shares the distinction of having just about the youngest franchise in the league, averaging just about 26.5 years of age.  Their roster includes only one player over the age of 31 – winger Fredrik Modin, age 35, who missed the first 31 games of the season with a sprained knee.  The youngsters have provided a wildly inconsistent first third of the season, starting off at a team record pace, then posting an awful road trip out west.  This was followed by yet another winning streak, and one more plummet – going only 2-5-3 over a ten game stretch.  While still above the .500 mark, and in fact at a better position than last year at this time, the team has made its life more difficult in the voraciously competitive Western Conference.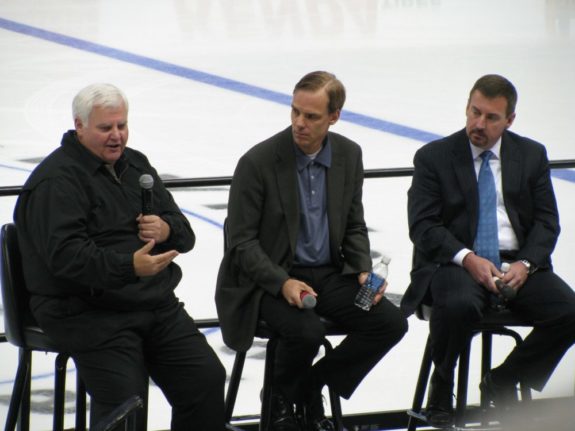 This inconsistency has instilled a certain degree of restlessness in the Columbus fan base, not known for its patience, even in the best of times.  Fingers have been pointed at the players, who some have characterized as "indifferent" and "lazy".  Equal doses of criticism have been directed at coach Ken Hitchcock, ranging from critiques of his "defense first" strategy to questioning his handling of players, who some say have "tuned out" the coach.
In the final analysis, however, it may well be Hitchcock who is the most restless.  Through 1,000 + games behind an NHL bench, and over 500 victories, he has prided himself on his hard checking, neutral zone trapping system of play.  His proudest statistic may be that the final four games of the 1999 Stanley Cup finals, won by his Dallas Stars, yielded a grand total of 11 goals scored by both squads.  Yet, 32 games deep into the NHL season, his squad has allowed more goals than all but two other clubs in the league, surrendering 3.31 goals per game.  Ironically, the team has simultaneously found its way to the top eight in scoring, and holds the fourth best power play conversion percentage in the league, contrasted with a dead last finish for the power play unit last year.   This is the world turned upside down from Hitchcock's perspective, and the search for answers is underway in earnest.
To be sure, there have been personnel shortcomings that have contributed to the current dilemma.  Last year's top defensive pair of Mike Commodore and Jan Hejda have been afflicted with an assortment of ailments since camp, and only recently were rejoined as a pair. They have been slow to round into form.  Ditto for Fedor Tyutin, a major blue line mainstay last year. The remaining defenders have had uneven seasons, with Kris Russell being perhaps the most consistent contributor, despite being a healthy scratch for a few consecutive games.
The forwards have contributed to the malaise, frequently late in returning to the defensive zone and committing their share of turnovers as well.  Derick Brassard has been slower in returning to top shape than planned, after missing two-thirds of last year with shoulder surgery, and the mercurial Kristian Huselius has been his customary perplexing self – setting the world on fire one minute, and befuddling onlookers the next with passes to nowhere and refusals to shoot.
With all of this instability in front of him, Calder Trophy winner Steve Mason has suffered an equally schizophrenic beginning to the season.  Where he had predictability last year, he sees only chaos, and it has impacted his confidence.  Goalie Coach Dave Rook took the young netminder to task for a less-than-stellar attitude, which seems to have served as the intended wake up call.   With Mason, it has not been so much the question of allowing soft goals, as it has been the failure to make the spectacular saves that he made appear routine last year.  The rash of turnovers and failures to clear from his blue line corps have provided opponents with scores of point blank chances.  Thus, his performance has truly not been as bad as his 3.28 GAA and .891 save percentage would appear to indicate.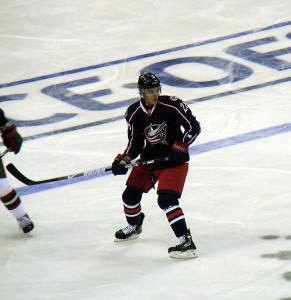 While individual missteps account for part of the Blue Jackets' recent skid, they do not tell the entire story.  The Blue Jackets now have the talent to overcome individual transgressions – something that could not be said in past years.  However, watching the team play, there is a sense of tension in their play – undue hesitation with the puck, sticks being gripped too tightly, causing missed shots and passes —  apparent uncertainty as to what linemates are going to do next.  While some fans assert a lack of effort or caring by the players, I don't see effort or caring as the issues.  Listening to them talk, it is clear that they are passionate about winning, and are willing to work hard to get there.  The players themselves refer to a lack of "buy in" in a very generic sense, but no individuals are called out as being responsible.  What is portrayed on the ice is closer to fear.  So what is it, exactly, that the players are supposed to "buy into"?  Equally important – where does this fear come from?
To help find likely answers, we need to look at the coach and the system.   It is important to keep in mind that these are two separate things, even though the distinction is often blurred with Hitchcock, due to the degree to which he has staked his professional reputation and success on his defensive minded, hard edged style of play.  However, the system is one thing, the coach and his style quite another.  Both enter into the equation, but in distinctly different ways.
First, let's look at "the system."  Keep in mind that at its core, a hockey team is just another organization.  Like any organization, it needs people and processes to accomplish the organization's goals.  Those processes become organized into systems.  Properly crafted, those systems provide structure and stability, facilitate organized growth, and promote individual initiative and adaptability to changing conditions.  Improperly designed or implemented systems become a drag on performance, stifle growth, limit adaptability and repress initiative.  The same holds true for systems on the ice.
"Hitch Hockey", as it has come to be known (formerly referred to as the "neutral zone trap" and far less flattering monikers by the system's critics) is a technical, demanding style of hockey premised, in Hitchcock's implementation, upon hard checking, a strong forecheck, tight gaps and a massive presence in the neutral zone.  In theory, this promotes turnovers, retards offensive penetration, and slows the game to a controllable pace.  Opponents waste time and energy getting into the offensive zone, and the sheet of ice is shortened for your team when turnovers occur in the neutral or offensive zones.
Hitchcock rode this system to the Stanley Cup with the Dallas Stars in 1999, and took them to the conference final the following year.  He had Philadelphia in the playoffs each of the three seasons he was there.  So, clearly, the system can be used to advantage – under the proper circumstances.  The question becomes whether those conditions exist today, and whether they can exist in the future.  Keep in mind that the Dallas run to the Cup, and most of Hitch's success, came under the "old NHL", when grabbing, hooking and such were standard fare.  Teams thrived on size and craftiness – if you turned the puck over in the offensive zone, you simply held your opponents down until the neutral zone could be set up, and your were off.  There was plenty of time to read the on-ice situation and react accordingly.  It was more important that you had a team that was a) physically capable of out manhandling the opposition, and b) was veteran enough to know all of the tricks of the trade.  Keep in mind that Hitchcock's Cup team in Dallas had a Goals Against Average of 2.05 in the regular season, and 1.91 in the playoffs – that is amazing stuff.  Consider also that the average age of the roster was just over 30.
Unfortunately for Hitch's system, the lockout and the ensuing rule changes changed the landscape of the NHL.  In 2003-2004, the last year of play under the old system, half of the teams in the league boasted a Goals Against Average under 2.5.  In 2005-2006, only 2 could make that claim, and only 6 can claim it today for the current season.  In Philadelphia that year, Hitchcock's last full season with the club, his squad had a GAA of 3.08 – the only time in his coaching career his team had allowed more than three goals per game.    His tenure with the Flyers lasted only eight games into the following season.
The problems in adapting Hitch Hockey to the "new" NHL appear fairly obvious.  Unable to physically restrain the opposition without the puck, the emphasis has turned to skill and speed.  While size, properly deployed and utilized, remains useful, it is dramatically less so than in the days pre-2005.  While a strong forecheck is still a desired strategic move, there is less time for teams to read the ice and establish the trap in the neutral zone.  The trap becomes far riskier, somewhat akin to a cornerback jumping an out route in football.  One or two passes and the scramble is on.  You also have five individual players trying to make the read on the fly, and determine the course of action.  That magnifies the complexity of the system, and makes it far more difficult to implement, even for veteran players.  Arguably, the equation for the physical toll it exacts has shifted completely, as it is more taxing for the defender than the offensive squad, which is no longer encumbered by the two line pass rule.  Incorporating the system under these circumstances, with a team of youngsters, is a tall order, and may be nearly impossible as a steady diet.  While many teams incorporate variations on this theme at points in individual games, you would be hard pressed to find a team who has relied on the system to long term success since the lockout.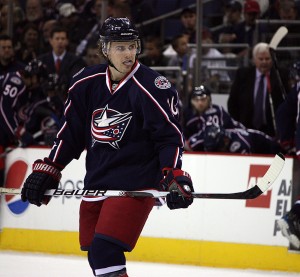 Lest this be deemed too harsh, let me be clear – Hitchcock and his system were precisely what the Blue Jackets needed when he arrived in November 2006.  Talent poor and rudderless, the team was aching for precisely the foundation that Hitchcock and his system provided.  Where talent lagged, the system provided stability.  It is only by virtue of his system that the Blue Jackets could win as many games as they did in the first two plus years of Hitchcock's tenure, as they scored goals at a clip of 2.39, 2.32 and 2.68 goals per game during those seasons.  (Only 4 times in his NHL career has Hitchcock had a team score over 2.8 goals per game for the season.)  Enter Scott Howson, and a remake of the club with largely young players who could be with the organization for the long term, and who possessed the skills necessary to succeed in the new world order of the NHL.   This presented a series of new challenges for Hitchcock, and turns the discussion to the coach, as opposed to the system.
Anyone who has ever heard Ken Hitchcock speak, whether about hockey or his off-ice passion of Civil War re-enactments, recognizes almost immediately that this is an intelligent guy who is passionate about his beliefs.  He is a cerebral coach, and in that respect is a bit reminiscent of the late Bill Walsh, the architect of the West Coast offense, and responsible for the turnaround of the San Francisco 49ers.  Hitchcock has the same brand of intellectual aloofness when speaking with the media or outsiders, an attitude that at times perches perilously on the edge of disdain. Walsh was more openly engaging, and not above pulling some pranks to loosen up his team – such as greeting his players at the hotel in Detroit for their first Super Bowl – dressed as a bellman.  Tough to imagine Hitch doing this.
There is rigidity to Hitchcock that seems inescapable.  Mike Modano, who preceded Rick Nash in undergoing a transformation to a player competing at both ends of the ice, thanks to Hitchcock, made the following observation about the Stanley Cup season:
"He was still on us up until February that year we won . . .We only lost nine games until February and he was still as demanding at Game 60-something and 70-something that year as he was in the first 10. He never let off the gas that whole year."
Most observers agree that there is little room for compromise with Hitchcock and the play on the ice.  One critic in Philadelphia phrased it like this:
"The players were mere pawns in his chess match.  Talented, skilled players were forced to overthink and play in his system which limited each individual potential."
In a pointed assessment of the final years in Dallas, Rodi Blokh wrote the following in The Coaching Game (January 2002)
"Hitchcock saw things one way and only one way, his way. If a player did not buy into his system, he was unsuccessful with the Stars and was eventually sent packing. Take a look at Donald Audette, or Valeri Kamensky. Both were acquired in the offseason, neither could adjust to Hitchcock, and both were traded."
Former Blue Jacket Grant Marshall experienced the brick wall of Hitchcock's approach when in Dallas.  Disputing Hitchcock's approach, his ice time was reduced.  When he protested, he was traded.  Done deal.
Rigidity is one thing, but what has accompanied Hitchcock for most of his NHL career is a reputation for being harder on youngsters than on veterans (particularly good sized veterans), and reaching a point with the team where the players have tuned him out.  Such are the assertions being bandied about these days, and while many brush these off as overblown, some measure of support can be found, both historically and in present day events.
Mike Modano addressed this topic, noting that when the wins went down in Dallas, and the veterans started disappearing, the situation became untenable:
"We had a lot of older guys on that team that could handle Hitch — that created a real good buffer between the coach and players. After that, there were no guys that would stand up against Hitch. We always used to put a quote up on the board, 'Larry Bird says coaches can only coach a team for three years. You get into a team, make adjustments, bring the team you want in, try to solidify something. After that, I think it's just in one ear, out the other.' Coaches have to change just as much as the players."
In announcing Hitchcock's firing in 2006, Flyers chairman Ed Snider made a point of noting that the team had "tuned out" Hitchcock and his demanding style of play.  This came on the heels of a 9 -1 rout at the hands of Buffalo, a score that should seem eerily familiar to Jackets' fans this year, representing a pummeling by an identical score  administered by Detroit.
None of this is intended as advocating Hitchcock's firing, but merely to point out that the types of things being said are not foreign to Hitchcock coached teams.  While it is doubtful that the players have consciously said "No way" to Hitchcock, you almost never hear them refer to the coach in any of their statements.  They are too well schooled (and well captained) to publicly air grievances, but there is a coolness and a distance that seems apparent.  Nobody says that players need to love their coach, but he usually comes up once or twice in conversation.
His double standard for veterans and youngsters has been perhaps the most grating aspect of the current season.  The Filatov situation was badly mangled.  Despite the fact that Filatov is undersized right now, Hitchcock never provided him with a fair opportunity to get in the rhythm of the game, and the kid's confidence was darn near destroyed.  He is an undeniable talent, with plenty of rough edges, who is now lighting up the KHL.  Whether that situation can be salvaged remains to be seen, but it is a distinct black eye to the organization to have such talent jeopardized.
Closer to home, Hitchcock sat defenseman Kris Russell for several consecutive games as a healthy scratch, while permitting Mike Commodore, Fedor Tyutin and Jan Hejda to "play through their mistakes".   If youngsters are not sent to the press box, their ice time all but disappears. He has made much of the fact that the return of 35 year old Fredrik Modin will be of major help.  While Fredrik is well liked, and will help out in the locker room, this reliance on a player who has spent the better part of the last two years on injured reserve seems a bit misplaced.  A wise man one said that "Hope is not a strategy."
This fascination with veterans more suited to the old style of hockey is bound to wear thin on a squad where only 1 player (Modin) is over the age of 31.  Most of the talent on the club has been signed for the long term, so no massive overhauls of personnel are in the offing.  Scott Howson is building his team from the ground up, presumably with Hitchcock's buy-in, and that will not be derailed by anything going on today.
Howson has issued a vote of confidence in Hitchcock, stating:
"Hitch is safe. To suggest otherwise is just ludicrous.  It has not entered anybody's mind.  It's not something we'd even consider."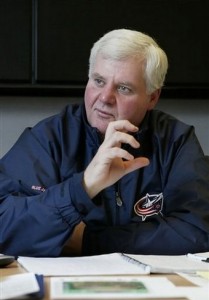 That is as it should be, for the time being.  You don't jettison a future Hall of Fame coach based upon a couple of losing streaks.  However, Howson needs to pay attention to the other symptoms, and engage his players and coach.  Right now, the young players and the restless coach are playing the roles of the irresistible force vs. the immovable object, and nobody is winning.  Howson may well need to arbitrate this one, nudging Hitch into a more flexible system, while goosing the players into more "buy-in".
On the day he was fired in Dallas, Hitchcock made the following observation:
"There comes a period in time, quite frankly, when sometimes the same message, the way you want the team to play, the way you want the players to act, the way you want them to come together, doesn't hit home."  (NY Times 1/26/2002)
Hitchcock just passed the three year mark with the Blue Jackets in November.  There is much he and the players can do to right the ship, but a middle ground needs to be found, and sometime soon.  The status quo is not working, and the fans will only tolerate The Young and the Restless for so long.