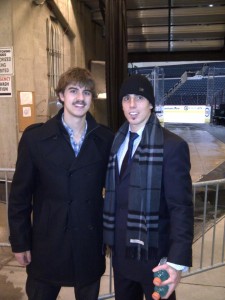 The dust is beginning to settle after the blockbuster trade that Kevin Cheveldayoff and the Winnipeg Jets made with the Buffalo Sabres. The ramifications and winners of this deal will be argued about for the next decade, as each team will be watching intently to see who pans out and who falls to the way side. However, for the players involved, there is no time to consider the future or what might have been. There is a job to do and it started the minute the trade was announced. For Jason Kasdorf, the third player mentioned in the trade to Buffalo, that job started by finishing his Business Management homework by the end of the week.
The Interview
THW: Jason, you grew up in Winnipeg and played goalie for the powerhouse AAA Winnipeg Thrashers who made it to the Telus Cup. Who has been your biggest influence in your hockey career, thus far?
JK: My parents. They have always been very supportive. At age 14, I had actually decided that I wanted to quit hockey and they supported me with that decision. They also supported me a few months later, when I decided that I still wanted to play and that I wanted to go to a Junior "A" training camp. I had received lots of letters from teams during the off-season but hadn't responded to any of them. My Dad phoned every team in the league to try and get me a tryout, but they were all full except for one. The Portage Terriers of the MJHL agreed to have me out and I played pretty well, so they protected me.
THW: You went on to play for Portage in the MJHL, thus leading to your hometown Winnipeg Jets drafting you in the 6th round, 157th overall. Can you describe what it was like being drafted by Winnipeg?
JK: Unbelievable feeling. My entire family came down to Minneapolis for the draft and to hear my name being called by Winnipeg is something that I will never forget. It was one of the best days of my life.
THW: After being drafted and moving onto the USHL, you accepted a scholarship to Rensselaer Polytechnic Institute (RPI) in Troy, NY to study Business Management. What made you choose RPI?
JK: Coach Appert's success with goalies was the number one factor. He has a reputation for being great as a one on one instructor. Also, when I came down for my visit, the place immediately felt like home and the team like family. It was an easy decision.
THW: You had a standout freshman season at RPI with 14 wins, a 1.62 GAA and a .935 SV%. Was there an adjustment period or did you just hit the ground running?
JK: The USHL is a very similar style to college hockey. I didn't play the first nine games, so I had the chance to watch and get prepared for when I would get a start. I watched from about August to early November.
THW: During your sophomore year you injured your shoulder and required surgery. Can you describe how you dealt with that?
JK: It was tough. I dislocated my shoulder in a goalie session and we had such a great team. I tried to be as positive as possible. I was also able to add a heavier course load and red shirt for the remainder of the season. I tried to take as many positives out of it as possible.
THW: Very mature of you Jason. While you were hurt did you follow the Jets, their goalies in the system and in particular Hutchinson's journey from the ECHL to the NHL?
JK: Yes, I did. I was always a Jets fan and I hope nothing but good things for the organization. Being able to watch Hutchinson and where he was at the beginning of the year versus the end was incredible.
THW: Was it hard to watch guys like Hutchinson or even Connor Hellebuyck, while you were hurt?
JK: Obviously it wasn't easy, but like I said earlier, I just tried to keep it positive. I want the players to succeed and I want the organization to succeed.
THW: You're back healthy and after reclaiming the starting job, you have a 2.94 GAA and a .900% through the first 23 games. Then you get the call that you've been traded. What were you thinking when you heard the news?
JK: I was at home when my advisor called. He told me that there was a deal close to being done. My coach then called me and said that I had been traded to Buffalo. I was excited to be part of the deal. Then Buffalo's Assistant GM called me to welcome me to the organization.
THW: Looking at Buffalo's record and their goaltending situation: Hackett, Makarov, Neuvirth and Lindback, do you feel you may have a better chance at making it into a Sabres' jersey?
JK: I haven't had much time to look at their goalies, but I do think I have a better chance with Buffalo than I did with Winnipeg. The NHL is the goal and it always has been. I'm willing to do whatever it takes to get there.
THW: One last question: how was Valentine's day?
JK: My wife, Stacey and I actually haven't celebrated it yet. We had games on the weekend, so we are going to head out later today and do some things.
THW: Jason, I can't thank you enough for taking the time to reflect on the trade and your career up to this point. Congratulations on the opportunity with Buffalo and please know that just because you aren't with Winnipeg anymore, doesn't mean there aren't people still rooting for you back in Manitoba.
JK: Thank you.