With the draft fast approaching writers here at THW are getting into draft mode. Our writers are acting as GMs of the teams they cover throughout the season.
1. Edmonton Oilers- Nail Yakupov (Marcy Di Michele)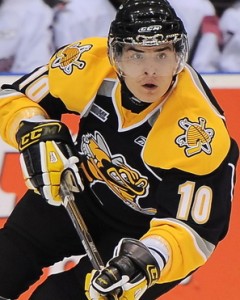 Sarnia Sting forward Nail Yakupov is the consenus number one pick by Central Scouting. He's considered to the best player in the draft, and regardless oforganization needs, a struggling team like the Oilers need all the talent they can get. However there has been a lot of talk that Edmonton will trade the 1st overall pick and select defenseman Ryan Murray, a player the Oilers have spoken highly of. It's pure speculation at this point, obviously, and there's a good chance the Oilers will keep their pick and take Yakupov. But don't be surprised if some kind of trade, one that includes an impact defenseman that the Oilers sorely need, will surface before that first name is called on draft day.
2. Columbus Blue Jackets- Matthew Dumba (Margann Laurissa)
As the Columbus Blue Jackets, I chose Mathew Dumba of the Red Deer Rebels.  The Blue Jackets are rebuilding on defence, especially with the recent acquisition of Jack Johnson, and he will supplant a loss that they suffered upon trading Rusty Klesla to the Phoenix Coyotes.  He will join a group that will, in time, include the likes of Dalton Prout, David Savard, Anton Blomqvist and Theo Ruth.
3. Montreal Canadiens- Filip Forsberg (Fred Poulin)
Arguably one of the most complete forwards in the draft, Forsberg can play the wing and center, which is a quality the Canadiens were looking for. Forsberg's high hockey IQ, great work ethic and two-way game makes him the ideal candidate for us. The big forward is a smooth skater, is strong on his skates and boasts excellent puck-handling skills. He is not afraid to play physical, something that has been lacking in recent years in Montreal. Both a passer and a goal scorer, he has been often compared to Corey Perry.
4. New York Islanders- Ryan Murray (Anatoliy Metter)
At number four overall, the New York Islanders' selection of Ryan Murray will attempt to help the team with some of their problems on defense. Many scouts believe that Murray is very close to being NHL-ready and was simply too good of a prospect to be left on the board for much longer. With Mark Streit getting older, having Murray in the Isles' farm system adds to the team's depth on defense as players such as Calvin de Haan, Aaron Ness, Matt Donovan, and Dylan Reese are all eager to get their shot in the NHL. Having played major minutes in the WHL, Murray is no stranger to hard work and he will provide the Islanders with the puck moving defenseman that they need when moving forward in their rebuild. While it may take a little while before Murray makes his impact in the NHL, the selection of the young defenseman adds another promising piece to Garth Snow's Islanders.
5. Toronto Maple Leafs- Alex Galchenyuk (Stephen Stoneman)
The Toronto Maple Leafs are delighted to select Alex Galchenyuk with the 5th overall pick.  Although Galchenyuk was injured for the majority of the 2011-12 Sarnia Sting campaign, Brian Burke couldn't pass up the opportunity to select a player of his ilk.  Not only does Alex have great size and skill, but he is a high caliber center, a position which the Leafs desperately need to augment in their system.  Don't discount that AG is American, that he comes from a hockey bloodlines and that he is the epitome of a rink rat just what Leafs nation would love with their first selection.  Brian Burke doesn't make this pick lightly.  He of all people knows that Galchenyuk spent his entire season on the shelf with an ACL injury and that he would require time in the AHL to get bigger and stronger before making his jump into the NHL.  He also knows that getting this young American/Russian player at number 5 is a steal and a no brainer.  Alex, welcome to hockey mad Toronto.
6. Anaheim Ducks- Mikhail Grigorenko (Ryan Fulford)
Mikhail Grigorenko is an offensively gifted player with playmaking ability that the Anaheim Ducks will find beneficial in the future, especially with the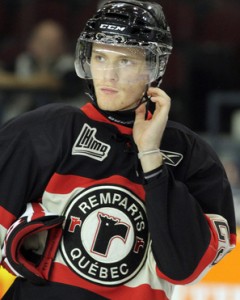 retirements of both Teemu Selanne and Saku Koivu being more imminent than ever.   At 6'3″ and 201 pounds, he has great size and he skates quite well for being a big man.  It is quite admirable that he does not take a lot of penalties; that way, he can play in all situations, something that allowed him to do as well as he did in his first season in North America.  Grigorenko's draft ranking may have fallen due to the fact that he did not have the great playoffs that everyone expected him to, something that was the result of him being sick with mononucleosis.  Despite his youth, Grigorenko is also quite accomplished internationally, something that many of his fellow Ducks prospects have been able to also achieve and that the team prides itself on.  He is expected to return to the Quebec Remparts this coming season but, if given a chance to really show what he can do at the NHL level, the plans can change.
7. Minnesota Wild- Zemgus Girgensons (Margann Laurissa)
As the Minnesota Wild, I have chosen Zemgus Girgensons of the USHL's Dubuque Fighting Saints.  The Wild are a team that are starting to get contributions from many young players, such as Cody Almond, Carson McMillan, Marco Scandella and others.  Mikael Granlund is expected to join them during the 2012-13 season and Jonas Brodin is not too far behind.  With Girgensons going to play NCAA for the University of Vermont, that four-year period can help him develop consistency in his anticipation for his NHL debut.  Additionally, if he chooses to go the major junior route, he can play for the WHL's Kelowna Rockets, something else that will help in his development.
8. Carolina Hurricanes- Morgan Rielly (Andrew Hirsh)
Ideally, given the Hurricanes' lack of depth up front in their system, I would like to take a forward with this pick. However, when given the opportunity to draft this high, one has to go after the best player available, and that is the philosophy behind selecting Morgan Rielly at 8th overall. While the 'Canes aren't in much need of young blueliners—particularly puck-moving, offensive-minded ones—Rielly's ability is off the charts.
According to one scout I chatted with via email, Rielly has the potential to become one of the best players in the league. Had it not been for an injury that cost him most of the 2011-12 season, the Vancouver native would higher on most draft boards; luckily for him, the injury appears to have healed 100 percent. Despite his age, Rielly is already drawing comparisons to Erik Karlsson and even Brian Leetch. And these accolades aren't coming from just anyone—they come from his own coach, Mike Stothers, who's been involved in professional hockey for more than three decades.
9. Winnipeg Jets- Griffin Reinhart (Ryan Fulford)
Griffin Reinhart is a solid two-way defenceman, something that the Winnipeg Jets find themselves with a surplus of at the present time, and he has incredible pedigree but he has not used his name to his advantage.  Reinhart has been a solid force on the blueline for the Edmonton Oil Kings, learning especially from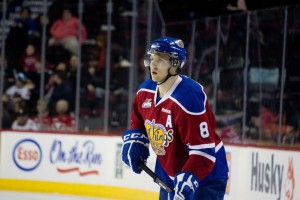 Mark Pysyk, and he was quite beneficial in the team winning their first WHL championship in franchise history.  Reinhart has solid passing and shooting ability; as well, he has considerable aptitude in jumping up on the play, acting like a fourth forward.  He is tall and steady, standing 6'3″ and weighing in at 205 pounds, making him the biggest member of his hockey-playing family.  Reinhart's size and offensive talents make him a solid prospect for the Winnipeg Jets, especially since the only defenceman with both that they have is Dustin Byfuglien.  Reinhart may not be at the same calibre as Byfuglien but he does have the potential to be a solid NHL player in his own right.  He will complement Tobias Enstrom, Zach Bogosian and Ron Hainsey quite nicely.
10. Tampa Bay Lightning- Jacob Trouba (David O'Connor) 
At tenth overall, Jacob Trouba would be a great selection for the Lightning. Trouba is a smooth-skating, two-way blueliner with excellent defensive skills. His game most likely translates as a defensive defenseman in the NHL, but the potential is very much there to put up offensive numbers. Trouba could be a top-pairing defenseman in the pros someday, and could allow Victor Hedman to focus on pushing the puck up the ice a bit more without worrying about who's backing him up. While he won't likely ever be a number one guy, he's a very solid pick in this position. General manager Steve Yzerman would probably be more than happy with Trouba still on the board here.
11. Washington Capitals- Cody Ceci (Darren Coslov)
Cody Ceci is an offensively gifted defenceman who has everything that can make him a solid prospect for the Washington Capitals, including a hard shot, solid skating ability and incredible leadership.  A late 1993-born player, Ceci has seen a 500% increase in his point production from his rookie OHL season to his third, something that has shown that he has become comfortable with his abilities and the ice time he has been given with the Ottawa 67's.  It is not only his size and talent that would make him fit in nicely with the likes of Mike Green and Dennis Wideman, but he also has identical growth in his junior career.  Ceci could very well return to the 67's for a fourth season but he could benefit immensely from a short NHL stint, for both his confidence and the development of the abilities that he is cultivating quite well at the major junior level.
12. Buffalo Sabres- Radek Faksa (Caitlin Campbell)
Radek Faksa is a dynamic forward who has the ability to be a gamebreaker.  He does everything he can to win, including special teams assignments, physicality and whatever else his coaches demand.  The Buffalo Sabres would benefit immensely from his size, since he is nearly 6'4″, with most of their forwards being smaller and shiftier.  Faksa surely benefited from his first season of Canadian junior hockey with the Kitchener Rangers and it is their success as a franchise with imports that has made him the player he is at the present time.  Faksa may not be the offensive force that they have with Derek Roy, Thomas Vanek and Jason Pominville; on the other side of the coin, he may not be the physical, defensive force that they have with Patrick Kaleta and Cody McCormick.  Rather, he is a delicate balance of the two, much like former Sabres prospect Zack Kassian.  Faksa will likely need another year of junior hockey under his belt, though, before he can be ready for the rigours of the NHL.
13. Dallas Stars- Brendan Gaunce (Derek Neumeier)
"With their biggest prospect hole being up the middle of the ice, the Stars effectively fill that gap by selecting the 6'2″, 215 pound center Gaunce. Big, strong and skilled, Gaunce has all the tools needed to become an NHL power forward. Led an otherwise offensively challenged Belleville Bulls team in scoring with 68 points in 68 games in 2011-2012. Is responsible and hard-working at both ends of the ice, and possesses natural leadership abilities. The perfect complement to a deep pool of young wingers in Dallas' pipeline."
14. Calgary Flames- Sebastian Collberg (Ryan Pike)
Simply put, the Flames desperately need more skilled forwards. Collberg showed dazzling skill at the World Juniors in Calgary and therefore is a perfect fit for the Flames.
15. Ottawa Senators- Olli Maatta (Ryan Pike)
Olli Maatta is a steady, two-way defenceman who could be the complete antithesis of Erik Karlsson for the Ottawa Senators.  Maatta showed this season with the OHL's London Knights that he is, indeed, capable of offensive prowess but it is his defensive game that will make him a veritable prospect in the nation's capital.   His strengths lie in his skating and passing, something that makes him akin to Karlsson in several respects, but what makes him unique is that he already has had a considerable teaching in the defensive aspect of the game.  This was taught nicely to Maatta this past season in London while it had to be ingrained into Karlsson as his NHL career started to form.  Maatta has elements of a young Sergei Gonchar in his game, such as offensive flair, good passing and a veritably high learning curve.
16. Washington Capitals- Scott Laughton (Darren Coslov)
Scott Laughton is a very complete centre, solid in all ends of the ice, and he has the potential to be a successful power forward in the NHL.  The Washington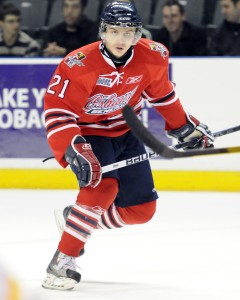 Capitals would find this to be advantageous, especially since he would be a suitable incumbent to the likes of Troy Brouwer, Brooks Laich and Matt Hendricks.  Playing with the likes of Christian Thomas, Boone Jenner and others in Oshawa has elevated Laughton's confidence immensely and it showed on the scoresheet as he found his point production increase over 200% from his rookie campaign.  In addition to his point production, Laughton has improved significantly in the faceoff circle, something that has alleviated pressure off of captain Jenner, who had been taking the majority of the Generals' faceoffs up to this season.  Laughton also plays with a physical edge, something that belies his smaller stature (6′, 170 lbs.).  Above everything, though, Laughton's ability to come through when needed has been extremely commendable, an example being when he had a point per game in the most recent World Under-18s, helping Canada win bronze.
17. San Jose Sharks- Teuvo Teravainen (Andrew Hirsh)
Teuvo Teravainen is an extremely impressive forward who had an all-around spectacular rookie season with Jokerit in the Finnish SM-liiga, showing on many occasions not only why he is a top prospect but also why he is quite capable of playing at a top level, something that would benefit him immensely with the San Jose Sharks.  If there is anything that the Sharks have been with first-round picks, it is that they have been patient.  They have never rushed players such as Devin Setoguchi, Logan Couture or others such as them into their system, giving them instead the chance to flower and develop their skills at their own paces.  Teravainen could be a great match with Couture, both being young dynamic talents who could complement each other, putting themselves in similar situations.  Whether he stays in Jokerit for another year or if he comes to play in North America, Teravainen will be exciting to watch and he is just going to improve as he gains more maturity, on and off the ice, something that he has already begun to showcase as a 17-year-old in a top European professional league.
18. Chicago Blackhawks- Andrei Vasilevski (Derek Neumeier)
"For an organization with a deep prospect pool at forward and defence, as well as a longstanding issue in net, the Hawks take a high-risk, high-reward gamble on Vasilevski. He put up outstanding numbers at the World Juniors for Russia as a 17 year old, with a 2.01 G.A.A. and .953 save percentage, and will surely be the go-to netminder for the team in the next two tournaments. With great size, tremendous athleticism, and a goaltending IQ well beyond his years, Vasilevski is one of the most tantalizing prospects at his position to come along in years."
19. Tampa Bay Lightning- Tom Wilson (David O'Connor)
Some believe this is too high of a spot for Wilson to be drafted, but Tampa Bay could use a little more grit to work alongside its offensive weapons, and Wilson fits the bill. He's very capable of putting up good numbers when working alongside talented, skilled players, as was shown when he played for the Plymouth Whalers this season. The most common NHL player comparison to him is Milan Lucic. If the Bolts could end up with anywhere close to that kind of player, this would be a successful selection.
20. Philadelphia Flyers- Derrick Pouliot (Fred Poulin)
Derrick Pouliot is a solid, two-way defenceman who shows equal parts of offensive flair, defensive acumen and physical strength that makes him one of the more complete blueliners available in the draft.  The Philadelphia Flyers can benefit from placing him in a role much like that of Matt Carle or Kimmo Timonen, especially due to the fact that he is smaller and more mobile.  Everything about Pouliot's play evolved from his WHL rookie season to his sophomore campaign, such as his offensive production, which almost increased twofold, and his defensive play, which allowed him to have an even better plus/minus during the playoffs than in the regular season.  Like most of the blueliners available in the draft, Pouliot may not be ready for the NHL just yet but he will definitely be a solid force in a year or two.
21. Buffalo Sabres- Slater Koekkoek (Caitlin Campbell)
Slater Koekkoek is an offensively gifted defenceman who is learning how to become more sound defensively and that makes him a great pickup for the Buffalo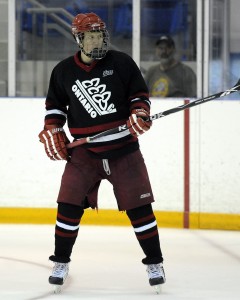 Sabres.  Suffering a shoulder injury that ended his second OHL season does not, however, make him a liability.  Koekkoek's skills lie in his passing and his skating.  He is calm and fluid in his movements and he has an incredible first pass.  He may not have the size as other Sabres blueliners such as Tyler Myers, Robyn Regehr or Christian Ehrhoff but he is coachable and is a true student of the game.  Koekkoek could benefit immensely from another season of junior hockey and he should not be rushed into the harsh reality of the NHL playing schedule quite quickly.  The same patience that the Sabres had with Myers after he was drafted would also be beneficial for Koekkoek.
22. Pittsburgh Penguins- Brady Skjei (Mike Colligan)
"Skjei is an imposing defenseman who continued to grow this season and has been climbing the charts as well. For a big player, Skjei is tremendously mobile and his high-end skating ability allows him to work in transition and handle incoming forechecks. He's still got a raw skill-set and is learning how to use his size effectively, but the Minnesota commit has an enticing skill-set that projects well at the NHL level. At this point, Skjei has to be considered to be the 2012 edition of the NTDP's Connor Murphy, and we'll see how he plays over the coming months as he makes a final push up the charts." – The Scouting Report
23. Florida Panthers- Hampus Lindholm (Karl Selvig)
With Jason Garrison still undecided as to his future, and hopefuls Keaton Ellerby and Colby Robak not quite panning out yet, the Panthers add the Swedish blueliner to bring in some much needed depth at the position.  While the team does have some youth at the NHL level with Dmitry Kulikov and Erik Gudbranson, and 2010 draft pick Alex Petrovic progressing nicely, Lindholm will have the time needed to mature and learn the North American game.  Tallon and Co. have spent recent drafts stockpiling offensive talent, which has the franchise placed at the top of most prospect lists, so adding a big, mobile defenseman is key in the first round.
24. Boston Bruins- Pontus Aberg (Bob Mand)
Initially, I was angling for one of the second-tier of defensive prospects – (Koekkoek, Pouliot, Skjei and Lindholm) with the idea that the Bruins, who lack another surefire blue-chip defensive prospect after Dougie Hamilton, would be thinking the same. Unfortunately, I watched helplessly as all four (and others I had coveted) were taken in the picks immediately preceding the B's at 24.
As a result, I was all-set to take Matt Finn – a defenseman with modest upside and a ton of 'hockey-sense' – something the Bruins' management prizes more than anything else. However, as I was reaching the proverbial 'podium', I noticed that one of my top draft prospects was still available! Pontus Åberg, a two-way forward with speed, grit and finish (who scored fifteen points this season in the Elitserien) remained unclaimed. I hastily changed the nameplate in my mind's eye and selected the two-way winger with the Bruins' pick. While he doesn't fit an organizational need – by my evaluation – he was the true best-player-available.
25. St. Louis Blues- Henrik Samuelsson (Chris Wassel)
It is hard to believe that Henrik Samuelsson is the tender young age of 18 and yet numbers do not lie. Samuelsson has seen his stock rise dramatically in the last several months. People have talked about the forward for awhile but it was his performances in the WHL and WJC's that have people buzzing. Even at 16, there was a little press about him. Then this year there was the gain in muscle mass and ability. More articles were written about him and people really began to start watching and wondering if he could live up to the family name.
With the St. Louis Blues picking 25th in the first round, the argument of best player available was going to come up. Combine that with his rise in many early mock drafts and the feeling was Samuelsson was someone that had to be snatched up quickly. The Blues do have an actual need for a power forward with his potential dimensions. How much couldHenrik Samuelsson grow? If he added another couple inches and 20-25 pounds or so, he could be a beast in the NHL. That is where the family resemblance comes in. His father is 16 year professional, Ulf Samuelsson and his brother Phil was a 2009 second round pick of the Pittsburgh Penguins. The work ethic from his father definitely rubbed off and St. Louis would be wise to draft a burgeoning talent like Samuelsson.
26. Vancouver Canucks- Colton Sissons (Andrew Eide)
General Manager Mike Gillis mentioned this off season that the Canucks wanted to get bigger and younger. While drafting this far down in the draft they are unlikely to find someone to help them this coming season it's clear what direction they are going to go. Gillis also has shown that he prefers players who are not one-dimensional and can contribute in many or all facets of the game. Sissons has good size and has shown that he is a two way player, can play on the power play (scored 13 PP goals last year) is a leader and someone who would fit the mold of what Gillis is trying to build in Vancouver.
27. Phoenix Coyotes- Nicholas Kerdiles (Jim Neveau)
At 6'2" and 196 pounds, Nic Kerdiles will provide the Phoenix Coyotes organization with a forward that is not shy defensively and is quite adept offensively. The California native also skates very well and is no stranger to going into the dirty areas to score a goal or setting up his teammates for a better opportunity. Kerdiles managed to put up 13 points in 18 games in the USHL, but the forward could not have been given an extended look during the 2011-2012 season as he suffered a fractured tailbone and participated in a limited number of games. Even though Kerdiles will probably not have an immediate impact with the Coyotes, he could develop into a very serviceable top-six forward for the Yotes.
28. New York Rangers- Stefan Matteau (David O'Connor)
The son of former New York Ranger Stephane, Stefan is a skilled two-way forward who primarily plays on the wing, but can also play center. He's considered to be a fairly safe choice, so it's probable he'll be a first rounder. At 6'1″, 210 pounds, Matteau isn't very tall, but will be more than capable of handling the physicality of the National Hockey League. This pick would bring back great memories for Rangers fans, as many still remember Stephane's famous overtime goals against the New Jersey Devils in the 1994 Eastern Conference Final. Stefan is expected to play for the Blainville-Boisbriand Armada of the QMJHL next season.
29.New Jersey Devils- Malcolm Subban (Dan Rice)
The Devils have some goalies already in their system (Keith Kinkaid, age 22, Jeff Frazee, 25, Scott Wedgewood, 19 & Maxime Clermont, 20) but it's no sure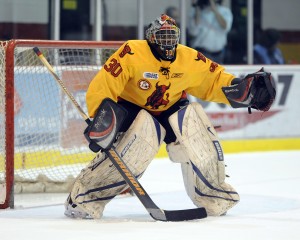 thing that any of them will be the heir apparent to Martin Brodeur who just turned 40 on May 6; perhaps the next starter comes via trade or free agency. Subban (6'1, 178 lbs.), the brother of Habs d-man PK, is a worthy prospect for NJ to select here as you can never have enough goaltending and Malcolm could benefit from the coaching tandem of Chris Terreri & Jacques Caron, and the organization's philosophy of not rushing youngsters to the pro level. It's always a gamble taking a goalie in the first round, heck in any round, because you never know how long it will take for them to develop to an NHL-caliber, if they ever do.
30.Los Angeles Kings- Daniil Zharkov (Meesh Shanmugam)
In reality, there is no guarantee the Kings will have this pick.  The trade to acquire Jeff Carter sent a 1st rounder back to Columbus that can be from 2012 or 2013.  Columbus may decide on the year as late as after the 27th pick in this year's draft, so it may just depend on who is still on the board.
But alas, if Dean Lombardi were to make the pick as everything has gone so far in this draft, I believe Daniil Zharkov would be the best fit.  The Kings weak spot in their minor league system is currently at left wing.  I was torn between Zharkov and Tomas Hertl, but picked Zharkov based on Lombardi's tendencies to pick forwards with size and some experience in North America.  Zharkov brings a big frame a 6'3, 200 lbs, which he can still work to bulk up on.  He has experience in the USHL and OHL, which Lombardi favors, and has a very strong and accurate shot.  One big downside is that he is streaky and is not very sound defensively when he goes cold on the offensive side.  Despite this, the Kings have the time to groom him and can afford a medium-high risk / high reward type player at the end of the first round.  It may take a couple years, but Zharkov could certainly turn into a valuable sniper in the NHL.