For every action, there is a reaction. Especially in the world of hockey this saying seems to hold true meaning. The total number of surprising performances in a season is virtually canceled out by an equal amount of disturbing ones.
Whether it be massive contracts, sophomore slumps or just a lack of interest (Alex Kovalev), players find themselves in a hole that they can't seem to dig their way out of.
This list will not focus on those who missed the majority of the season due to injury. It would be a task far too simple just to name Daniel Briere, Marian Gaborik, Brenden Morrow, Sergei Zubov and Paul Kariya.
Injuries can't be blamed on them necessarily. Instead, we will look at players who competed in a minimum of 40 games and goalies who started in at least 20 contests.
Although the amount of action each saw may vary, they all have one thing in common: They disappointed.

20) Peter Budaj (Colorado Avalanche)
Joe Sakic's snowblower accident possibly best describes just how unfortunate of a season it was for the Colorado Avalanche. Injuries took their toll on the team and nobody seemed to step it up in the absence of players like Sakic and Paul Stastny.
It would have been nice if Peter Budaj had been able to steal a few games with stellar goaltending. Instead, the 26-year-old achieved his first sub-500 year going 20-29-5 and allowing nearly three goals per game on average.
Colorado finished last in the Western Conference standings and missed the playoffs for the second time in three attempts. Avalanche is a fitting word to describe their 45 losses.
19) Vaclav Prospal (Tampa Bay Lightning)
Another team that saw its fair share of issues arise in the regular season was the Tampa Bay Lightning. Rather than injuries, a lack of production from just about everyone not named Vincent Lecavalier or Martin St. Louis occurred.
Vaclav Prospal couldn't find the consistency that the Lightning desired strongly from him and 45 points (19 goals, 26 assists) is his lowest point total since the 2000/2001 campaign.
The Czech native's minus-20 rating was also the worst among Tampa Bay skaters. Let's hope that the playoff run with Philadelphia last year was enjoyable because it may be a while before Prospal returns there with the Lightning.
18) Jean-Sebastian Giguere (Anaheim Ducks)
Anaheim may have managed to reach the postseason, but Jean-Sebastian Giguere wasn't a factor. Jiggy's .900 save percentage and 3.10 goals against average indicate that he couldn't quite find the performances which earned him a Conn Smythe Trophy in the 2003 playoffs.
The veteran net minder failed to reach 30 victories for the first time during the post-lockout era. Jonas Hiller has taken over the starting duties and posted a shutout in his debut playoff match against San Jose.
Good news for Hiller. Bad news for Giguere.

17) Dustin Penner (Edmonton Oilers)
"When we signed Dustin we thought he'd be a top-two-line player. We thought the contract ($4.25 million average for five years) was a starting point for him, but he views it as a finish line. I can't watch it, certainly not for another 2 1/2 years,"
Words from Oilers head coach Craig MacTavish concerning Penner's performances in mid-November. Indeed, the 6-foot-4 winger's second year in Edmonton was just as discouraging as the first, if not more.
Failing to reach 20 goals is unacceptable given the amount of money Penner is earning. Three Edmonton defenders compiled more points than him and it likely would have been four had Lubomir Visnovsky not gone down with an injury.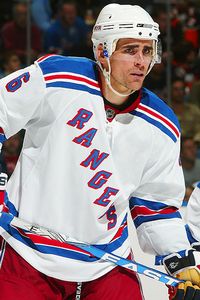 16) Wade Redden (New York Rangers)
A move to Broadway can turn into either a dream or nightmare. For Wade Redden, it was the latter of the two. New York expected the former Ottawa Senator to be a significant part of the team's re-shaping.
Sadly, Redden scored three goals and added 23 assists through 81 games. It was his lowest statistical season since his sophomore campaign in 1997/1998. Rangers fans were on his back far too much and it didn't boost his confidence.
There were eight million reasons for their anger as Redden's gigantic contract did nothing but set him up for an epic failure.
15) Dan Ellis (Nashville Predators)
Although Nashville succumbed to yet another first-round playoff dismissal in 2007/2008, Dan Ellis' goaltending was invaluable. In games five and six against the Red Wings, he made 52 and 40 saves respectfully.
Ellis wasn't able to avoid the sophomore slump this season with a record of 11-19-4. His numbers dropped dramatically in save percentage, goals against average and shutouts.
Barry Trotz was unable to guide Nashville to a fifth straight playoff berth when it was all said and done.
14) Justin Williams (Los Angeles Kings)
An early return from an Achilles tendon injury by Williams was encouraging. Some extensive time off may have proved to be useful because the Cobourg native didn't resemble the player he was in previous seasons.
Williams posted 10 points (three goals, seven assists) in 32 games with the Carolina Hurricanes and four points (one goal, three assists) with the Kings whom he was dealt to at the trade deadline.
Had the 27-year-old remained with the Hurricanes, he may have been able to turn it around in the postseason. Now, we'll never know.
13) Mike Fisher (Ottawa Senators)
Fisher has come to be known as Ottawa's fourth-ranked offensive threat. It may not sound like the finest of compliments but when the three players ahead of you are Daniel Alfredsson, Dany Heatley and Jason Spezza, it isn't so discouraging after all.
The life-long Senator was in a rut all year and his 13 goals were the lowest for him in the post-lockout era. Still, his 32 points were fifth-best on the team, clearly indicating just how disastrous they were offensively.
Should Ottawa bounce back when October rolls around, Fisher should chip in with his usual 20-plus goals.
12) Marty Turco (Dallas Stars)
Dallas' last season without hockey in April was 2001/2002. Injuries were one of the primary sources for their up and down year. That's not to say it serves as a valiant excuse because it affects nearly all 30 teams.
Marty Turco allowed less than three goals once in the first nine games of October. In total, 35 goals were put past the 35-year-old and he seemingly never recovered. His 2.81 goals against average was 30th during the regular season and his .898 save percentage was superior to five goaltenders.
Numbers like that made his 33-31-10 record seem almost surprising.
11) Ryan Whitney (Anaheim Ducks)
Whitney's 59 points in his second NHL season were a huge plus for the Pittsburgh Penguins who already had Sergei Gonchar on the back end. The Massachusetts native made a 19 point drop last year and it hasn't ceased.
Although he only played 48 games (28 with Pittsburgh and 20 with Anaheim), his 23 points are average for a defenseman of his caliber. After hitting double figures in the goals department in each of the past two seasons, he managed just two goals.
Chris Pronger and Scott Niedermayer are Anaheim's top two defenders. A role as one of the less heralded players may be just what Whitney needs to eventually reach his full potential once again.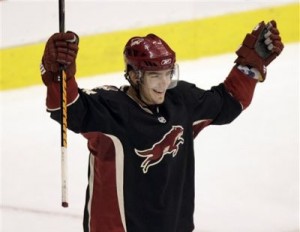 10) Peter Mueller (Phoenix Coyotes)
Should Mueller be one of the biggest disappointments on this list? Perhaps. Were the Phoenix Coyotes going to reach the playoffs had he not been in a sophomore slump? Probably not.
A rookie season which saw 22 goals was followed by a 13-goal, 36-point campaign for the highly talented winger. His shootout heroics vanished as Mueller scored three times on six tries.
How much more of this can Coyotes fans take?
9) Michael Nylander (Washington Capitals)
Nylander has gained a reputation for being an excellent playmaker with top-notch vision. Due to a lack of production, Capitals head coach Bruce Boudreau made the Swede a healthy scratch on more than one occasion this year.
As it turned out, his season was disastrous with nine goals and 24 assists in 72 games for Washington. Here's a guy who totaled 37 points in just 40 games of action last season.
What exactly happened? Washington's wealth of talent made it a rather easy decision to bench him during the frequent dry spells. Oddly enough, the Hartford Whaler draft pick refused to waive the no trade clause on his contract.
8 ) Martin Gerber (Toronto Maple Leafs)
The season was 40 seconds old for Gerber when he allowed his first goal to Tyler Kennedy in the opener against Pittsburgh. Alex Auld saw starts on a regular basis following that contest.
As for Gerber, he was placed on waivers in late January and sent to Binghamton of the AHL. Picked up by Toronto during the trade deadline, his numbers slightly improved with the Maple Leafs.
Overall, the 10-14-1 record, .902 save percentage and 3.03 goals against average were inevitable after Ottawa's early exit from last year's playoffs.
7) Jonathan Cheechoo (San Jose Sharks)
Cheechoo may find himself on lists such as this one for years to come. After scoring 56 goals in 2005/2006, the 28-year-old's goal total has dropped vividly. He found the back of the net 12 times this year.
In San Jose, 10 different skaters finished with more points than the former Rocket Richard Trophy winner. Joe Thornton was the ultimate reason Cheechoo won the award because of his deft passing.
However, even Thornton couldn't save Cheechoo this season.
6) Manny Legace (St. Louis Blues)
Losing your duty as starting goaltender is one thing. Getting sent to the AHL in addition is another. The Toronto native did finish with a 13-9-2 record but the .885 save percentage and 3.18 goals against average were too much to handle.
Legace hasn't played an NHL game since Feb.2 and it's a shame because the St. Louis Blues accomplished something really special by reaching the playoffs. Standing at 5-foot-9, his lack of size was exploited by the opposition.
Durability was also an issue as Legace often seemed fatigued later in the game.
5) Andrej Meszaros (Tampa Bay Lightning)
The Slovakian defender played 82 games and managed 35 points or more in each of his first three NHL campaigns. This led to Meszaros demanding more money and the Ottawa Senators were unwilling to pay.
Sent to Tampa Bay for Filip Kuba, Alexandre Picard and a first-round draft pick, he signed a six year, $24 million contract. Meszaros scored two goals and recorded 14 assists in 52 games.
Meanwhile, Kuba led Ottawa's defense with 40 points (three goals, 37 assists) and Picard had a surprising 14 points (six goals, eight assists) in just 47 games. Deal or no deal?
4) Mike Comrie (Ottawa Senators)
In what was a mammoth disappointment of a season for the New York Islanders, Comrie's play was just as uninspiring believe it or not. Before being shipped to Ottawa, he compiled 20 points (seven goals, 13 assists) in half a season with Long Island.
The Senators didn't spark much out of him either with three goals and four assists in 22 games. Comrie's quickness and aggressive nature were difficult to spot in both cities he played in.
Dating Hilary Duff is one thing he does have going for him.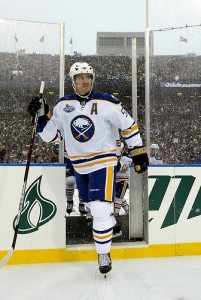 3) Jochen Hecht (Buffalo Sabres)
In Buffalo, Hecht is depended upon in all areas of the game. Penalty killing, defensive reliability and offensive input are what he normally brings with him. This year, the German hardly made his presence felt on the ice.
He recorded 27 points (12 goals, 15 assists) and had his first minus rating (-9) in a Sabres uniform. Hecht had scored 40-plus points in each of the past four seasons and his longest point streak was three games.
One of Buffalo's leaders hardly looked the part.
2) Christopher Higgins (Montreal Canadiens)
Montreal's centennial season was hardly one worth celebrating for Higgins. Nagged by injuries, the fourth-year winger played 57 games and scored 12 goals. Previously, he had scored 20-plus goals in three consecutive years.
Seven points in as many games to begin the season was promising. From there, he would produce nine points in the following 33 games. Were the bounces simply not going his way?
Higgins' first campaign with less than 20 goals may not be his last.
1) Chris Osgood (Detroit Red Wings)
Even the Detroit Red Wings are prone to having a weakness. A 26-9-8 record can be deemed anything but negative. On the other hand, a .887 save percentage (third worst in the league) and 3.09 goals against average (seventh worst) can cause some panicking.
Osgood isn't required to be great with the team he has playing in front of him. He simply has to be an average goaltender given the fact that the Wings don't allow plenty of shots.
Soft goals were his biggest trouble during the season. His days as starting material may be behind him.
Dishonorable Mention: John Madden, Tom Poti, Rod Brind'Amour, Brendan Morrison, Tyler Arnason, Tomas Plekanec.