There are hot seats and lukewarm seats when looking around the NHL. We saw the Flyers fire Peter Laviolette after just 3 games this season, and Buffalo decided to go another direction just this week, firing GM Darcy Regier and Head Coach Ron Rolston. Fellow Blue Jackets Writer Andrew Roman posed the question just this week: "How Hot is Todd Richards' Seat?"
By my estimation, Todd Richard's seat is just past that lukewarm state right now, and it's getting hotter with every loss. Bad and untimely turnovers to go along with blowing 3rd period leads will likely make Richards a scapegoat in the not-too-distant future. Here's to hoping he turns the offense around with the run-and-gun style he wants to play. For now, we try to explain why he is on the hot seat.
Constant Tinkering with the Line Combinations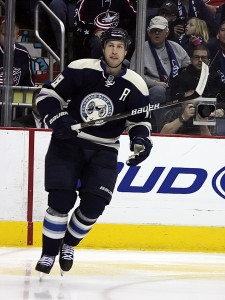 For the first month of the season, Columbus was sporting a top line of Brandon Dubinsky centering Marian Gaborik and Artem Anisimov. For years, the Columbus faithful had endured top lines made up of a #1 center and 2 4th-line grinders or Rick Nash without a center and right winger. Finally, a respectable top line was on the ice. But something wasn't clicking with these guys, and it wasn't for lack of effort.
Now, don't get me wrong. The newly formed line of Dubinsky (on the left wing), Ryan Johansen at center and Cam Atkinson on the right side was a thing of beauty to watch last Saturday night against the New York Islanders. Combined, the line scored 3 times and added 4 assists to each other's goals. I will admit – this was a minor stroke of genius from Todd Richards.
A prime example of the unnecessary tinkering? R.J. Umberger. Umby has been on the 4th line to start the season, all the way up the ladder to the 1st line for at least a few shifts, and now back down the chute to the 4th line tonight against Boston with Michael Chaput and Jared Boll. If that's not a tell-tale sign that Richards is trying to manufacture scoring, I don't know what is.
Roster Decisions and Finger Pointing
Take a look at my most recent article that points fingers at Nikita Nikitin. Personally, I'm trying not to be too negative on the Blue Jackets, but it's difficult to write something good about what is happening for the Blue Jackets over the last couple of weeks. A team that is winning doesn't have fingers point at it, and certainly not when fingers are being pointed repeatedly at numerous players.
5-game Losing Streak…
This is, of course, the most obvious of the 5 signs I present here today. Losing 5 games in a month is not something altogether bad. But to lose 5 games in 12 days with a 4 day break mixed in is a lot to overcome. 4 of the 7 losses have been to division foes as well (Penguins x2, NYRangers, Capitals).
…Against Mostly Backups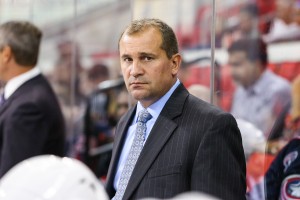 Not only was this a rough patch of games, but can we review who the jackets were facing?
vs. Anaheim. Anaheim has always been a thorn in the side of the Blue Jackets. I can't remember the last time I saw a Columbus win over the Ducks in Nationwide Arena. The netminder was backup Frederik Andersen. I had to look him up to find out who this guy was.
at Pittsburgh. No complaints here, except that the next game was also a loss to the Penguins.
vs. Pittsburgh. This was a shutout loss to the Penguins backup goalie Jeff Zatkoff.
vs. Ottawa and their backup Robin Lehner
vs. the New York Rangers. Noticed a trend yet? I've highlighted it for you. BACKUP netminder Cam Talbot.
The Jackets' only win against the Islanders was against their #1 goalie Evgeni Nabokov.
at Washington. This was just the 2nd game in this stretch where the Jackets faced a #1 goalie (Braden Holtby), but the Jackets were up 3-2 with just 1:45 left in the game and lost in overtime.
at Boston. And? 3-2 in OT against BACKUP Chad Johnson. A loss is a loss, but I'll take the OT version over a regulation loss, I suppose.
That's 5 of 7 losses against backup goalies and 4 of the 7 losses were in front of the home fans. To lose approximately a tenth of the team's home games in one 12-day span is not going to bring in any new season-ticket holders.
Last Place in the Metropolitan Division
Yep. You're in last place. In the worst division in the NHL. It's very unscientific, but here's a simple analysis for you: the Metropolitan Division has scored the least points in the NHL amongst its 8 teams in the second most total games. Take a look:
| | | | |
| --- | --- | --- | --- |
| Division | Games played | Points earned | Points/game |
| Atlantic | 148 | 154 |              1.04 |
| Metropolitan | 145 | 141 |              0.97 |
| Central | 126 | 165 |              1.31 |
| Pacific | 133 | 158 |              1.19 |
Don't get me wrong, the Blue Jackets have seen the bottom of the standings before. Last season, Columbus set up shop at the bottom of the division before an epic March and April brought them within 1 point (or a tiebreaker) of the playoffs. But let's look at Philadelphia: they fired their coach after 3 games. THREE games. If anything says "trouble" in the NHL, I'd have to say that firing your coach after 3 games is it. If you can't beat the Flyers, who can you beat?
Next on the "trouble list" has got to be losing 7 of your last 8. The Jackets have just 13 points on the season. It's a good thing that Florida and the "Tim Thomas Experiment", Buffalo and their new head coach and Edmonton who is forever rebuilding have fewer points or Richards would probably have lost his job already. For now, Columbus has to fight through this funk and get going. Everyone was saying how good they were looking after winning 3 in a row near the end of October, and the Jackets need to get back to that kind of hockey. And fast. The good news? The Jackets ride a 3-game point streak as the Montreal Canadiens invade Nationwide Arena on Friday night.