With the tumultuous 2013 season now firmly in their rear-view mirror, the Calgary Flames are now unabashedly preparing for their future. The upcoming NHL Draft will see the club pick three times in the first round, a record for the franchise, and this coming summer is anticipated as being one of the most important in the team's history.
With all the importance being placed on drafting and the club's prospects, here's a quick look at the ten best Flames prospects, and five players that are just slightly behind them. For the purposes of this article, "prospects" are considered players under the age of 25 who are not yet everyday NHLers. Defenseman T.J. Brodie is younger than 25, but he's emerged not only as one of the Flames best defenders, but also as the organization's most exciting developmental success story.
Who'll be the next player to jump into the Flames line-up and make a Brodie-sized impact? It may very well be somebody on this list.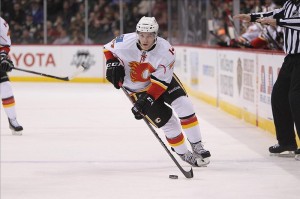 #1: LW Sven Baertschi
Calgary's first round selection in 2011, the native of Bern, Switzerland has had an up-and-down 2012-13 campaign. He split the year between the AHL's Abbotsford Heat and the Flames, where he was used in a bottom-six role, demoted to the AHL, and recently returned to Calgary and has gotten top-six minutes. Baertschi's creative with the puck, a very good skater and has a nose for the net. If he can add a bit of muscle to his frame, he'll be just fine in the NHL.
Pro Games: 52, Pro Points: 36, Age: 20
#2: LW Johnny Gaudreau
The man known as "Johnny Hockey" followed up his excellent freshman year in the NCAA with an even better sophomore campaign. He won a gold medal at the World Juniors, was his conference's MVP and was a finalist for the prestigious Hobey Baker Award. Sadly, Calgary's fourth round pick in 2010 did not win a second NCAA Championship, but he'll be back at Boston College to seek a title (and a degree) in the fall. Gaudreau is fast and incredibly creative, but he's pretty small (5-7, 165 lbs).
Pro Games: 0, Pro Points: 0, Age: 19

#3: C Max Reinhart
The eldest of Paul Reinhart's three sons, Max capped off his first professional season by showcasing how far he's come. Originally a bottom-six option for Abbotsford head coach Troy G. Ward during the lockout, Reinhart gradually adjusted to the pros and transitioned to a top-six role after the work stoppage ended. He was brought into Calgary after the trade deadline and didn't look out of place. He's a good forechecker, works hard and is positionally strong, but he'll need to bulk up a bit more if he wants to win more board battles.
Pro Games: 79, Pro Points: 27, Age: 21
#4: G Laurent Brossoit
If there's one thing that Laurent Brossoit doesn't have, it's consistency. However, Calgary's sixth round selection in the 2011 draft has been occasionally poor but mostly excellent since his draft year. He was the most valuable player in the WHL playoffs, but looked shaky at the Memorial Cup. He was shaky at Team Canada's summer camp and at the Canada-Russia Challenge, but was better at the World Junior selection camp. He didn't make Team Canada, then went on an absolute tear, barely losing en route to the playoffs. If he can work with Flames coaches on reining in his peaks and valleys, he'll be a good pro. He's got the raw abilities he needs, now he just needs to perfect the mental aspects.
Pro Games: 0, Pro Points: 0, Age: 20
#5: G Jon Gillies
A lot of people – myself included – are wary of drafting goalies in the first few rounds of the draft. Guys like Jon Gillies make guys like me look foolish. Gillies transitioned from the USHL to the NCAA with ease, holding the Providence College Friars in a lot of games, winning a World Junior gold medal as a back-up, and being named an All-American, runner-up for conference MVP and the national rookie of the year. Big-bodied and excellent positionally, Gillies has a lot of potential.
Pro Games: 0, Pro Points: 0, Age: 19
#6: C Roman Horak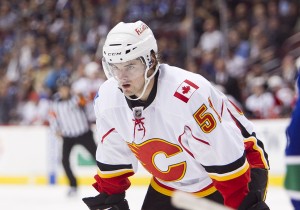 Acquired from the Rangers when Tim Erixon refused to sign in Calgary, Horak surprised many when he made the team out of camp two years ago. He did the same thing this year and has been excellent at points during his most recent recall stint. Horak's not particularly great at anything, but he's a tireless worker and is good at just about everything. He's a strong three-zone player with strong defensive-zone positioning and good hockey sense. He may never become a high-end NHLer, but he's on the cusp of becoming an every-day NHLer.
Pro Games: 154, Pro Points: 52, Age: 21
#7: LW Lance Bouma
Bouma only played a handful of games this year due to a knee injury, but prior to going down he was likely penciled into an NHL roster spot. It's no small wonder why. While the youngster lacks high-end skill, he brings the physical element like few in the Flames organization do. A tireless worker, he's willing to block shots, fight or hit if that's what his team needs him to do to win. He has an underrated offensive game, but generally errs on the side of making smart defensive plays. If his knee is at 100%, he'll be hard to beat for a fourth line spot for 2013-14.
Pro Games: 138, Pro Points: 31, Age: 23
#8: LW Kenny Agostino
Acquired in the Jarome Iginla trade, Agostino helped lead Yale to the NCAA championship this spring, the Bulldogs' first title in team history. Originally a fifth round pick of the Penguins in 2010, Agostino isn't huge at 5'11" and 200 pounds, but he plays a strong three-zone game with a bit of a tilt towards the offensive zone. He's shown himself capable of scoring big goals at big times, but he's been sheltered a bit by the NCAA's shorter season. He'll return to Yale for his senior year in 2013-14.
Pro Games: 0, Pro Points: 0, Age: 21
#9: C Bill Arnold
Another good, if not great, college player in the Flames' coffers, Arnold isn't one of the top players on his team, but he's arguably one of the most important. A fairly big body at 6 feet and 210 pounds, Arnold has good skating, decent hands and the ability to play in virtually every situation. He kills penalties, plays on the power-play and has been praised by Boston College's coaches for playing well in all areas of the game. He'll return to BC for his senior year in 2013-14.
Pro Games: 0, Pro Points: 0, Age: 20
#10: D Tyler Wotherspoon
Arguably the prospect that did the most to enhance his stock this season, Wotherspoon went from being a useful depth defender for Portland to being a very important cog in their machine. He made the Canadian World Junior team out of camp, up-ending many established Team Canada names, and was arguably the best Canadian blueliner at the tournament. Wotherspoon is a reliable two-way defender with good positioning, and his offense is starting to pick up a bit, as well. He could add some size and a bit more physicality to his game, but he's developing nicely. He'll likely turn pro next season.
Pro Games: 0, Pro Points: 0, Age: 20
The Next Five
The Flames also have a handful of players that aren't quite to the level of these ten guys, but are very good hockey players in their own rights.
Bruising defender Patrick Sieloff made the jump from the American national development team to the OHL's Windsor Spitfires and managed to play physical without getting a lot of penalties. He won a gold medal at the World Juniors.
Young first round pick Mark Jankowski went from Quebec prep school to the NCAA and rapidly improved during the season. He's a long-term project.
Acquired in the Jarome Iginla trade, Ben Hanowski has size, strength and hockey sense, but his skating looked like it could use some improvement in a brief NHL stint late in the year. He'll probably see some AHL time in 2013-14.
Playing on the worst team in the WHL, Brett Kulak became a go-to guy for the Vancouver Giants and relished the opportunity. A battler who hates to lose, Kulak improved rapidly during the season and even got a few games in the AHL on a try-out.
Playing on one of the QMJHL's better teams, Ryan Culkin continued his strong play. While he has more to work with in Quebec than Kulak does, the stacked Remparts roster means that Culkin runs the risk of getting lost in the shuffle. He could join the AHL due to his age (he's a late birthday).