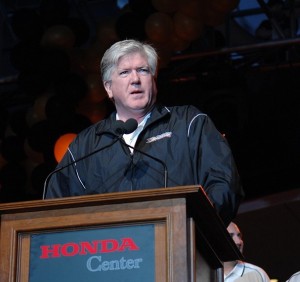 With the trade deadline just around the corner, rumours of players swapping teams are beginning to heat up. So much in fact, that the word "imminent" has been used in the same sentence of Toronto Maple Leafs. For the most part, people are saying that it's imminent that Maple Leafs general manager Brian Burke will pull the trigger on a trade to bring a top-six forward to Toronto. That's not the case, though, and nor should it be.
As we've seen so many times in the past, nothing is ever guaranteed to happen. Whether it be hockey, football, basketball, baseball or any other sport in the world, we can never label anything as positive to happen. All you have to do is take a look back a few years when people said it was imminent that the Leafs would deal captain Mats Sundin at the trade deadline, but the Swede blocked the move.
The fact that nothing is imminent may actually be a good thing for the Maple Leafs when it comes to acquiring a top-six forward, though. It's easy to see why you might ask yourself why, and the answer to that question is simple: All the Leafs really need is a veteran depth forward.
Too many times this season have the Leafs gone on streaks of four or five strong games, followed up by the same streak in an unwelcome form. That is, of course, losses.
It appears as though the biggest reason for this may be the Leafs' age. As the second youngest team in the NHL in terms of average age (26.1) only to the Colorado Avalanche (25.9), the Maple Leafs don't exactly have a wealth of experience. In fact, there are currently only three players on the Leafs' roster aged 30 or older: Mike Komisarek (30), Tim Connolly (30) and John-Michael Liles (31).
Thankfully for the Leafs, Burke was recently able to lock up Liles for four years, all but guaranteeing them some veteran leadership on the back-end. However, that doesn't mean much when the other two players─Komisarek and Connolly─only have two years and one year remaining on their respective contracts.
For a team that is currently in the midst of a battle for the eighth and final playoff spot in the Eastern Conference, the lack of a veteran presence in the locker room can't be good. As mentioned, it's not just an experienced forward that the Leafs need, but also someone who can fill out the top-six in case of injury.
Leading the Leafs in points at the All-Star break are a couple of All-Stars, Joffrey Lupul and Phil Kessel. Both have played 49 games, meaning neither of them have missed a single game. That's great news for Leaf fans, but what is the likelihood that they will both be able to remain healthy during a full 82-game season? Let's just say that the outlook isn't very good.
While the Leafs do have some guys on their roster who can play on the top line such as Clarke MacArthur, Nikolai Kulemin and Mikhail Grabovksi, none of them can carry the team like Lupul and Kessel have done so far this season. That's where the Leafs' third and fourth lines must be investigated.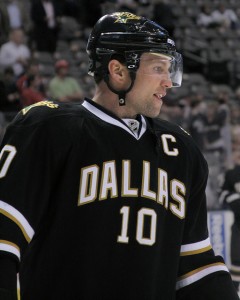 On those bottom two lines are the likes of David Steckel, Joey Crabb, Darryl Boyce and Matthew Lombardi. The latter of the four is the only one who has really shown that they might be able to fill in if and when the situation arises, but even he doesn't really have the skill set to remain a top-six player for an extended period of time and help the Leafs to a playoff spot if need be.
It has now been established that the Leafs' most pressing need up front comes by way of a veteran depth forward who can jump all around the lineup. The only question now is, who is available that could fill the roll? One name that has been thrown around a lot and a name that makes more sense than people may think is Dallas Stars forward Brenden Morrow.
Since the Maple Leafs are so close to the NHL's mandated $64.3 million salary cap and contracts are such an issue these days (see: Jeff Carter), we'll start off with his salary. At a cap hit of $4.1 million according to Cap Geek, Morrow is a much more viable option financially than many others currently being considered on the trade market. Not only is he one of the cheaper players out there, but Morrow also has one more year remaining on his deal after this season, meaning he would be more than just a rental player.
He also fits the bill of both a veteran and a depth player.
At 33 years of age, Morrow has seen just about everything during his NHL career and has been through plenty of ups and downs. Now in his twelfth NHL season, he certainly doesn't lack in the experience department.
In terms of being a depth player, just look at Morrow's capabilities; he can play the power play, penalty kill and is able to fit in just about anywhere in the lineup, meaning he could easily play on the third line and slide into the top-six when needed.
One of the only real downfalls of going after Morrow would be that he has a no-trade clause, meaning that acquiring him may never even have the potential to happen; he wouldn't have to move if he didn't want to.
Also, what would the Leafs have to give up for a guy like Morrow? Well that remains to be seen, although we could find out as early as February 27 of this year.
Twitter: @LukasHardonk | Email: lukas.hardonk@gmail.com | Lukas' archive
For every Leafs article on THW, follow @THW_MapleLeafs on Twitter.