Follow Salim Valji on Twitter
Like his FaceBook page
With all the hype surrounding the Boston Bruins and their quest to repeat as Stanley Cup Champions, no team faces the pressure and expectations quite like Canada's darlings the Toronto Maple Leafs.  Love them or hate them, they are perhaps the team that needs to make the playoffs the most.  Ron Wilson and perhaps even Brian Burke have every reason to think that they are fighting for their jobs this season and are in a similar position as many of their players.
Goalie
In goal is perhaps where things are almost set in stone.  James Reimer, the 4th round draft pick out of Red Deer in the WHL, showed Leaf Nation what the immediate future entails with his brilliant performance last season in 37 games; and Jonas Gustavsson appears to have his place as Reimer's backup.  Expect a dropoff in Reimer's 0.921 save percentage as he plays a full season in the pros for the first time, however he seems to present a safe regular season option.  Look for the Leafs to acquire a battle-tested veteran near the trade deadline to mentor Reimer.  Brian Burke and the Leafs brass have done an excellent job in replenishing the goalie depth; signing Finnish star Jussi Rynnas, Swedish netminder (and rapper) Mark Owuya and former Alberta Junior Hockey League Star Ben Scrivens.  At one point, however, one of these names will have to be moved.
Defense
On defence is where Ron Wilson's teams have thrived.  In 2003-04, Wilson guided the San Jose Sharks to a first place finish in the Pacific Division with 104 points, with the team placing 4th in the league in goals against.  A large part of that success was due to a very deep defense group; with Scott Hannan, Mike Rathje, Brad Stuart, Kyle McLaren, Tom Preissing and Rob Davidson making up the top-6.  Wilson relied heavily on every pairing, as only Rob Davidson averaged less than 15 minutes/game.  This is a pattern in Wilson's coaching career that continues even through last season, where Mike Komisarek was the only regular Leafs defender to average under 15 minutes/game.
This year's Leafs have been lauded as one of the deepest defenses in the NHL; featuring Luke Schenn, Mike Komisarek, trade acquisitions John Michael-Liles and Cody Franson, Carl Gunarsson and captain Dion Phaneuf.  With the way Wilson distributes ice time amongst defensemen, even the bottom-pairing Leafs defensemen will be given quality minutes.  Dion Phaneuf and John Michael-Liles will likely lead the Leafs defenders in points and will be given primary powerplay duties, while Gunarsson and Komisarek should spend a majority of the year playing on the 3rd pairing.  Luke Schenn will continue to develop into his role as a top shutdown defenseman.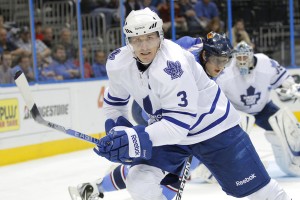 Forwards
The Leafs enter this season with a much deeper group of forwards than they did at the start of last season.  Joffrey Lupul, Tim Connolly and Matthiew Lombardi are all players who were acquired via the trade market and free agency; and should boost an anemic offensive attack that ranked 23rd in the league last season.  Lombardi, health concerns aside, will likely enter play a bottom-6 role and earn more minutes if his play permits.  Lupul, Phil Kessel, Nikolai Kulemin and  Clarke MacArthur will likely play top-6 minutes for most of the season between centers Connolly and Mikhail Grabovski.  Wilson's forwards generally play between 10 and 20 minutes per game dating back to his time in Washington and San Jose and even with the Leafs last season, so look for the disparity in ice time between the 1st line and the 4th line to be less than expected.
Of concern for Leafs fans is not only Tim Connolly's health, but that his points per game has decreased in each of the past three seasons.  Meanwhile, can Mikhail Grabovski and Clarke MacArthur prove that their 2010-11 seasons were no abberation and continue their strong play?  Joffrey Lupul is perhaps the biggest wildcard in all of this.  If he is unable to rekindle his 30 goal game, look for prominent Leafs prospect Nazem Kadri to potentially steal his spot amongst the top-6.
The Rest
The pressure in any Canadian city is great, and in Toronto the spotlight certainly is brighter.  However, things will be intensified as the team attempts to make the playoffs for the first time in the new NHL.  Wilson will likely ice a team built around sound defense, and will rely heavily on his deep group of defensemen.  Meanwhile, the additions of John Michael-Liles and Tim Connolly will help out a powerplay that, for the fourth straight year, ranked below the league average.  Penalty killing has also been a weak spot for the franchise, and the onus will be on new assistant coaches Scott Gordon and Greg Cronin to change that after no real defensive players (aside from Cody Franson) were brought in.  With Wilson's lack of communication abilities noted (and having met him personally and observing the same), he will need to foster a positive environment in the locker room where players, unlike years past, are happy to play under him.
5 Predictions
-Joffrey Lupul will not regain his form, and will ride a majority of the season in Wilson's doghouse
-Phil Kessel will score 60 points, along with Mikhail Grabovski, Nikolai Kulemin and Clarke MacArthur
-The Leafs will acquire both a veteran goalie and a top-6 winger
-Nazem Kadri will not earn a roster spot, and will once again endure a dissapointing season.  The Leafs will seriously consider moving him at the trade deadline
-The Leafs finish 7th in the Eastern Conference with 91 points, however fail to make it past the first round.  Wilson and Burke will get another year to improve the team
As always, what do the readers think?