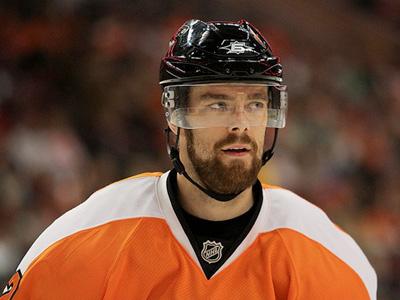 How would Ville Leino look in a Blue and White sweater? Probably not too bad actually.
We are just a day away from the free agent frenzy that will take place on July 1st and Ville Leino of the Philadelphia Flyers is one of the top players available. There is still a great chance the Flyers ink him to an extension before the frenzy but nonetheless, the opportunity could be there to snatch him as an unrestricted free agent from a Toronto Maple Leafs perspective.
The 27 year old possess such skills that the Maple Leafs lack at the forward position. Leino has great puck possession skills and uses them to his advantage. He takes control of plays in the offensive zone and swerves his way past defenders. He can slow the play down if he wants, and he can increase the speed of the play if he wants. With that, he can be a defensive liability at times but that is the consequence with players that play the finesse game. In my books, the Leafs do not have a player like that.
Here is a quote from HockeyBuzz writer Brian Huddle on Twitter: "He can really slow a play down like [Tomas] Kaberle could at his peak."
In 81 games this past season with the Flyers, the Finnish forward put up 19 goals and 34 assists for a total of 53 points and a +14 rating. He is an un-drafted player who was signed to a contract by the Detroit Red Wings. The Wings were forced to let him go because they needed to make room on the roster for a player coming off injury and it was obvious a team would swipe him for nothing on waivers. Thus, they traded him to the Flyers in the 09/10 campaign.
Leino is no playoff slider either, he put up 21 points for the Flyers in their ride to the Stanley Cup Finals in his first season with Philadelphia. Seven goals and 14 assists in just 19 games.
But where would he fit on the roster you say? If Leino were to be signed, that would likely write the book to the departure of Clarke MacArthur in Toronto. Leino is a top six forward and would likely fill in the second line left wing position, which is ideally where the Leafs would want MacArthur if they were to retain him.
Leino can be shuffled between the first and second line left wing positions in case the Leafs run into their problems with their lack of first line talent. Leino is no first liner, but he would be the best bet on the team to play with Kessel if a spot were to become available.
It looks like the Maple Leafs are headed to arbitration with forward Clarke MacArthur so the best option may be to fill his spot while they can with a player of Ville Leino's skill and a contract that would likely last two or three years more than the one year that can be had with MacArthur through arbitration.
But the problem with Leino is the price. The term isn't much of an issue. Speculation would suggest that he is seeking above $4 million on the open market. That may be an issue for the Leafs. Committing to Leino short term or long term for $4 million plus maybe too much of a risk due to the fact the Leafs could be guaranteed a one year deal for MacArthur through arbitration.
The Leafs should hunt down Leino if they can get him at $4 million per year or under $4 million. Otherwise the Leafs can provide Clarke MacArthur with a chance to prove last year wasn't a fluke and go to arbitration with him.
We will find out on Friday if the Maple Leafs can snatch Ville Leino on the open market or if Leino will even make it there.
Wait and see, wait and see!
Feel free to follow me on Twitter: RaihanSays and like my Facebook page
If you have any questions or concerns, please do not hesitate to email me at: Raihanhussain@msn.com. All inquiries are welcome!