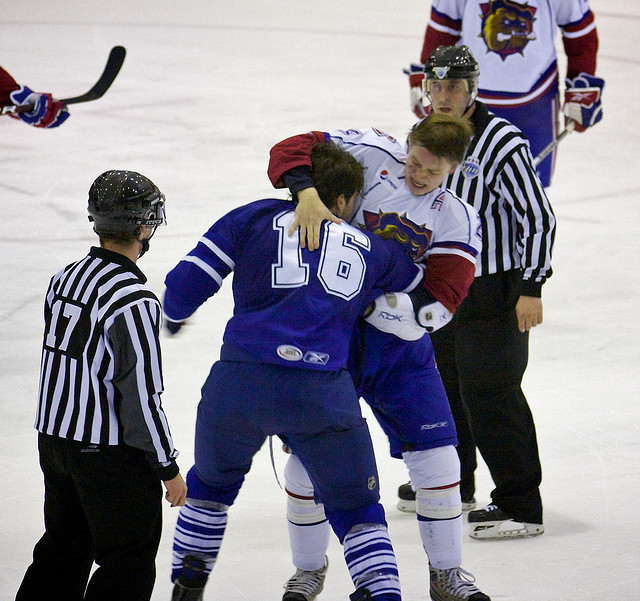 Is it October yet? Hockey die hards just can't take this hockey less summer anymore. And with the deathly heat rolling in, we can't be cringing harder for hockey. But not to worry, training camp is only two months away!
When you start thinking about the dynamics of training camp, the first thing that comes to mind are stand outs. Every year there is at least one training camp standout within the locker rooms of every team in the NHL.
Last year for the Toronto Maple Leafs, Tim Brent's performance earned him a spot on the Maple Leafs roster for the season and fetched him a fresh new two year contract worth $1.5 million per year with the Carolina Hurricanes. He was looked upon as a career AHLer before entering camp.
Mike Zigomanis made a smaller impact and was given a spot on the team centering the fourth line to start the season. Two years ago, Viktor Stalberg cracked the Leafs top six out of training camp.
It makes you wonder, who will it be this year?
The man that could be ready to make his mark is 26 year old forward Ryan Hamilton. Watching him live and from the TV set last year you just knew he was one step away from the NHL. All he needed was a chance, one call up to prove his worth.
In 45 games last year with the Toronto Marlies of the AHL, Hamilton registered 16 goals and 12 assists. The season prior to that, he put up another 16 goals with three less assists to total his points to 25 in 47 games. The Oshawa, Ontario native was Leafs GM Brian Burke's first addition as GM of the Maple Leafs acquiring the 6-2, 219 pound forward from the Houston Aeros.
The Marlies held the top penalty killing percentage in the AHL for most of last season and Hamilton's performance short handed was one of the biggest contributions. His defensive side is the specialty of his game combined with great speed. He would bring a sense of energy to the Leafs and plays the game of hockey with heart, much like Tim Brent.
Much like the success Darryl Boyce, Joey Crabb, James Reimer, and others had last year on the Leafs roster after getting called up from the minors, Hamilton, in my eyes at least, can do the same. He will need to pounce on his opportunity and likely doesn't make the team unless another player falters. That's the reality with training camp stand outs.
Nazem Kadri, Matt Frattin, and Mike Brown are three examples of players that could find themselves under the John Mitchell effect if they don't have solid performances in camp. The John Mitchell effect refers to simply sitting a player out for a few games because they did not have a good training camp and awarding his spot to someone who had a good camp. That is how Mike Zigomanis was on the opening day Maple Leafs roster last year. Hamilton is a winger, which means a winger will need t falter for any chance of him making the team.
Only two more months hockey fans until the doors of NHL training camp begin. A player to watch for the Toronto Maple Leafs is Ryan Hamilton as he could be ready to pounce on his opportunity.
BOLD PREDICTION: 
Ryan Hamilton will be on the Toronto Maple Leafs opening day roster.
Follow me on Twitter and Like my Facebook page
If you have any questions or concerns, please do not hesitate to email me at: Raihanhussain@msn.com. All inquiries are welcome!