---
Hindsight is the ultimate humbler.
I just spent the past hour looking back on my trade-deadline predictions from the past three years. The links are posted above if anybody is in need of a good laugh.
For those preferring to save an extra click — as if they come out of your bank account — take my word for it when I say the results have been cringe-worthy and, well, laughable.
To quantity them, I've gone 3-for-94 overall — and that is actually being generous since I have yet to get a trade bang on.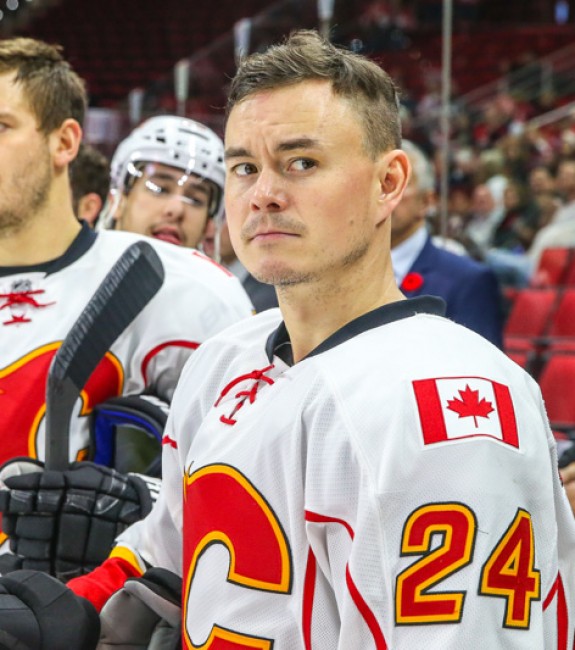 On three occasions, I have correctly predicted the player-to-team combination — getting Jiri Hudler to Florida last year, plus Ryan Miller to St. Louis and David Legwand to Detroit in 2014.
In other instances, I've got the return right but the team wrong — such as Roman Polak for a second-round pick last year, predicting he'd go to Dallas instead of San Jose.
Some of my dreamt-up deals have come to fruition in a roundabout way too. For example, I had Stefan Noesen going from Anaheim to New Jersey last year and he ended up there just last month, albeit on a waiver claim.
Yeah, I'm not taking credit for that one. As it stands, I went 1-for-40 in 2016, a dreadful 0-for-26 in 2015 and 2-for-28 in 2014.
Those numbers speak for themselves and, I'll admit, I'm pretty lousy at this whole predictions thing. I'm better when it comes to the entry draft than the trade deadline, and we'll see how I fare at the expansion draft. I have mock drafts in the works for both of those exciting events to come in June.
For now, though, all eyes are on the March 1 trade deadline and I'm forging ahead with my annual predictions.
I've got a few doozies again, but I tried to take a safer, more calculated approach this time around. I'd like to get more than one or two right for a change, so I'm striving to be realistic at the sacrifice of shock value. Well, trying to find that balance anyway.
Predicting More Trades Than Recent Years
On the latest episode of the Facing Off Podcast — previewing the trade deadline with Félix Sicard — I predicted that there would be 32 trades between the time of that recording on Feb. 12 and noon PT (3 p.m. ET) on March 1, including 26 involving at least one NHL roster player, plus six minor-league or prospect-type swaps that won't really move the needle.
That would be up from 19 trades at last year's deadline and 24 in 2015, although those numbers only apply to the actual deadline day. There are always a handful of deals in the weeks leading up to the deadline, so I bumped up my total to reflect that and, for those keeping count, we are at three through Monday, Feb. 20.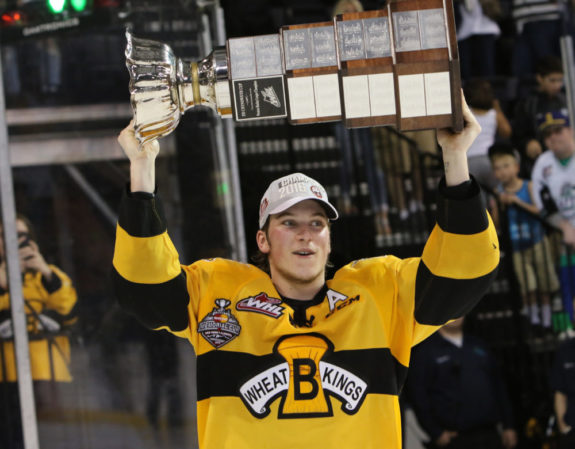 I think we could see more trades than usual due to a few factors. First and foremost, the expansion-draft implications, with teams trying to tweak their protected lists.
Secondly, I feel 2017 is a weaker draft year for prospects — both top-end and in terms of depth, relative to 2016 and 2015 — so teams might be more willing to part with picks, even first-rounders for those sure to be picking after 14th overall.
Thirdly, the lack of trade activity thus far, with hardly any deals to date this season, could trigger a flurry of activity once those floodgates open.
At the end of the day, the amount of sellers emerging from the Eastern Conference will determine what kind of deadline this becomes in terms of how busy it will be.
If several East teams decide to sell, it could be a wild one. However, if the only real sellers are Colorado and Arizona in the Western Conference, we might be lucky to get 12 meaningful trades.
I'm banking on more and if the over/under were set at 25, I'd be tempted to take the over, but I like to live dangerously in the lead-up to deadline day.
In saying that, let's start this year's predictions off with a bang. I'll swing for the fences on the first five, then get a little more serious for the rest.
Trade 1
To Anaheim Ducks = Gabriel Landeskog, Blake Comeau (salary retained) and a 2017 fourth-round pick (via New York Rangers)
To Colorado Avalanche = Sami Vatanen, Brandon Montour and Kevin Roy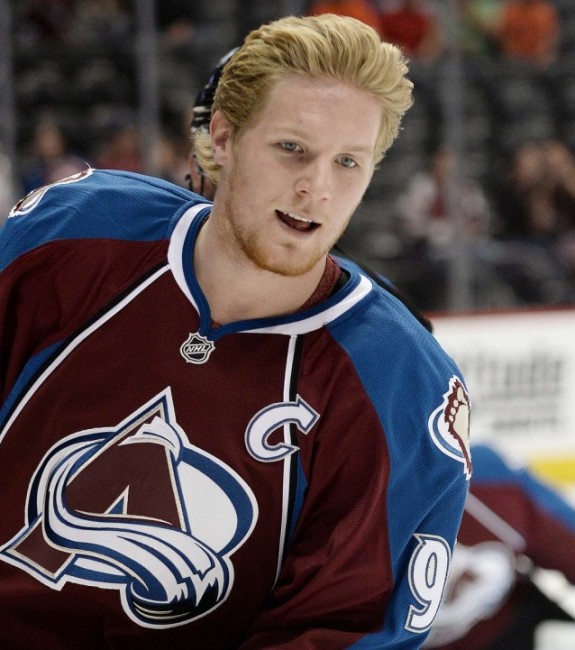 ANALYSIS: There is a lot of potential for the Ducks and Avs to be trading partners, whether that involves Landeskog or Matt Duchene, Vatanen or Cam Fowler. Landeskog may be the better fit for Anaheim, a left-winger that would allow Randy Carlyle to load up his top line with Ryan Getzlaf and Corey Perry again for the playoffs. If Fowler's improved play this season has taken him off the trade block, Vatanen could become the odd-man out in Anaheim with the expansion draft looming. Montour is somewhat similar to Vatanen as an undersized, offensive-minded defenceman, but those puck-moving, power-play types are difficult to acquire and Colorado would be wise to grab both if possible. If not Montour, Shea Theodore could be the secondary target. Comeau seems like a Carlyle-type veteran who could contribute in some capacity among Anaheim's bottom-six forwards. Depth is crucial come playoffs and Comeau would be an upgrade on some current Ducks, at least in terms of experience when the going gets tougher. Roy is a nice prospect on the cusp of being NHL-ready, so he could get that opportunity in Colorado sooner than later. Troy Terry, the American shootout hero from the world juniors, could be on Colorado's radar too. Anaheim won't have room for Roy any time soon, so the Ducks take back a mid-round pick to offset that loss.
Trade 2
To Montreal Canadiens = Matt Duchene and Francois Beauchemin (salary retained)
To Colorado Avalanche = Nathan Beaulieu, Mikhail Sergachev and Tomas Plekanec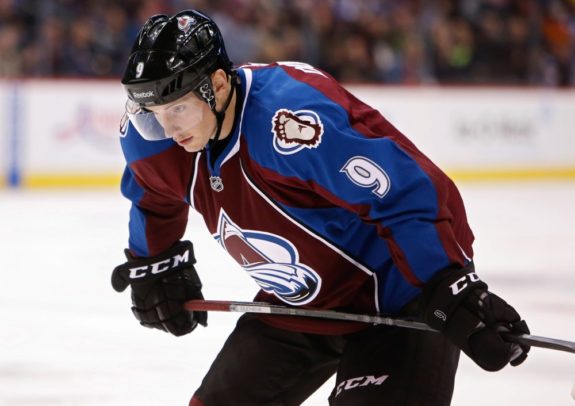 ANALYSIS: The chances of the Avs moving both Landeskog and Duchene at the deadline would seem slim. There is a chance, though, if Joe Sakic wants to blow things up in Colorado and build from the blue line going forward. Sergachev would be the prize piece in this return package, giving the Avs a potentially dominant Russian defence pair with Nikita Zadorov. Those two could be scary good together for the next decade in Denver. Beaulieu plugs more of an immediate hole and might be a better all-around defender than Tyson Barrie. This would be quite the overhaul on defence — assuming Vatanen and Montour were also coming to Colorado — but the Avs could start next season with Erik Johnson-Beaulieu, Zadorov-Sergachev, Vatanen-Montour/Mark Barberio. There would be growing pains, but that is a promising and much-improved group. Plekanec is a decent second-line centre, but he's in this deal more so to offset salary than to meet Colorado's demands. Plekanec could still be plucked by Las Vegas or flipped in the offseason for a younger talent that would work better with Colorado's core. From Montreal's perspective, Duchene is the top-line centre that the Canadiens have long been coveting, and a 1-2 punch down the middle of Duchene and Alex Galchenyuk is what dreams are made of for Marc Bergevin. Getting Beauchemin, a francophone defenceman with tons of playoff experience, would be an added bonus for Les Habitants.
Trade 3
To Edmonton Oilers = Tyson Barrie and Jarome Iginla (salary retained)
To Colorado Avalanche = Jordan Eberle, Brandon Davidson and a 2017 third-round pick (higher pick between Edmonton and St. Louis)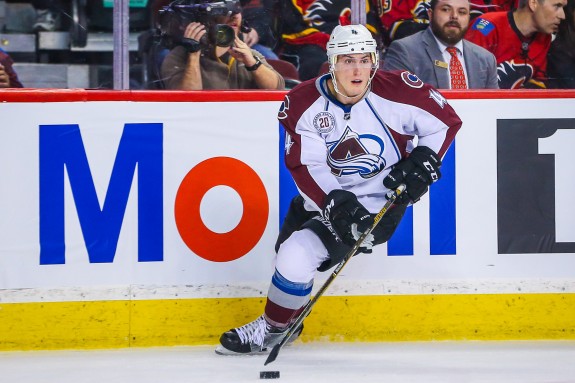 ANALYSIS: You probably noticed the Barrie omission from the aforementioned Avalanche defence corps going forward, and that's because I think the additions of Vatanen and Beaulieu — not to mention Montour and Sergachev — would make Barrie expendable. Barrie hasn't excelled the way some assumed he would after signing a lucrative long-term contract and with Patrick Roy no longer calling the shots. Barrie isn't a bad defender by any means, but his power-play capabilities are what really endear him to Edmonton. As redundant as he might become in Colorado with the arrival of Vatanen and Montour in that mould, Barrie could be the missing piece for the Oilers and help put them over the top as early as this season. Barrie would certainly bolster Edmonton's chances in the playoffs.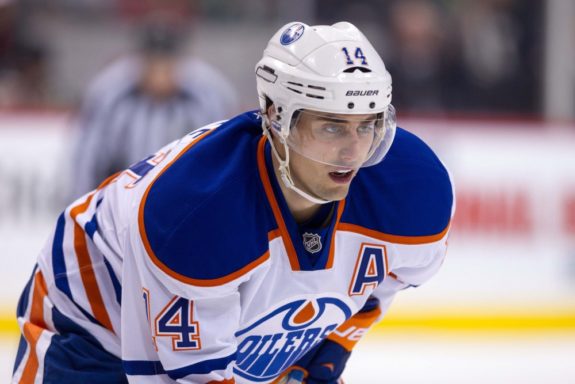 Eberle hasn't been great this season either and Edmonton is eventually going to have to move him or Ryan Nugent-Hopkins to afford the upcoming contracts of Leon Draisaitl and Connor McDavid. If Colorado prefers Nugent-Hopkins for Barrie, that is a deal that would have to wait until the offseason because Edmonton doesn't have the centre depth to move Nugent-Hopkins at the deadline. Iginla would be a downgrade statistically from Eberle, but Iginla might be a better short-term fit for the Oilers' playoff run. It would be a homecoming for Iginla — an Edmonton boy — and that should be motivation enough to get him going again. Iginla has played on the same line as Milan Lucic in the past, so perhaps that reunion could spark them both and result in some much-needed secondary scoring for the Oilers. Mikko Rantanen looks like Nathan MacKinnon's right-winger of the future, but Eberle could help take MacKinnon's game to another level if given that opportunity or be a nice complement to whoever is centering Colorado's second line. If Duchene doesn't move, Eberle would be an ideal wingman for him given his past success with Nugent-Hopkins and the similarities between Nugent-Hopkins and Duchene's playing styles. Davidson hasn't been the same player since coming back from injury this season, but he was looking like a legitimate top-four defenceman towards the end of last season. Pair him with Vatanen on Colorado's second or third defence pair — Johnson-Beaulieu, Zadorov-Sergachev, Vatanen-Davidson/Barberio/Montour — and the Avs might have one of the better budding blue lines in the entire league. Adding Davidson would also allow Colorado to be patient with Sergachev and Montour if all these trades came to fruition. Part of me thinks Edmonton would still have to add a sweetener to get this deal done, maybe another defence prospect like Caleb Jones or a near NHL-ready forward like Jujhar Khaira.
Trade 4
To Calgary Flames = Ben Bishop (extension negotiated), Valtteri Filppula and Slater Koekkoek
To Tampa Bay Lightning = Dougie Hamilton, Brian Elliott, Oliver Kylington and Freddie Hamilton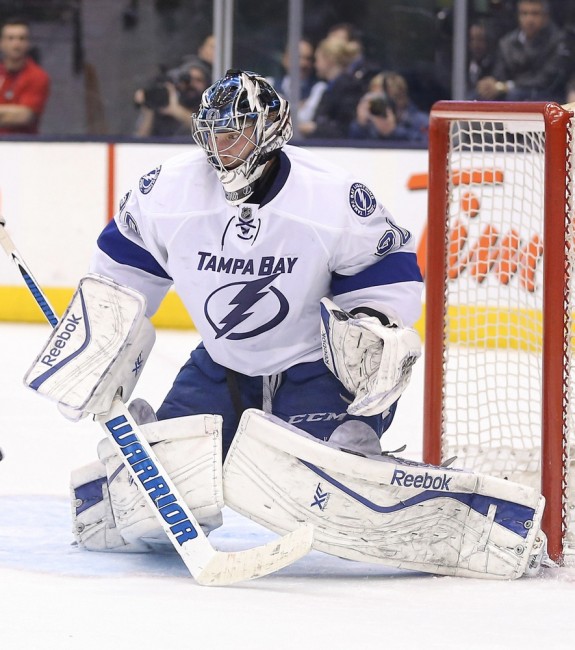 ANALYSIS: This one is, admittedly, straight out of NHL 17. No, not seriously, but it resembles something from a video game. A trade of this magnitude is rarer than a white buffalo. Nevertheless, once you get past the overwhelming unlikelihood, the deal could actually work out well for both teams. If the Lightning sell — and that's still a big IF, in my opinion, with Steven Stamkos possibly returning for the stretch run and the playoffs within reach — then Bishop is their big fish as a pending free agent who has priced himself out of Tampa. To my knowledge, Calgary had a deal in place to acquire Bishop at the 2016 draft but it fell through based on Bishop's contract demands at the time (supposedly seven years, $7 million per, $49 million total). That asking price has presumably come down, considering Bishop isn't having a Vezina-worthy season and there aren't many teams in the market for a high-priced starting goalie. Possibly Calgary, Dallas and then obviously Las Vegas if Bishop doesn't move at the deadline. If Calgary could extend Bishop at a more reasonable rate — say, four years at $24 million ($6 million per) — the Flames could revisit that deal.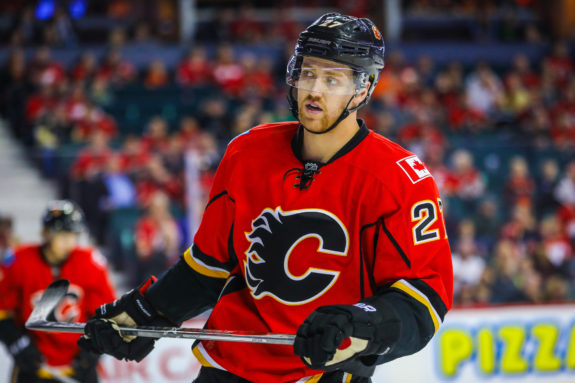 It may have included Sam Bennett at the draft, but Dougie Hamilton might be a better target for Tampa now with the season he's having and more so with the season Anton Stralman is having. The Lightning could use another younger horse to anchor their top-four with Victor Hedman for the foreseeable future. Braydon Coburn and Jason Garrison aren't getting any younger either and if Stralman's offence has dried up — as appears to be the case — Hamilton could be what Tampa needs most going forward. Elliott would presumably be the goalie going the other way as a short- or longer-term backup for Andrei Vasilevskiy. As a 2-for-1, the deal doesn't quite work, especially considering Calgary can hold off until July 1 and sign Bishop without giving up Hamilton. So the Flames get back another versatile forward in Filppula — a more seasoned version of Mikael Backlund — and a defence prospect that could jump right into the lineup in Koekkoek. Kylington is further away and far from a sure thing, but Tampa can afford to make that swap, while taking back Hamilton's brother, Freddie, as a fringe depth forward.
Trade 5
To Dallas Stars = Marc-Andre Fleury and Chris Kunitz
To Pittsburgh Penguins = Patrick Sharp, Antti Niemi (salary retained), a 2017 second-round pick and a conditional 2018 second-round pick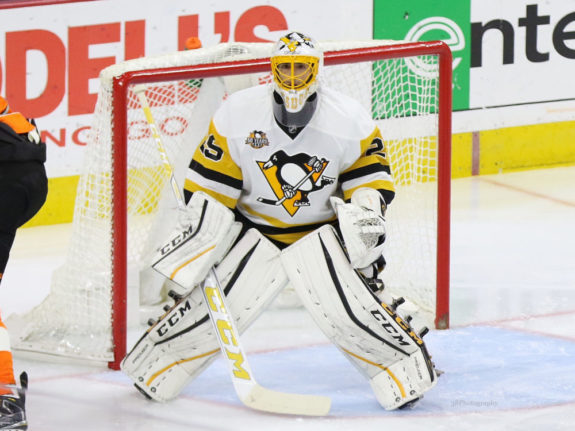 ANALYSIS: That conditional second-rounder would be downgraded to a third-round pick if Fleury starts less than 50 games next season or wins less than 25 starts. Nevertheless, the Stars need to address their goaltending sooner than later — preferably at the deadline and ideally either Bishop or Fleury. Jim Nill has a way of getting his man — see, Tyler Seguin and Jason Spezza — but he's been stubborn in sticking with the Finnish tandem of Niemi and Kari Lehtonen, which clearly isn't working again this season. If Dallas wants to make a playoff push or at least set itself up for a run next season, goaltending has to be the top priority and it's entirely possible that neither Fleury nor Bishop will be available come summer — assuming at least one of them gets traded at the deadline and the other lands in Las Vegas through the expansion draft. So now is the time for Nill to strike, and the asking prices shouldn't be outrageous. Pittsburgh might see Sharp as an upgrade on Kunitz to flank Sidney Crosby, and the Penguins can't expect much more than two quality draft picks in return at this point. Everybody knows Fleury has a no-move clause and that he can't be forced to waive it in regards to the expansion draft, which could make for a messy situation that results in a buyout. Jim Rutherford doesn't want to go down that road, so he'll take what he can get at the deadline and move on with Matt Murray as his man. Niemi should be a serviceable backup and he does have a Stanley Cup ring from Chicago, so that playoff experience would be welcomed should something happen to Murray.
Trade 6
To Chicago Blackhawks = Martin Hanzal and Luke Schenn
To Arizona Coyotes = Alex DeBrincat, Ville Pokka and Mark McNeill
ANALYSIS: Of all the trades on my list — and there's 26 of them — I really like this one and think Stan Bowman can pull it off. Arizona's rookie GM, John Chayka, has been scouting Chicago's games, so it's possible that the Coyotes are eyeing somebody off the Blackhawks' roster rather than just prospects in return. But the fact Chayka has been attending Chicago games is telling that the teams are at least talking trade. Bowman would love to land Hanzal, a big centre to slot in behind Jonathan Toews and Artem Anisimov. Marcus Kruger is better suited to the fourth line, and Dennis Rasmussen and Andrew Desjardins don't offer much offensively either. Hanzal would be a great fit alongside Marian Hossa and one of Chicago's kids on a third scoring line, making the Blackhawks as potent as anybody up front. Schenn has quietly played well for Arizona this season — pairing with Oliver Ekman-Larsson at times — and has another year left on his contract at an affordable $1.25 million. Schenn would be an ideal third-pairing partner for Trevor van Riemsdyk and an upgrade over Gustav Forsling, Michal Kempny and Michal Rozsival.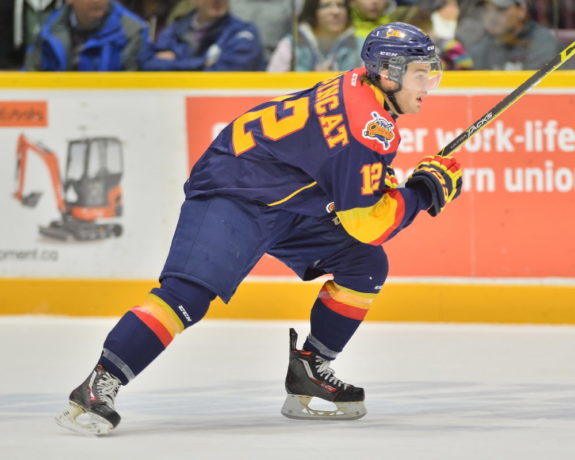 From Arizona's perspective, DeBrincat is the obvious target as a junior linemate of Coyotes top prospect Dylan Strome. DeBrincat is in the midst of his third straight 50-goal, 100-point season in the OHL and despite getting cut from the American world-junior team, he has the potential to be a big-time player in a couple years. Pokka and McNeill are still decent prospects too, but both could use a change of scenery since they don't seem to be in Chicago's plans. Passed over by Forsling and others, Pokka is a two-way defender who played for Finland at the World Cup, while McNeill is a centre with good size and a first-round pick from back in 2011.
For the record, I had Michael Stone, not Schenn, as the defenceman going to Chicago in this deal, but he went to Calgary for a couple draft picks before I could get my predictions posted.
Trade 7
To Washington Capitals = Shane Doan
To Arizona Coyotes = Riley Barber, a 2017 first-round pick and a conditional 2019 second-round pick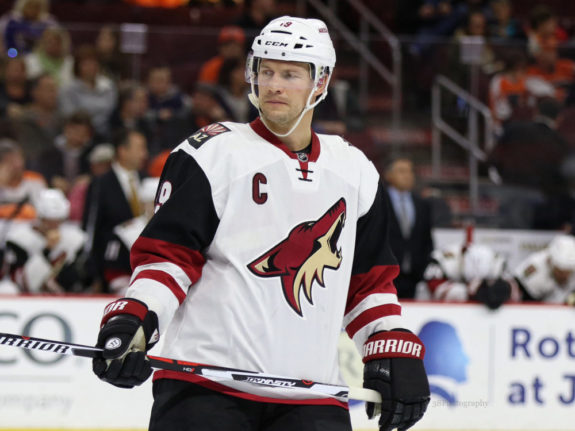 ANALYSIS: That second-rounder is conditional on Washington making the Stanley Cup Final or Doan re-signing with the Capitals, otherwise Washington retains the 2019 pick. If Doan decides to leave Arizona and chase his first Cup, the Capitals are in as good a position as anybody to contend again. The frontrunner for a second straight President's Trophy, Washington might represent Doan's best chance at winning. The Capitals have room for another right-winger in their top-nine forwards, an upgrade on Tom Wilson as well as rookies Zach Sanford and Jakub Vrana. Barber was a steal in the sixth round and has established himself as an offensive catalyst in the AHL who could make the jump as early as next season. Barber could even debut for the Coyotes down the stretch now that he's healthy again, but Christian Fischer would probably be ahead of Barber for a call-up if Doan gets dealt. If not Barber, the Coyotes could ask for Washington's top defence prospect in Madison Bowey, but that might mean accepting a second-rounder instead of a first in return. Either way, a solid return for Doan, and a strange sight it would be to not only see Doan in a Capitals jersey but in a number other than No. 19, which is already worn by Nicklas Backstrom in Washington.
Trade 8
To New York Islanders = Anthony Duclair, Anthony DeAngelo and a conditional 2017 second-round pick
To Arizona Coyotes = Ryan Strome and Ryan Pulock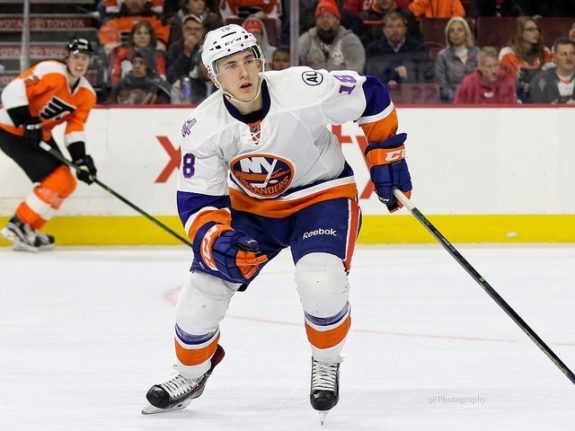 ANALYSIS: Two Anthonys for two Ryans — makes sense, right? It could, considering Pulock needs to be protected for the expansion draft, while DeAngelo is exempt. Arizona seemingly has room on its protection list for a couple keepers like Strome and Pulock whereas the Islanders might have been exposing both Ryans. The other obvious connection is that Strome's younger brother, Dylan, is a top prospect for the Coyotes, so they would be reuniting those siblings and perhaps Ryan's career could take off in the desert alongside Dylan.
Duclair has struggled all season and wound up in the minors, so a change of scenery could help get him back on track too. DeAngelo might have a bit more offensive upside than Pulock, but they are similar high-end defence prospects. The Coyotes add a conditional second-rounder in the event that Duclair is selected by Las Vegas in the expansion draft. If the Golden Knights pick somebody else from the Islanders, then Arizona retains that pick. Seems fair enough.
Trade 9
To Calgary Flames = Radim Vrbata and Nick Merkley
To Arizona Coyotes = Morgan Klimchuk, Tyler Wotherspoon, Mason McDonald and a 2017 third-round pick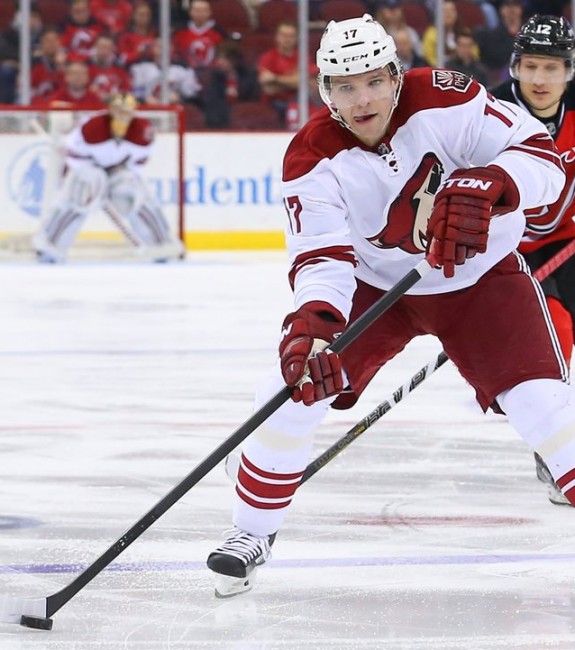 ANALYSIS: If Calgary lands Bishop, the Flames will be looking to win a playoff round, if not more this season. Vrbata is a proven goal-scorer who has had success throughout the Pacific Division, burning the Flames in seasons past. Adding Filppula and Vrbata to Calgary's top-nine forwards without subtracting anybody would give the Flames plenty of firepower up front. They could play Vrbata on the top line with Johnny Gaudreau and Sean Monahan, keep their second unit intact with Backlund, Michael Frolik and rookie Matthew Tkachuk, then play Filppula with Bennett and Troy Brouwer or Kris Versteeg. Essentially Calgary could roll four lines, with Matt Stajan and either Brouwer or Versteeg joined by either Micheal Ferland or Lance Bouma. That could certainly be a winning lineup. Merkley is from Calgary and the Flames were likely to pick him in 2015 before trading their first-rounder to Boston for Hamilton, which caused Merkley to fall all the way to Arizona. The Flames drafted Merkley's junior teammate from Kelowna, Dillon Dube, in 2016.
From Arizona's perspective, Klimchuk is a left-winger whereas Merkley is another right-winger. Klimchuk could play behind Max Domi and Brendan Perlini as early as next season, while Wotherspoon is an NHL-ready defender — somewhat similar to Calgary-bound Stone — and McDonald is one of Calgary's many goaltending prospects. The Coyotes would probably prefer Jon Gillies or Tyler Parsons in return, even if it meant not getting that third-rounder as a fourth asset.
Trade 10
To Pittsburgh Penguins = Thomas Vanek
To Detroit Red Wings = Daniel Sprong and a conditional 2017 first-round pick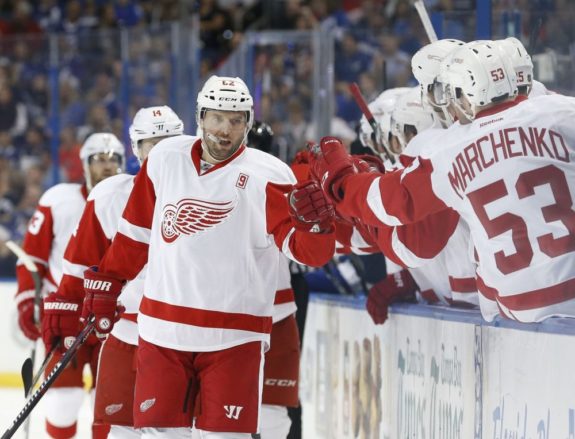 ANALYSIS: That pick would be downgraded to a second-rounder if the Penguins don't make it back to the Stanley Cup Final or if Vanek gets hurt and doesn't play in at least 50 per cent of Pittsburgh's playoff games. Nevertheless, Pittsburgh adds another weapon up front, with the potential for Crosby to be flanked by Vanek and Sharp come playoffs.
No offence to Conor Sheary and Bryan Rust — both presently injured — but that's a big upgrade.
Detroit does well to get Sprong in the deal, a top-flight forward prospect who could pair with Anthony Mantha as early as next season. If not Sprong, perhaps Crosby's current linemate Jake Guentzel, but I suspect Pittsburgh will shop elsewhere if that's the asking price for Vanek since there will be several scoring wingers available at the deadline.
Trade 11
To Pittsburgh Penguins = Cody Franson (salary retained)
To Buffalo Sabres = Stuart Percy and a 2017 third-round pick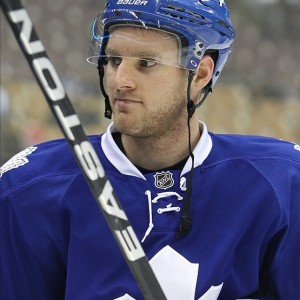 ANALYSIS: Eerily similar to Pittsburgh's acquisition of Justin Schultz at last year's deadline, Franson is another defenceman who could use a change of scenery and who might excel in Mike Sullivan's system. With Olli Maatta out long-term and Schultz sidelined indefinitely by a concussion, the Penguins will be shopping for blue-line help again.
Buffalo takes what it can get for Franson, who didn't work out as a free-agent signing for the Sabres. Percy was another first-round pick from 2011 who looked pretty good in his brief NHL stint with Toronto but is bordering on bust status after failing to do much with the Baby Penguins this season.
Trade 12
To Dallas Stars = Dmitry Kulikov and a 2017 third-round pick (via Washington)
To Buffalo Sabres = Jamie Oleksiak and Patrik Nemeth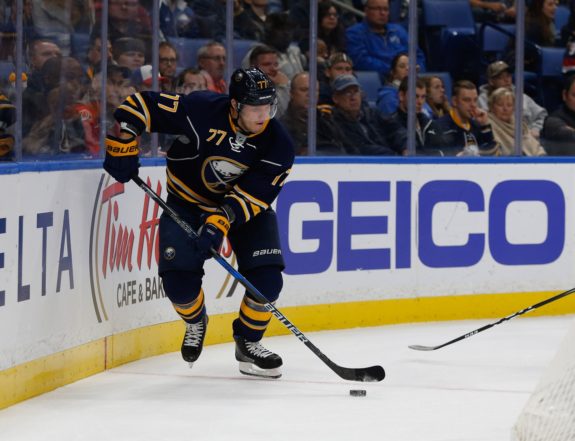 ANALYSIS: If the Stars don't sell — and I don't see that happening if they trade for Fleury or Bishop at the deadline — then defence is another area that Dallas will want to upgrade. Kulikov has had a rough go in Buffalo, mostly due to injury, but he spent many seasons in Florida's top-four. Dallas has a glut of young tweeners on defence, so Oleksiak and Nemeth could be expendable since both would have to be exposed in the expansion draft. The Sabres will need some defencemen back if they are moving both Franson and Kulikov, and Tim Murray would be wise to retool Buffalo's future on defence at the deadline. The Sabres have a third-round pick to spare, so that would be worth moving to solidify a third-pairing for next season.
Trade 13
To Boston Bruins = Mark Streit (salary retained) and Matt Read
To Philadelphia Flyers = Adam McQuaid, Jérémy Lauzon and Jesse Gabrielle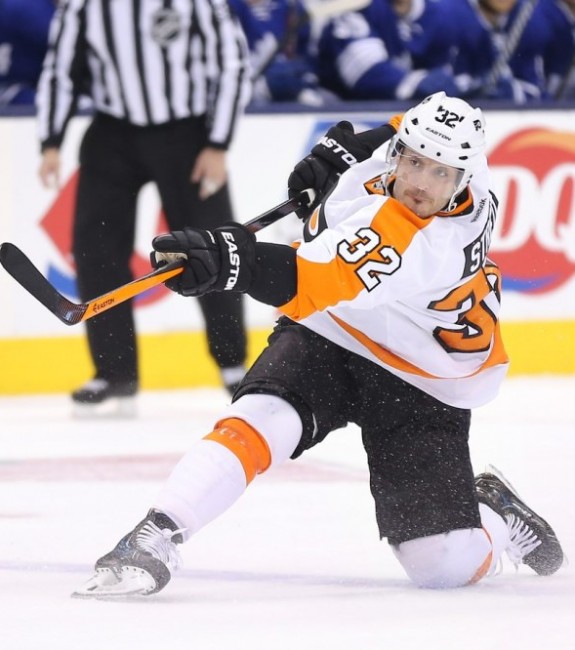 ANALYSIS: The Bruins are trending upward under interim coach Bruce Cassidy and might actually be able to make a run with an improved blue line. Streit played with Zdeno Chara on Team Europe at the World Cup of Hockey — they both served as assistant captains — so there is some familiarity there. Streit has lost a step, but he's still a smart, poised defender with good offensive instincts and puck-moving ability. Streit might not be a top-pairing guy at this stage of his career, but he'd be a nice fit in Boston's top-four. Read is a depth winger who is versatile enough to play anywhere in Boston's top-nine forwards. Philadelphia was half-expecting to lose Read to Las Vegas, so getting a return on him is a bonus. The Flyers would like McQuaid as a third-pairing partner for Radko Gudas — talk about a bruising pairing — and McQuaid comes with two more years on his contract at a reasonable $2.75-million salary. Lauzon is a solid defence prospect to add to Philadelphia's impressive stable, joining his Rouyn-Noranda junior teammate Philippe Myers and fellow QMJHL product Sam Morin in the Flyers' system. Gabrielle is one of those prototypical Flyers, a crash-and-bang winger who can score, potentially a poor man's Wayne Simmonds in a few years.
Trade 14
To Boston Bruins = Riley Sheahan and Brendan Smith
To Detroit Red Wings = Zach Senyshyn, Cameron Clarke and a conditional 2018 second-round pick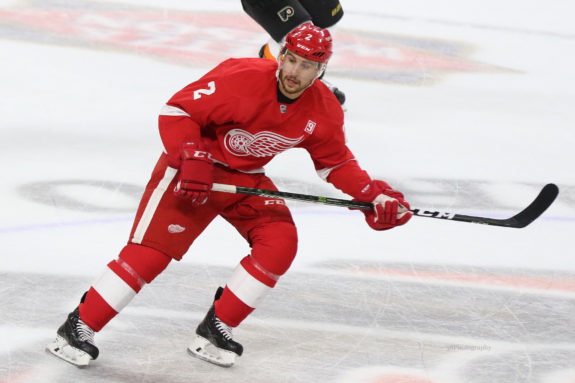 ANALYSIS: That pick is conditional on Smith re-signing with Boston. If he doesn't, the pick would be downgraded to a fourth-rounder in 2018. The Bruins will be busy at the deadline, according to my predictions, as one of the teams with plenty of cap space to be a buyer. Don Sweeney will be looking to bolster his defence in front of Tuukka Rask, who has been sensational in goal to get the Bruins into a playoff spot. The Bruins had Smith's brother, Reilly, so the family is familiar with Boston and that could be a nice spot for Brendan to establish himself going forward if he doesn't decide to test free agency this summer. Brendan Smith might have to work his way up from the bottom pairing, but there is more opportunity for him in Boston than in Detroit. Sheahan is a natural centre who can shift to the wing if need be. Another depth forward like Read to give Boston more options up front and more experience come the playoffs, with the Bruins dressing a couple rookies right now. Boston would essentially be upgrading Peter Cehlerik and Tim Schaller or Riley Nash into Read and Sheahan. It would make the Bruins much deeper and more battle-tested for the postseason.
Ken Holland and the Red Wings would be ecstatic to add Sprong and Senyshyn at the deadline, two potential top-six wingers for Detroit's future once Henrik Zetterberg hangs them up. Clarke is an intriguing prospect, a right-shooting offensive defenceman who was drafted as an over-ager in 2016 out of the tier-2 NAHL and is now playing for Ferris State (NCAA). Clarke is a project type, but there is another draft pick coming back to Detroit as well.
Trade 15
To Boston Bruins = Kevin Klein
To New York Rangers = Jimmy Hayes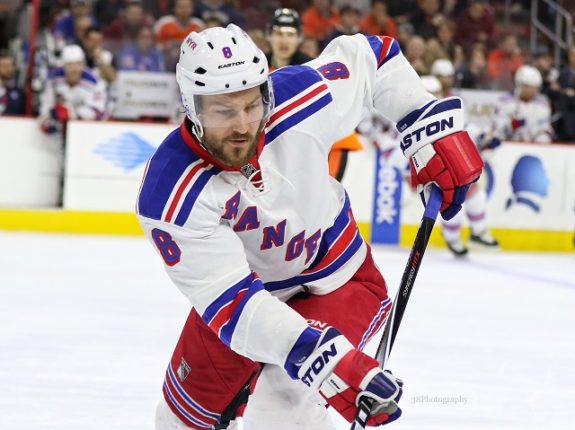 ANALYSIS: Another Original Six deal and, alas, Boston's blue line overhaul is complete with the addition of Klein. That would leave the Bruins with Chara and Brandon Carlo, Torey Krug and Klein, Streit and Smith, or some variation of those starting-six, plus the Millers (Kevan and Colin). I'm actually starting to like the look of this Boston roster and I'm the furthest thing from a Bruins fan. The Rangers reunite the Hayes brothers, with Jimmy joining Kevin as potential linemates. Klein has struggled for the Rangers this season as much as Hayes has for Boston, so this is a swap of two players who could use a change of scenery. Both could be better fits with their new teams.
Trade 16
To New York Rangers = Ron Hainsey and Ryan Murphy
To Carolina Hurricanes = Robin Kovacs and Malte Stromwall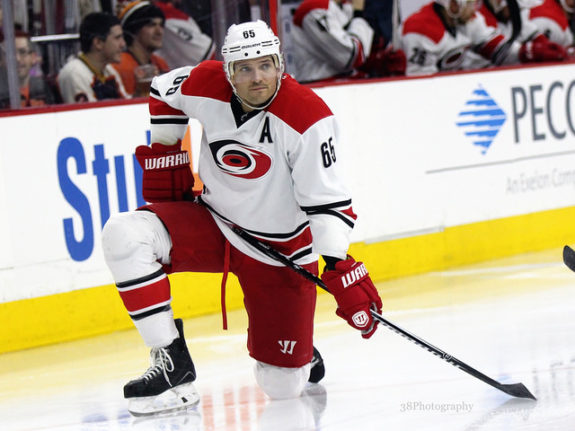 ANALYSIS: The Rangers won't move Klein without a back-up plan. Jeff Gorton is almost certainly looking to upgrade on defence, with Klein and longtime stalwart Dan Girardi both struggling to stay afloat this season. Hainsey would be an upgrade on both, and Murphy would be another reclamation project as yet another first-round pick from the 2011 draft that had so much promise but has thus far disappointed. Murphy is an offensive-minded defenceman, something the Rangers need more of in their future, whereas the Hurricanes have Justin Faulk and Noah Hanifin with Jake Bean on the way. Carolina really likes its Scandinavian forwards, having already acquired Aleksi Saarela from the Rangers as part of the package for Eric Staal at last year's deadline. Kovacs and Stromwall haven't gained much traction in the Rangers' system — Kovacs has two goals and Stromwall just one in 76 combined AHL games this season — but both have decent upside and a high-skill base for the Hurricanes to develop.
Trade 17
To New York Rangers = Kyle Quincey
To New Jersey Devils = Adam Clendening, Mat Bodie and a 2017 fifth-round pick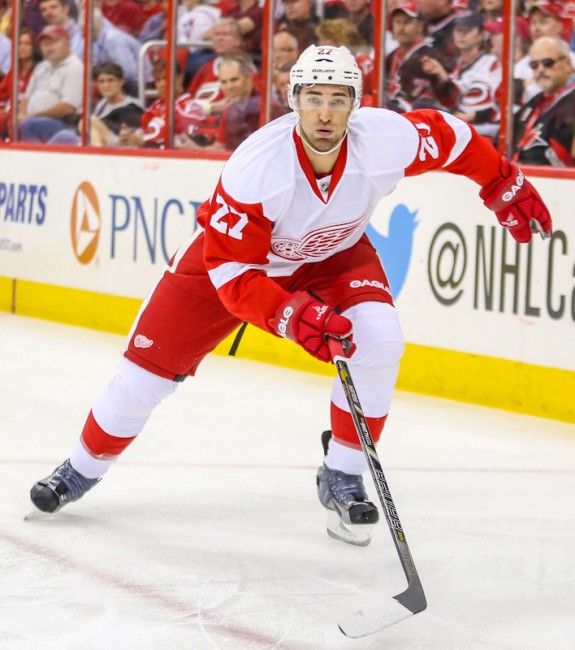 ANALYSIS: Gorton might not stop there, and may look to nearby New Jersey for additional blue-line help. Quincey is more fleet of foot than Girardi and could make for a better pairing with Hainsey. That would allow the Rangers to promote pleasant surprise Brady Skjei alongside captain Ryan McDonagh on the top pairing, while keeping together Marc Staal and Nick Holden, with Girardi serving as the extra barring injuries. The Devils just acquired Viktor Loov from Toronto and will be on the lookout for more depth defenders with NHL upside. Clendening and Bodie both fit that bill and would be a bonus in addition to any pick that New Jersey can obtain for Quincey, who is pending free agent playing a limited role.
Trade 18
To St. Louis Blues = P-A Parenteau and Devante Smith-Pelly
To New Jersey Devils = Nail Yakupov and Dmitrij Jaskin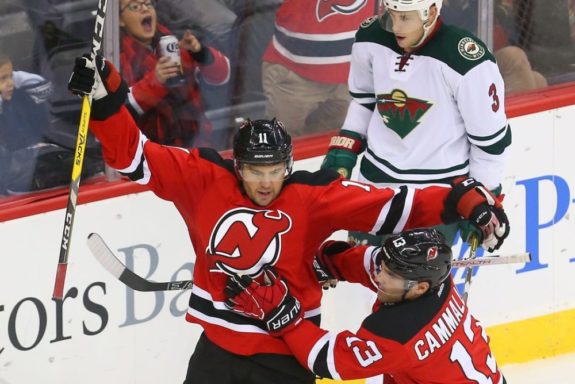 ANALYSIS: The Blues are winning under Mike Yeo and I see them more as buyers than sellers now. Yes, that means I don't see St. Louis trading Kevin Shattenkirk or Patrik Berglund. I think Doug Armstrong gives this group one more shot at success together, and I think he tries to add rather than subtract at the deadline. Another scoring winger would be on Armstrong's shopping list since Robby Fabbri is lost for the season to injury, and Parenteau coud be a nice fit with Berglund and David Perron. Ray Shero will likely be selling, in my opinion, so Parenteau is probably on the way out as a pending free agent and Smith-Pelly has disappointed the Devils in failing to follow up on his success to end last season.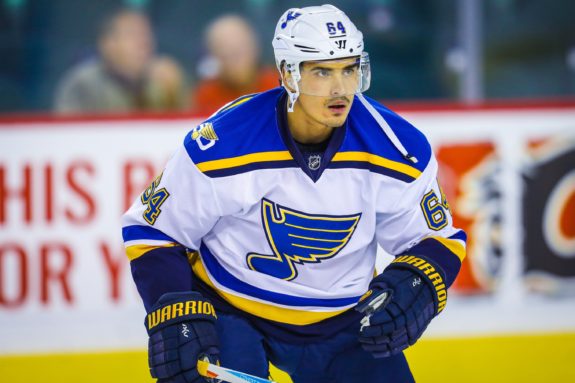 Speaking of disappointments, Yakupov has spent more time in the press box than on the ice since being acquired by St. Louis, so it's safe to say he's available in any deal that the Blues make. The Devils might roll that dice and have presumably seen plenty of Yakupov while watching Taylor Hall in Edmonton. Jaskin doesn't have as much name value as Yakupov — the first overall pick from 2012 — but Jaskin could be the better get for the Devils. Jaskin hasn't hit his stride with the Blues and is likely available as well, especially now that St. Louis re-claimed Ty Rattie off waivers from Carolina. Rattie could also be in play if the Devils prefer him to either Jaskin or Yakupov. All three are high-skill forwards but appear more bust than boom at this point in their careers. Still, it's worth the gamble for Shero.
Trade 19
To San Jose Sharks = Drew Stafford (salary retained) and Shawn Matthias
To Winnipeg Jets = Joonas Donskoi, Rudolfs Balcers, Alex Schoenborn and a 2017 sixth-round pick (via Arizona)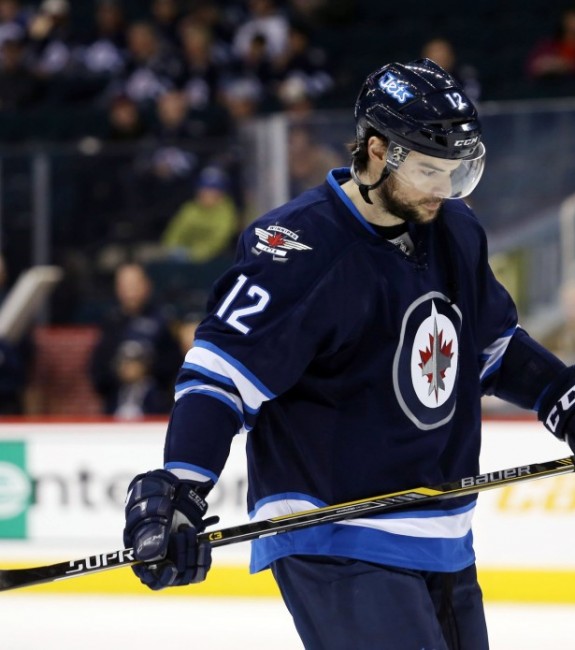 ANALYSIS: The Sharks will be buyers even though they don't appear to need much help. If anything, Doug Wilson might look for a little more experience and size on the wings where San Jose has been rotating a few rookies in its top-nine with Kevin Labanc, Timo Meier and now Nikolay Goldobin. The Sharks could probably fare well enough with those kids, but Stafford and Matthias would really solidify things up front and give San Jose a better shot at making it back to the Stanley Cup Final, which is obviously the goal. If the Sharks could get Stafford and Matthias without giving up any of those three prospects, Wilson might make that move.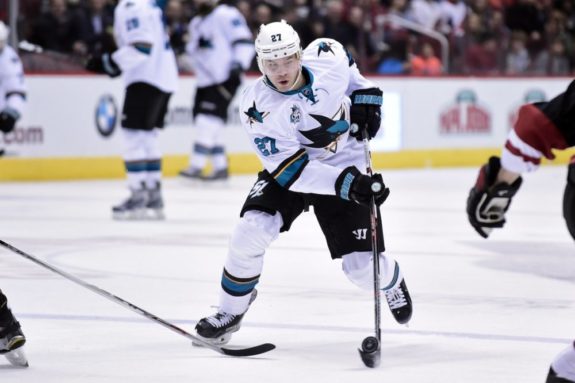 Donskoi has shown flashes for San Jose, but he may have been surpassed on the depth chart upon returning from injury and thus made expendable by the emergence of that aforementioned trio. Winnipeg would likely have a roster spot for Donskoi next season, possibly alongside Joel Armia in a third-line role flanking Adam Lowry. That could be a quality trio for the Jets, who have lots of forward prospects but wouldn't turn down two more in Balcers and Schoenborn. Winnipeg would probably prefer to get its hands on Mirco Mueller in this trade, but San Jose might not take that bait. Schoenborn has a history with Winnipeg's prospects from the Portland Winterhawks — Nic Petan and Chase De Leo — and Jets GM Kevin Cheveldayoff has an affinity for WHL talent, with Balcers lighting up that junior league as a first-year import for Kamloops. Cheveldayoff did well in selling Andrew Ladd last season and, despite Winnipeg being in the playoff race, I expect him cash in on another expiring asset in Stafford providing he's healthy by the deadline. Matthias has a year left on his deal at $2.125 million, but that should be easy enough for the Sharks to move in the offseason if he doesn't play his way into a future in San Jose.
Trade 20
To Ottawa Senators = Jannik Hansen and Jake Virtanen
To Vancouver Canucks = Curtis Lazar, a 2017 first-round pick, a 2018 third-round pick and a 2018 fifth-round pick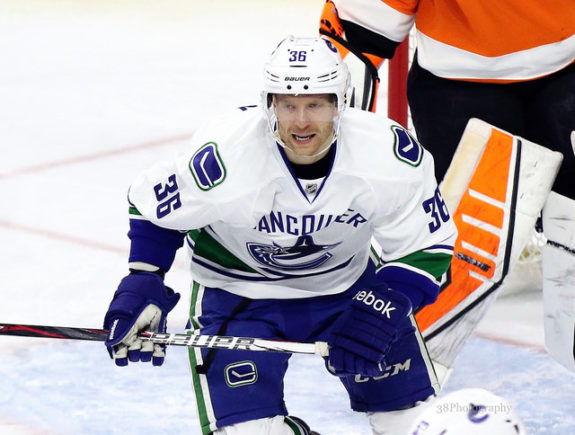 ANALYSIS: The Senators have been decimated by injuries to wingers, with Bobby Ryan, Mark Stone and Mike Hoffman all sidelined at present, not to mention Clarke MacArthur. Lazar hasn't been able to provide any offence in their absence or in general this season, so Pierre Dorion is going to have to look elsewhere. Vancouver could should be selling and Hansen might be Jim Benning's best trade chip right now since he's a productive winger with another year left on his contract at a bargain $2.5 million, which will be appealing to Ottawa owner Eugene Melnyk. That's a good fit for the Senators, assuming MacArthur won't be able to resume his career next season.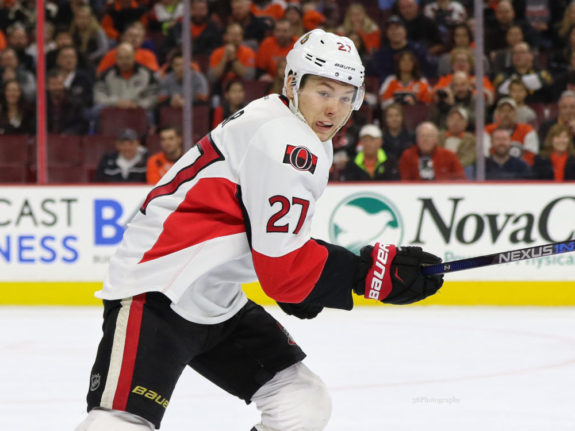 Lazar and Virtanen are both first-round picks who haven't panned out and could be seeking a change of scenery — Lazar, the 17th overall selection in 2013 and Virtanen, who Vancouver took sixth in 2014. Both of them are B.C. boys, but a homecoming could be what the doctored ordered for Lazar and, conversely, getting away from home might be best for Virtanen's development. The Canucks will mostly want draft picks in return, which the Senators will reluctantly part with to enhance their playoff chances. Benning does better at this year's deadline than last year when he failed to move pending UFAs, Vrbata and Dan Hamhuis, who both left Vancouver for nothing in the summer. Expect Benning to be more proactive this time around and getting a second pick in the first round is quite the coup, even if the 2017 draft isn't as strong or deep as recent years. That Ottawa pick would be 21st overall as of today.
Trade 21
To Montreal Canadiens = Alex Burrows and a conditional 2017 sixth-round draft pick
To Vancouver Canucks = Daniel Carr, Mark MacMillan and a 2017 fourth-round pick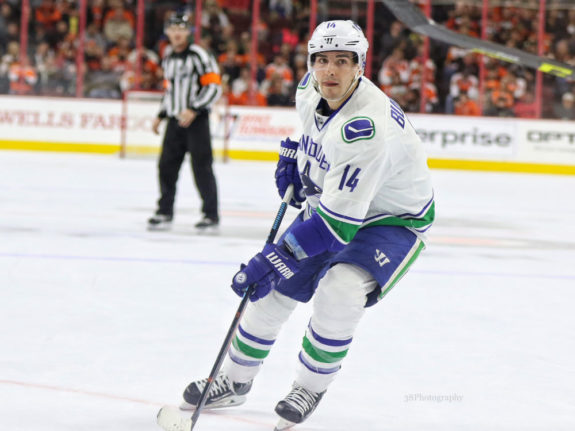 ANALYSIS: That conditional pick is dependent on Montreal's playoff run. The Canadiens get the pick if they don't make it past the second round. If Montreal makes the East final, Vancouver retains the pick. As mentioned, Benning should be selling this year and Burrows is one of his two pending free agents — the other being goaltender Ryan Miller, who will be a tougher sell in a tight goaltending market. If Bishop and Fleury don't move, then Miller probably will, but if it plays out like I'm predicting, then Miller might be stuck in Vancouver until season's end. That's not necessarily a bad thing for Miller, who has discussed a possible extension with the Canucks too.
As for Burrows, he's going to be a consolation prize for the teams that strike out on Iginla, Doan, Vanek and Vrbata. Burrows is that next tier with Parenteau and Stafford, so the returns will be significantly less. But Vancouver should be able to get something for Burrows, as both Montreal and Ottawa should be interested in the francophone winger. I would expect Burrows to end up in one of those Canadian cities. Carr and MacMillan are both budding forwards from Western Canada — Carr from Sherwood Park, Alta., and MacMillan a B.C. boy from Penticton — and thus might be attractive to Vancouver.
The Canucks would obviously prefer a higher-profile prospect like Michael McCarron or Nikita Scherbak, but Montreal will be targeting a better winger than Burrows if the Canadiens are moving either of them. Sven Andrighetto, Jacob De La Rose, Charles Hudon, Max Friberg and Martin Reway (health permitting) could be in play as well, but the Canadiens would likely want Hansen, not Burrows, in exchange for any of those second-tier forward prospects. Benning would be wise to take what he can get for Burrows, even if that fourth-round pick proves the most valuable asset in return.
Trade 22
To Los Angeles Kings = Brian Boyle
To Tampa Bay Lightning = Teddy Purcell, a 2017 second-round pick and a 2018 fourth-round pick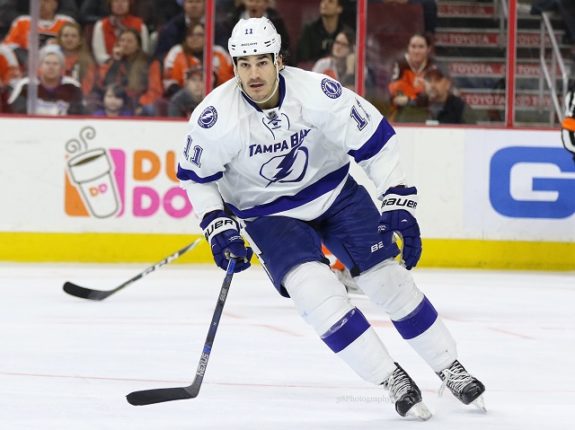 ANALYSIS: I'm still not convinced the Lightning are going to sell — Bishop maybe, but not a full sell — so I'm not sold on Boyle being moved despite the demand for the big, faceoff-winning centre. However, teams are going to be calling for Boyle and Steve Yzerman will have to listen. If somebody offers a first-round pick in this year's draft — and that's entirely possible, remember Paul Gaustad fetched one for Buffalo at the 2012 trade deadline — then Yzerman will be hard-pressed to say no. Boyle is a key piece to Tampa Bay's current puzzle, but he probably won't be playing for the Lightning past this season anyway as a pending free agent who will be able to cash in elsewhere. Enter the Kings, the team that drafted Boyle in the first round in 2003 and brought him into the league. Los Angeles could really use Boyle again, to play behind Anze Kopitar and Jeff Carter. The Kings' centre depth isn't what it used to be — with Mike Richards and Jarret Stoll no longer in the picture — and Nic Dowd and Nick Shore don't bring much in the way of experience. Boyle would be a nice fit for L.A., and he should work out better than Purcell, a winger who also got his NHL start with the Kings but has been buried in the minors this season upon returning as a free agent and struggling out of training camp.
Of course, Purcell also has a history in Tampa Bay and he'd come without any commitment on an expiring contract at season's end. More importantly, Tampa Bay would be getting two decent draft picks, especially if Los Angeles misses the playoffs and that second-rounder ends up in the 40th overall range, which is exactly where it would be as of today. Still, part of me thinks Tampa would pass on an offer like this and take its chances with Boyle aiding the playoff push.
Trade 23
To Toronto Maple Leafs = Jaroslav Halak (salary retained)
To New York Islanders = Brooks Laich, Byron Froese and Curtis McElhinney
ANALYSIS: No, I didn't forget about the Leafs. Here's the deal, Halak and Laich are both earning $4.5 million, but Halak has an extra year on his contract whereas Laich's expires at season's end. The Islanders would have to eat $1 million of Halak's salary for next season. Both guys want another opportunity to play in the NHL and another chance at winning a Stanley Cup. Halak has been lights-out good in the AHL recently — currently on a 12-game winning streak for Bridgeport (13-1-2 overall with a .931 save percentage) — and Toronto hockey fans will recall his World Cup heroics in backstopping Team Europe to the final less than six months ago. More importantly, Mike Babcock will remember those performances from coaching Canada to the tournament title. Halak isn't washed up and he's only turning 33 years old in May. Nothing against McElhinney, who is coming off a shutout win over Carolina and has performed admirably since being claimed by Toronto off waivers from Columbus, but he's a career backup whereas Halak has been a top playoff performer in years past. Toronto could really use that insurance policy in case Frederik Andersen falters or suffers an injury. An extra year of Halak, at a discounted $3.5 million, would also mean another year of development for goaltending prospects Antoine Bibeau, Garret Sparks and Joseph Woll, which wouldn't be a bad thing.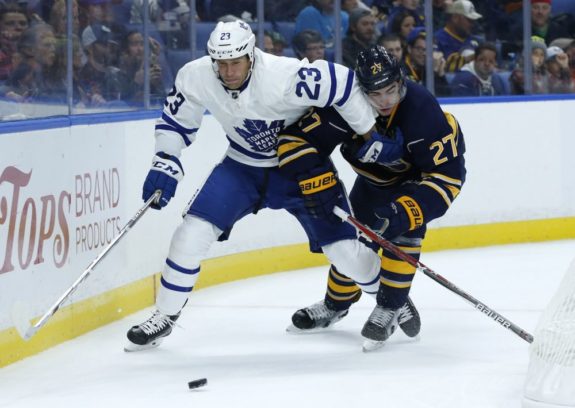 The Islanders appear done with Halak and may take a liking to reuniting Laich with Jason Chimera from their successful years forming Washington's checking line. Froese may struggle to find a role in Toronto's future, but he's no slouch — he's netted 24 goals in 48 AHL games to lead the Marlies in scoring this season — and the Islanders might be able to make better use of his talents, similar to Garth Snow's plucking of Shane Prince from Ottawa. McElhinney could either backup Thomas Greiss or take over for Halak in Bridgeport if the Islanders prefer to stick with Jean-Francois Berube. Who knows, Halak might be worth more than that return by the deadline — especially if some team's starting goalie suffers an injury between now and then — but anything is better than nothing if the Islanders are looking to move on and avoid an offseason buyout situation. Toronto won't be the only team kicking tires and Las Vegas could very well be scouting Halak too. Don't rule out Edmonton either, if the Islanders are willing to take back Benoit Pouliot and the bulk of his contract (two more years at $4 million per).
Trade 24
To Toronto Maple Leafs = Dennis Wideman
To Calgary Flames = Milan Michalek and Frank Corrado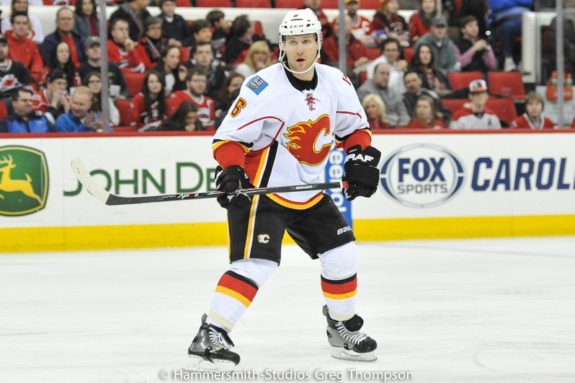 ANALYSIS: Another castoff coming to Toronto? It's possible. As we all know, Lou Lamoriello thinks outside the box — look no further than the Leafs' draft strategy of selecting over-age prospects this past year — and Wideman could pan out as a buy-low candidate. Wideman's stock was trending down even before his collision with the linesman last season, but he had a career year just two seasons ago with 15 goals and 56 points. Wideman still possesses a booming shot from the point and could be serviceable in a limited role — perhaps as a bit of a power-play specialist, though Nikita Zaitsev and Jake Gardiner have been contributing more and more in that capacity. Calgary was presumably shopping Wideman even before adding Stone, so the writing could be on the wall for Wideman now. However, if Calgary were to move Hamilton at the deadline — as per my earlier prediction, for Bishop — then Wideman may remain a Flame after all. It's tough to say what happens with this player, and there is also some concern that referees have been harder on Calgary this season because of Wideman's presence and that whole ordeal, which might scare off Toronto and other potential suitors.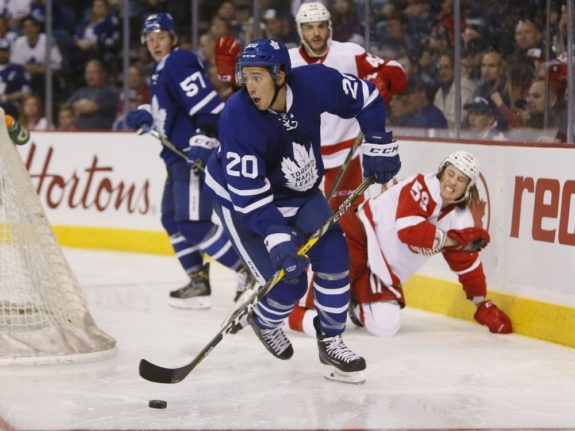 If this deal goes down, Michalek would be the salary dump coming back to Calgary — a pending free agent, like Wideman — but Michalek might have some gas left in his playoff tank too. He isn't a fit for Toronto, obviously, but the Flames may want to give him a spin in a bottom-six role. Corrado, even more so than Koekkoek from the Bishop-Hamilton deal, is NHL-ready and could step right into Calgary's lineup tomorrow. Corrado will almost certainly be traded at the deadline after voicing his concerns over a lack of playing time in Toronto, but the Leafs might have to give him away at this point. Expect Corrado to be a throw-in for some rental.
Trade 25
To Toronto Maple Leafs = Michael Del Zotto and Scott Laughton
To Philadelphia Flyers = Martin Marincin, Kerby Rychel and J.D. Greenway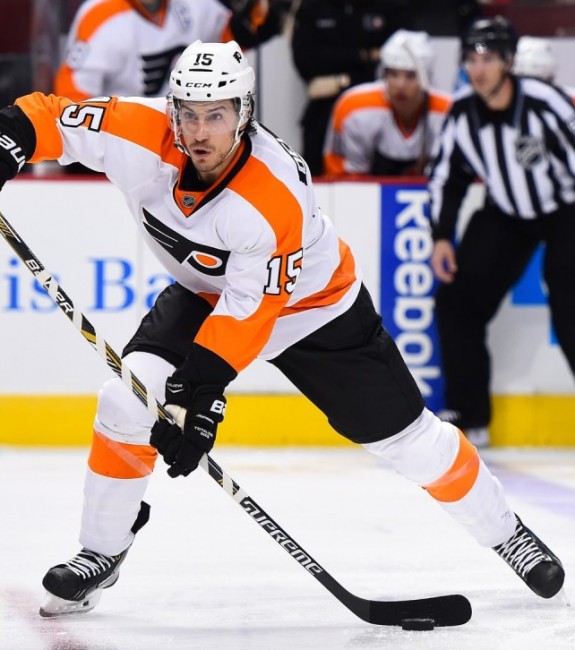 ANALYSIS: This trade would be more intriguing for Toronto, and for Philadelphia for that matter. Del Zotto and Laughton are both GTA products — as in from the Greater Toronto Area — and could both seemingly fill depth roles for the Leafs. Del Zotto would be another rental, like Wideman, but that would allow Toronto to upgrade its bottom pairing from Matt Hunwick and Roman Polak to Wideman and Del Zotto. Presumably, one or both of Hunwick and Polak would be shipped out for futures of some sort if possible. Laughton was a first-round pick for Philadelphia in 2012 and has more than 100 NHL games under his belt before his 23rd birthday, but has spent all but two games in the minors this season. A two-way centre, Laughton has seemingly fallen out of favour with the Flyers and has been passed over by Nick Cousins on their depth chart. Toronto has Ben Smith centering its fourth line and has auditioned Frederik Gauthier in that role too, but Laughton could be better than both of them going forward if he's capable of catching on to Babcock's system in a hurry.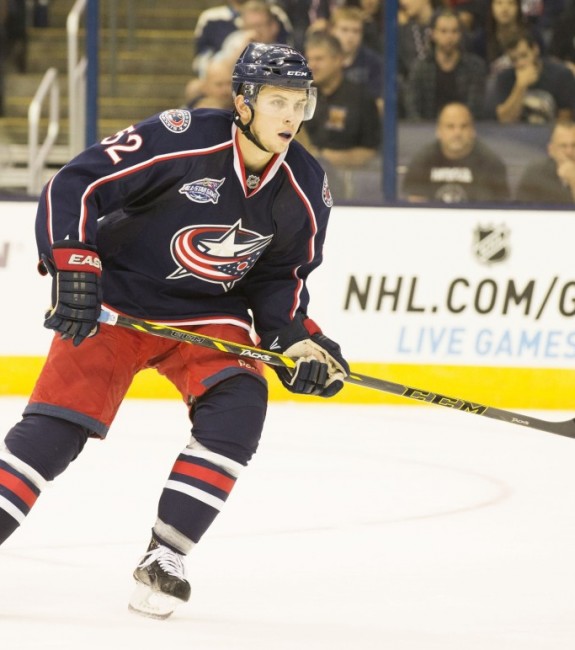 The Flyers do well here too, getting Marincin to help McQuaid replace Del Zotto and Streit on defence. Both Marincin and McQuaid are under contract for next season too, so that makes financial sense for Philadelphia. Rychel was a first-round pick of Columbus in 2013 but he wasn't happy with a lack of NHL time there and, to some surprise, he hasn't got a sniff with the Leafs this season. It's tough to tell what Toronto's plans are for Rychel, but it wouldn't be shocking to see him on the move again at the deadline. If Philadelphia is selling and transitioning towards a younger roster, Rychel could be a good fit for the Flyers. He's got a bit of snarl to his game — a bit of Brad Marchand — but the 22-year-old has only managed 11 goals and 34 points, with 85 penalty minutes, through 51 AHL games this season. Granted, that stat-line has Rychel third in team scoring. Laughton and Rychel would seemingly have similar trade value and might even work as a 1-for-1 swap. Greenway is a hard-nosed defence prospect, more of a stay-at-home type but one that made a positive first impression at Toronto's training camp this past fall and has continued to turn heads at the University of Wisconsin, with 65 penalty minutes in 26 NCAA games as a freshman. Greenway is listed at 6-foot-5 and 210 pounds on Wisconsin's website and you can just imagine him on the same blue line as the 6-foot-7, 227-pound Morin in a few years. That would be one punishing pairing, replacing McQuaid and Gudas down the road.
Trade 26
To Edmonton Oilers = Tomas Jurco
To Detroit Red Wings = Anton Lander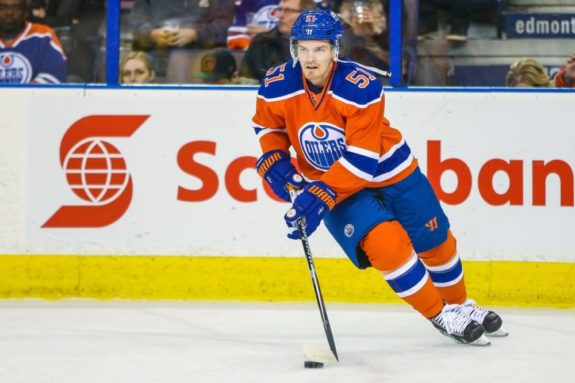 ANALYSIS: Last and least — well, technically not last because I predicted there will be 32 trades, with the other six even more minor than this one — I could see a swap like this happening. Both players are on the cusp of being NHL regulars — or busts, depending how you view them — but both are spinning their wheels in their current organizations. Lander had his most success in Edmonton under Todd Nelson's brief coaching stint — racking up 20 points in just 38 games to end the 2014-15 season. Nelson is now in charge of Detroit's farm team in Grand Rapids. Lander is also a Swede, a nationality that the Red Wings are famous for developing regardless of what round the players are drafted. Jurco is somehow pointless in 16 games with the Red Wings this season, which is shocking given his offensive upside. He's got decent size to go along with all that skill and Jurco can play either wing — he's a right-winger who shoots left-handed. A subtle, low-risk move by both Holland and Peter Chiarelli since both players are restricted free agents at season's end and are making essentially the same salary — Lander is earning $987,500 and Jurco is at $900,000.
---
Worth noting, the Oilers are the team I follow closest and I'm sure Edmonton will be in the market for a third-line centre as well — getting in on the Hanzal, Boyle and Berglund sweepstakes — but if Chiarelli lands Barrie and Iginla at the deadline, Oilers fans will be thrilled and won't mind sticking with Drake Caggiula and Mark Letestu down the middle behind McDavid and Nugent-Hopkins.
Also worth noting, Minnesota, Nashville, Columbus and Florida — all recent expansion teams, for some strange reason — are the four franchises that aren't making any trades according to my predictions. That will likely prove wrong, considering all four could be playoff bound and looking to upgrade, but I just couldn't find a fit that I liked for the Wild, Predators, Blue Jackets and Panthers. Apologies to those fan bases for being left out but, not to worry, I didn't forget about your teams.
Fun times, as always, putting together these trade-deadline predictions, and now for the real fun part . . . your thoughts?!?
Larry Fisher is a senior writer and head scout for The Hockey Writers, having been an at-large contributor for THW since August 2014. Fisher covers both the NHL and the WHL, specializing in prospects and NHL draft content, including his annual mock drafts that date back to 2012. Fisher has also been a beat writer for the WHL's Kelowna Rockets since 2008, formerly working as a sports reporter/editor for The Daily Courier in Kelowna, British Columbia, Canada from 2008-2019. Follow him on Twitter: @LarryFisher_KDC.