The +/- statistic is often maligned, and for good reason. It leaves a lot to be desired since it is easily skewed by factors outside of a player's control. With that in mind, though, it can be used to see simple trends on a team. So while the usefulness of the +/- may be questionable, it still allows for a good jumping off point when there's a clear abnormality on a team.
Part of the Tampa Bay Lightning's strong start to the season has been their impressive five on five play, highlighted by the fact that only two players have a score below -2. One of those players is Andrej Sustr, who is admittedly on his way out.
The other player, however, is Tyler Johnson, who is a face of the Lightning franchise. While Johnson has not looked like his normal self since injuring his wrist in the 2015 Stanley Cup Final, his play this year has been particularly lackluster. This slow start begs the question… where does Johnson, and his newly signed seven-year contract, fit into the Lightning roster?
Leading the New Era
Johnson has deep ties to the Lightning's resurgence as a competitive franchise over the last five years. He was a leader of the Norfolk Admirals team that won 28 straight games en route to the 2011-2012 Calder Cup. After breaking into the NHL, he represented new hope for a franchise that had lost the two biggest players in its' history in less than a year.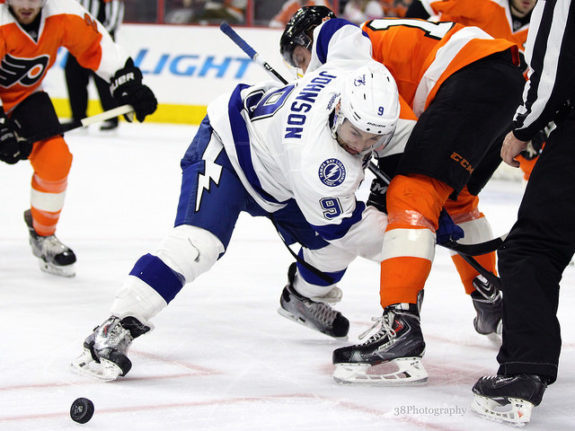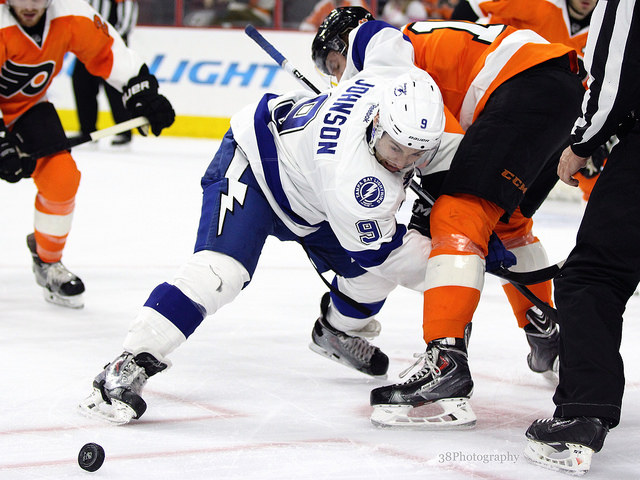 Johnson didn't disappoint either. His career took off with Ondrej Palat, as the two earned rookie of the year nominations in the 2013-14 season. The next year they were paired with Nikita Kucherov to form the famed Triplets line and was a major player in the Lightning's run to the Stanley Cup Final. He even has the Lightning's lone hat trick in the playoffs, a bit of surprising trivia given some of the players who came before him.
Can't Stop Progress
If the start of the season is any indication, Johnson has become the odd man out on the Lightning's roster. In a perfect world, he slots in as the #2 center behind Steven Stamkos. This gives the team a solid one-two punch down the middle, as Stamkos is a prolific scorer where Johnson is more of a speedy playmaker who can score on his own or dish it to one of his linemates to set them up for a goal.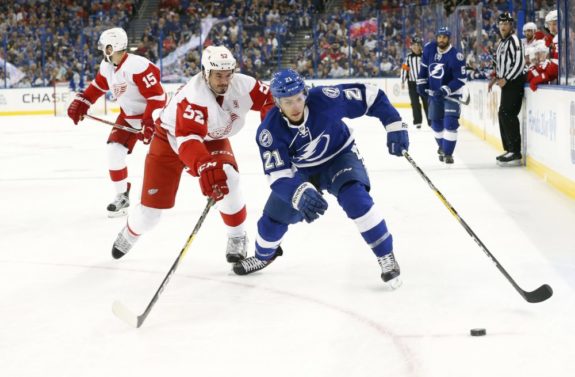 The problem is, Johnson has been supplanted. Heading into the year, Brayden Point took over as second line center and hasn't looked back. So far, Point has been one of the Lightning's most dynamic players, where Johnson has been mostly invisible. Outside of a few well-timed powerplay goals, he has only had a marginal offensive impact on a team that is known for offense.
Becoming the Depth Center
This is partly due to the change in Johnson's role on the team. As a bottom-pairing center, he plays a less offensive game, taking a lot more defensive zone faceoffs than before. He also sees less time on the ice in general and is no longer paired with his fellow Triplets which will hurt any player's statistics.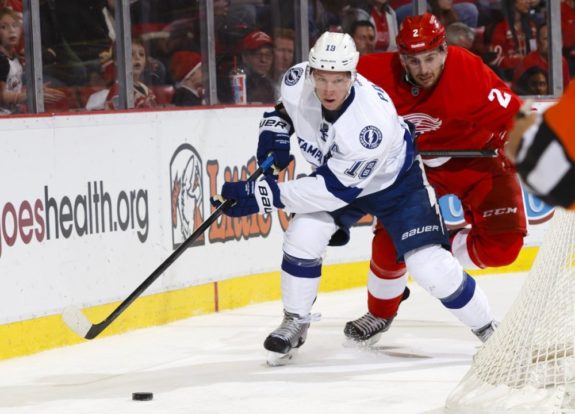 For the Lightning, this isn't necessarily a concern right now. Having a player like Johnson for depth is what most teams would dream about. Inevitably there will be injuries, so having a player with years of chemistry alongside Palat and Kucherov will only aid the Lightning. Also, if the team is truly a Cup contender this year, they will need scoring outside of their top six to carry them when the top lines eventually cool off.
Contract Talks
The real concern for the Lightning is Johnson's new contract. While it is reasonable with a $5 million cap hit, it clocks in for the next seven years. As a second line center, this would be a manageable cap-hit given Johnson's role with the team. However, if he plays on the bottom lines, this lengthy contract will have a negative impact. When players like Point and Kucherov need pay raises, the Lightning will need to clear cap space.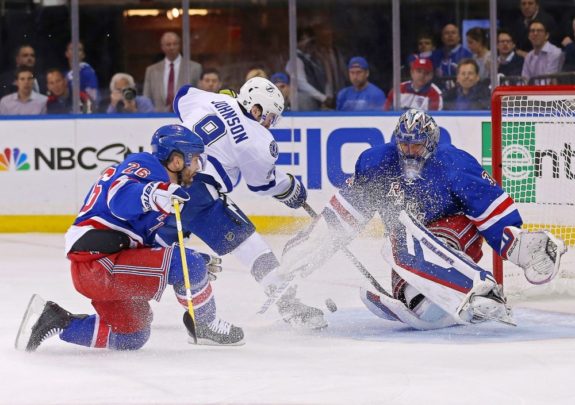 The good news for Johnson and Lightning fans is that their once overlooked center won't be moved anytime soon. Even if his numbers aren't great to start the season, they don't need to be. There will be a time when Johnson returns to his old form and he will help the Lightning win games.
Until then, the team will have to hope that he can find his form and contribute in his new role. It may not bring him to the All-Star game, but it can be just as important a role as his days with the Triplets.