Coming into last weekend's series, University of North Dakota sophomore goalie Zane Gothberg was on a hot streak. The sophomore goalie had played every minute of the nine-game unbeaten streak – racking unimpressive stats. In nine games, he was 8-0-1 with a 1.76 GAA and a .923 save percentage.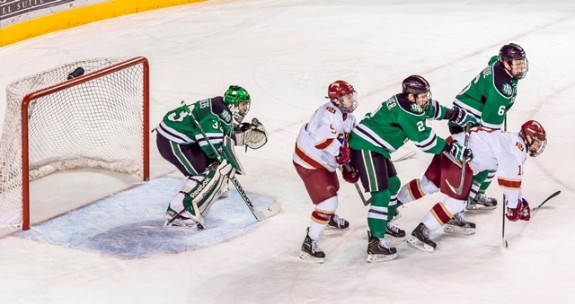 Then, during last Tuesday's practice, UND got some bad news. Gothberg sustained an undisclosed lower-body injury. The injury couldn't have come at a worse time. Just before UND was to play the University of Denver, they found out they were going to be without their starting goalie. Some in the UND nation were in a state of panic.
Zane Gothberg's injury is Clarke Saunder's gain
Senior goalie Clarke Saunders took over for Gothberg in the lineup, and performed marvelously, giving up only two goals per night on the weekend. Saunder's play in net helped UND gain a much-needed series split against Denver.
"I thought he was excellent," head coach Dave Hakstol said. "He gave up two goals each night. He gave us a chance to win each night. If we give up two goals on any one night, we should have a great opportunity to get points out of that night. That's going to be critical for us in all ten of our remaining regular season games."
UND sophomore forward Drake Caggiula was very supportive of the senior goalie and his play this past weekend.
"For not playing for such a long time he really stepped in both Friday and Saturday night and he played really well for us," Caggiula said. "He made a lot of big saves, especially on the power-play. We gave them more opportunities by taking a lot of bad penalties on our part, but he stood his ground and played very well both Friday and  Saturday, and I was very happy to see that from him."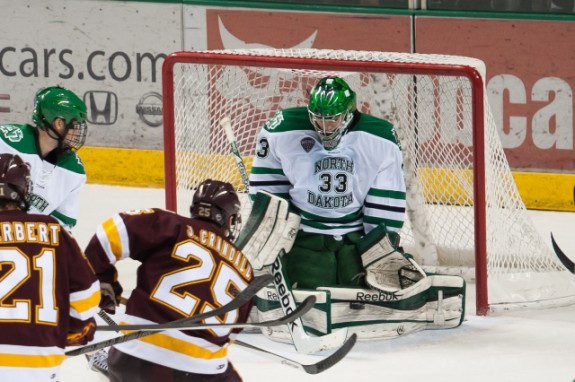 Saunders was asked if he had missed a beat after not playing in a game for so long. 
"I was a little rusty the first few minutes, to be honest," Saunders said. "Practice is different for a reason. Games are a little different. But I kind of settled in pretty quick. They got a few long shots that I was able to kind of handle, decent. After the first few minutes, it felt pretty good."
Pairwise Rankings a concern for UND
The UND hockey team is in a precarious situation with the Pairwise Rankings and is going to probably need to go 7-3 down the stretch to solidify their Pairwise Rankings. Saunders was asked if the players check the standings and the rankings.
"You want to know where you are," Saunders said.  "You don't want to react about how you're doing, but you want to go out and play and win every game. It's nice to know in the back of your mind, maybe give you a little motivation if you know first place in on the line or a spot in the tournament is on the line."
Before transferring to UND, Saunders played for the University of Alabama Huntsville and he faced a lot of shots in his two seasons with the Chargers. As an outsider looking in, it does seem like Saunders performs better when he faces a lot of shots. One might also make the assumption that Saunders thrives when he faces some adversity.
"It doesn't matter if I get 12 (shots) or 50," Saunders said. "I have to stop them all."
"I think he (Saunders) plays well under pressure," Hakstol said. "I think he thrives on that. I think he thrives on challenge. I have said all along, he's a battler. Not an easy situation for him to go into this weekend, not having played in long as it had been for him. Yet, he went in and battled. Every puck that he saw he stopped."
Coach Hakstol continued, "One (goal) was one of the strangest bounces that I have seen in a building in 10 years. The other was a wrap-around play that bounced off his defenseman's knee in front. He battled hard Friday night, and he gave us a chance to win. Everyone did their job and we won."
Gothberg out indefinitely
It sounds like Saunders might be the man between the pipes for the upcoming future.  It appears that Gothberg isn't going to be back anytime soon.
"There's legitimately no update today (on Zane Gothberg), Hakstol said.  "As we move forward, right now Zane is injured. He's out indefinitely and will most likely be the case until he's full go."
There you have it, as of right now, senior goaltender Clarke Sanders is the go-to guy in net for UND and it doesn't appear to be changing anytime soon.
For more pictures from the DU vs. UND series go to  (Co14ersphotography.com)
Eric is a 1996, 1999 graduate of the University of North Dakota. Eric covers the University of North Dakota Hockey and Division I college hockey. Eric is the Contributing Editor for Inside Hockey.