Women's hockey has grown significantly in the last couple of years. According to the Globe and Mail, Canada and the U.S. have thousands more females playing hockey than the rest of the world and their federations invest more dollars in women's hockey than the Europeans and Asians.
While women's hockey is growing in popularity, the women's NCAA division I hockey tournament still isn't on television.  That's a travesty in my opinion.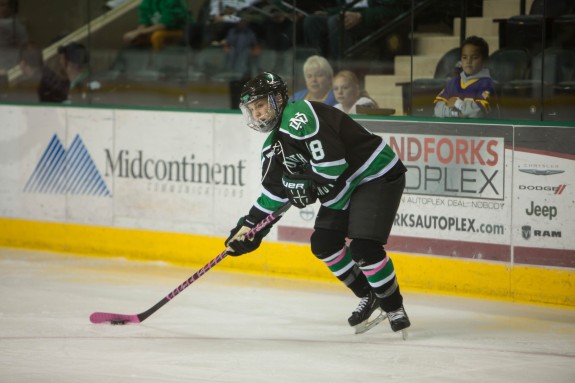 Women's college hockey lacks television coverage
If you've been a fan of women's hockey, you know that it's hard to find "any" women's hockey game on television. To their credit, the University of North Dakota women's games are occasionally on Midcontinent and Fox College Sports.
Recently, I interviewed UND Women's hockey coach, Brian Idalski and I asked him if the WCHA has had a conversation about getting more of their women's games on television.
"We haven't had a lot of discussions as coaches and the commissioner in that regard," Idalski said.  "I know there's some talk of creating a web package similar to what the National has created now, and even the WCHA men where they're having league streaming. But quite honestly, we've always had that for our program, so that's not a huge deal."
Idalski continued: "The push for TV is great, I think the game has continued to improve. I think the product is getting better and better. The more people that are exposed to it, the more it will grow. A big start to that would be to get our league championship on TV."
There's a few issues standing in the way of getting the woman's NCAA division I college hockey playoffs on television.
"Some of the problems that happen with getting the championship on television for the women is the timing of it," Idalski said. "There's a plethora of programming through (March), you have the conference tournaments for the men.  You have the national tournament for the men. You have March Madness for basketball that's done a good job of marketing and promoting that."
Idalski broke it down further: "You have a couple of options. You move further back, which we can't do because that goes into the IIHF and the World Championships. So we can't go any farther back. That means we have to move forward. That means we have to move into February for our championship. That means we have to truncate the season either by a couple of weeks or start a little earlier when we start school in September."
Hold that thought for a minute, there's a problem with moving the start of women's college hockey. The six Ivy League schools can't start playing hockey until October.
"The problem with that, the Ivy League doesn't start till October and anything moving forward, that six programs is totally against," Idalski said. "So that's a big problem that we have within woman's hockey. Quite honestly, we don't have a lot of vision at all when it comes to that. Everybody wants to know what's going on first before we take a leap or try something. I don't believe in that."
Idalski offered his solution to building more excitement around the woman's game.
"I think we have to do something, create an event," Idalski said. "Create some television and some excitement around it. Put some youth tournaments around it. Make it like baseball has done, pick a site. It's going to be at that site. Build around it as an ode to women's hockey, from youth all the way up to the collegiate championship. I think television will be a byproduct of that environment. That's just my feelings. Those are things that we discussed; those are things we have worked on.  It's tough getting everyone to pull in the same direction."
Women's hockey couldn't be bigger after the Olympics and the growth of women's college hockey. I asked coach Idalski if it's time to strike while the iron is hot and move forward and get more women's college hockey on television while women's hockey is at an all-time high.
"It's difficult, because not all of the players ever really sit down together," Idalski said. "We don't really sit down with television, the coaches and the administrators and ask them what works for them. If they said 'Hey, we have a programming need in this area, and if you guys moved to there we would put it on TV,' I think the coaches would move in a heartbeat."
When you look at some of the details of why we don't have more women's college hockey on television during the NCAA tourney, it would appear that there are many factors playing into this.
"The other thing is the NCAA agreements with television, and who owns the rights," Idalski said. "CBS having first refusal.  Then goes to ESPN and then for us Turner Broadcasting. Then broadcasting rights includes streaming rights, which Turner is not going to give up the TV rights and the streaming rights.  They want the streaming rights. A lot of times the people who produce the TV portion want the streaming rights, too. That's beyond my pay grade, but I know that's some of the things holding us back."
It will be interesting to see how this plays out. Women's hockey has grown a lot over the last five years. I believe there is a demand to have the Women's NCAA division I championship on television. It's just a matter of how women's college hockey moves forward and executes this.