After being one of the top KHL players in the latest few seasons, Russian center Vadim Shipachyov has decided to move on and play in the NHL, signing a two-year, 4.5-million dollars contract with the Vegas Golden Knights. In this translated interview, Shipachyov talked about his move to the NHL, the recent IIHF World Championship, and talking with the press.
* You can enjoy the original Russian interview by Alexei Shevchenko here *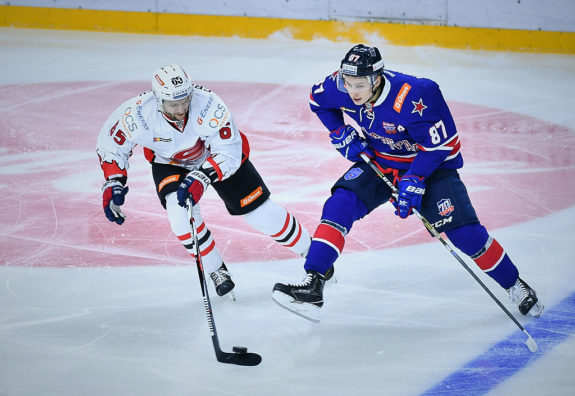 Shipachyov's Move to the NHL
Alexei Shevchenko: When did you decide to move overseas?
Vadim Shipachyov: After the World Cup. I've been told even earlier how it is to play in North America, how's the organization. Artemi Panarin told me a lot of things, and when I got to Toronto I could see everything with my own eyes.
AS: Was your old team SKA St. Petersburg shocked by the news?
VS: I signed the contract during the IIHF World Championship. [SKA Vice President] Roman Rotenberg simply congratulated me and wished me good luck.
AS: What about [your former head coach] Oleg Znarok?
VS: I talked with him too. He told me, of course, that he would have been happier with me back on his team, but he understands that I made my decision. Any player should decide himself regarding his own career.
AS: It was rumored that SKA was ready to offer you a very good contract.
VS: I don't even know, since I decided already. In these cases, money doesn't have much significance.
AS: Is it bad for your ties with the team?
VS: I think it's a normal process: my contract ran out and I signed with another team. I am grateful to the team for the time we spent together. I'm also grateful to the fans. We won two Gagarin Cups and it has been a great ride both times.
AS: When you were signing your contract, didn't you think, even just for one second, that you're going to miss the Olympic Games?
VS: My mind was crossed by another thought. If I don't sign now, then I may not have another chance. Of course, any player wants to play at the Olympic Games. You know, it's a lot of prestige. But it's not clear yet. Even before [the 2014 Olympic Games in] Sochi the NHL announced they weren't going to play, but then they did. Maybe this time it will be the same.
AS: Many think that your style of playing doesn't suit the NHL.
VS: What does that mean? I think it's a matter of being used to it. You need some time to adjust to the small ice, to what is new for you. I'm now working very hard to accelerate as much as possible the adaptation to the different game.
SKA magic. Vadim Shipachyov and Nikita Gusev have been doing this all season long! #TeamRussia pic.twitter.com/jRP6dEhbMK

— SKA Ice Hockey Club (@hcSKA_News) May 16, 2017
AS: It's not just about the small ice.
VS: I have already played on small ice, in Vladivostok for example. I can't say that I felt uncomfortable there. If you'll play twenty minutes a game, you'll adapt faster. If you're gonna get only five or six minutes, then it'll be hard for you in the KHL as well.
Shipachyov's Prospects in North America
AS: How's your English?
VS: I understand everything.
AS: But you don't talk, am I correct?
VS: I talk very badly. I'll work on it during the summer. Without any doubt I need to work on my English language skills.
AS: Did you have other offers from the NHL?
VS: Last year some NHL clubs were interested in me, but I was still under contract with SKA. And now this is an excellent option. I'm going to play for a new team, and there are great chances to be one of the leading players.
AS: Was Vegas your only option?
VS: No, but I accepted playing with them right away because they truly counted on me.
AS: Do you know the team's head coach, Gerard Gallant?
VS: Not yet, because I can't really talk with him as well as I should. But my agent talked with him and he told me that the coach really counts on me.
AS: Were you following other NHL teams?
VS: I can't really say that I supported them, but I was cheering for Chicago because of Panarin. I like the way they play, but I haven't seen any full game, only highlights.
AS: I'm not going to repeat even more the story about Las Vegas and casinos.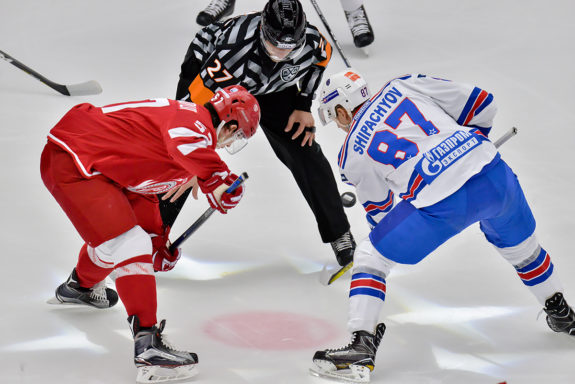 VS: I say it once again, I have never played at a casino and I don't even know the rules. I only know that they use chips there.
AS: Exactly.
VS: It's not interesting to me at all.
AS: The first player the team signed, Reid Duke, sent you a soccer ball on Twitter, saying that now he has someone to play with.
VS: [Laughs] But I'm going to move to America after the expansion draft, and the team will have a full roster by then. But, ok, I will bring with myself a soccer ball as the ones that are used in the KHL.
Shipachyov and the Press
AS: Another thing I was wondering is how you're going to deal with the press.
VS: I don't really think I have any problem with journalists.
AS: But during the IIHF WC you didn't stop in the mix-zone!
VS: I excuse myself in front of the journalists. It won't happen anymore. But I remember that I talked with you after the first game.
AS: By the way, since we're talking about the IIHF WC. What happened during the third period in the semifinals against Team Canada?
VS: I'd love to have a reply myself. We had a terrible third period.
AS: Why did the coach bench you during the third period of the Bronze Medal game against Team Finland?
VS: We won that game, this means that it was all correct. It was good to end the tournament with at least a medal.
AS: But you were benched anyway.
VS: Why do players get benched? Because they play bad. This means that I was playing bad.
AS: Should you have a chance, will you report to the national team?
VS: Without any doubt. It's an honor to play for the national team. If the coaches feel that I'll be useful for the team, then I'll absolutely go.