It is a commonplace occurrence during nearly every NHL season. A handful of players enter a campaign with minimal expectations, and 82 games later, they evolve into household names. Whether they are goaltenders or skaters, breakout players can change the landscapes for clubs across the NHL. These darling stars can emerge as the missing ingredient to a championship recipe, or provide an ailing franchise with a glimmer of long-term hope. The Vegas Golden Knights had that luxury last season, as forwards William Karlsson and Jonathan Marchessault developed into premier scoring options for the team in 2017-18. Who will be Vegas' next potential breakout star? Here are three possible nominees who could throttle expectations.
Erik Haula
Prior to joining the Golden Knights roster, Marchessault flashed glimpses of excellence in the 2016-17 season with the Florida Panthers. The 27-year old centre racked up a team-high 30 goals to go along with 21 assists. His 50 points were third on the Panthers in 2016-17. Marchessault followed up his pleasant campaign in Florida with a sterling season in Vegas last year. The Quebec-born centre recorded 27 goals and 48 assists for 75 points in the Golden Knights inaugural campaign. Both his points and assists marks were second-most in Vegas last season.
Marchessault's 2016-17 statistics are quite comparable to Golden Knights forward Erik Haula's from a season ago.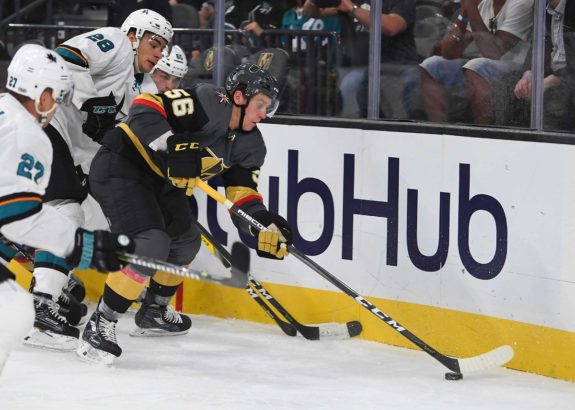 The 27-year-old forward emerged as a viable scoring option for the Golden Knights in 2017-18. Haula notched 29 goals and 26 helpers for 55 points last year, concluding the regular season as Vegas' second-leading goal-scorer behind Karlsson. The former Minnesota Wild prospect was reliable on the power play as well, as he posted a team-high 12 goals and 19 points on the man advantage. Looking at the numbers on its own, it is plausible to believe Haula can elevate his game to another level.
His ability to produce offensively in both even-strength and power play situations needs to be maintained for the upcoming season. A smattering of the NHL's most effective scorers are key contributors to their team's attacks in five-on-five scenarios, as well as on the man advantage. If the Finnish-born left wing continues to evolve as a consistent scorer in multiple schemes, a breakout season is forthcoming.
Anything can happen, but Haula seems to be on a familiar path to the one of fellow 27-year-old Marchessault. It would be rather stunning to see him falter on a presumptive championship contender after nearing the 30-goal mark last season. If he cultivates a breakthrough year, do not be shocked to see Haula conclude the regular season hovering around the 35-goal, 70-point range.
Alex Tuch
Unlike Marchessault, William Karlsson entered the Vegas locker room after a rather pedestrian output the prior season with the Columbus Blue Jackets. In 81 games played, The six-foot-one forward recorded just six goals and 19 helpers for a career-best 25 points in the 2016-17 season. Once he arrived in Sin City, Karlsson exploded for one of the most jaw-dropping breakout seasons in the NHL last year. The former Blue Jacket notched 43 goals and 35 assists for 75 points last season, as his goals and points totals were a team-high. His 43 lamp-lighters were third in the NHL behind Patrick Laine (44 goals) and Alex Ovechkin (49)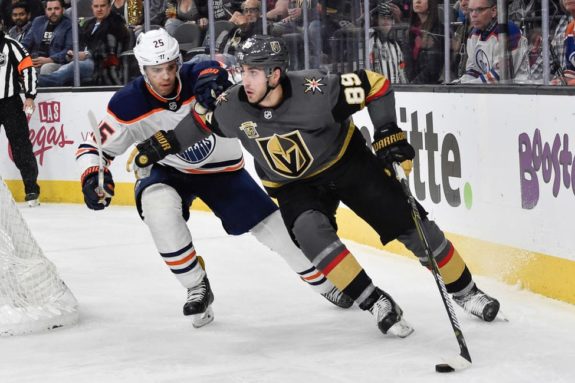 One Golden Knights forward whose numbers last season were similar to Karlsson's 2016-17 totals is Alex Tuch. Does this mean he will emerge as a 40-goal scorer this coming season? Absolutely not, but it might be an indicator that Tuch could provide a higher degree of production in 2018-19.
In 78 games played last season, the 22-year-old forward racked up 15 goals and 22 assists for 37 points in his second NHL campaign. His regular season numbers were not dazzling, but he had spurts of above-average production as a mainstay on either the second or third line. Tuch played his best hockey during the postseason, where he notched six goals and four assists in 20 appearances. His goal-scoring mark was tied for third on the team. Five of his six scores came on the power play.
Witnessing the Syracuse, N.Y.-product barrel his way up the gut of opposing defences became a recurrent sight in the playoffs. Tuch's north-south style with the puck meshes seamlessly with Vegas' aggressive, full-throttle approach. The former Minnesota Wild enters his third NHL campaign at 22 years old and could fill the scoring void left by 66-point forward David Perron. If Tuch crafts a breakout season in 2018-19, flirting with the 25-goal, 50-60 point range is not hyperbolic.
Shea Theodore
Quite possibly the most frequently-uttered phrase in sports is "defense wins championships." The three-letter idiom mostly holds true throughout team athletics, including hockey. Even though the Washington Capitals are equipped with an explosive and talent-rich offense, their improved defensive play in the postseason was fundamental in their Stanley Cup championship. A strong blueline also helped the Golden Knights last season in their run to the final series. Vegas' pairing of Nate Schmidt and Colin Miller spearheaded a sturdy defensive core last year.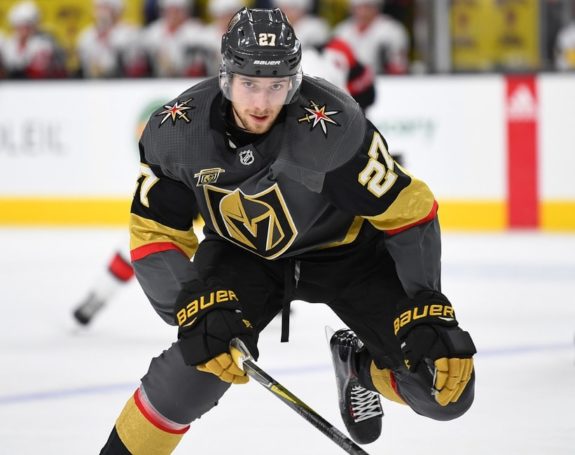 But more solid defensemen the better, and a breakout campaign from blueliner Shea Theodore would do exactly that. The Langley, B.C. native is fresh off a positive season in 2016-17, as he recorded six goals and 23 assists in 61 games last season. It is important to highlight his absence from 21 games last year, so playing in a full or near-complete campaign would only elevate his output. The former Anaheim Ducks defensemen is just 23 years old, which means the potential of him evolving his overall skill set is tremendous.
Theodore proved last season he is an excellent puck-mover and above-average playmaker on the power play, but he did stumble into lackadaisical moments during the Final. If the six-foot-two defenseman can build a strong skill set as a defensive-defensemen, then the sky is the limit for the 23-year-old from B.C. Piecing together his offensive talent with his solid frame and adequate physicality could easily lead Theodore to emerge as Vegas' top defenseman by season's end.