This article was posted in our Press Box section which is open to sports journalism students and those hoping to get started in or enjoy hockey writing. More information on joining our Press Box can be found here..
His heart thumping inside his chest, the player takes to centre ice and awaits the referee's whistle. With a burst of speed, he's off towards the opposing goalie. Thoughts are racing through his mind. Should he go top corner or five-hole? Will a deke suffice or will he need to take a slap shot to get it past his adversary?
He is focused.
Nearing the goaltender, something inexplicable happens. While his entire mind is on helping his team win the game, an object from the stands lands in his view. Fans are known to be passionate and rowdy; they throw things in celebration and in fury, but this is something entirely different.
Last night in an exhibition game against the Detroit Red Wings in London, Ontario, Philadelphia Flyers forward Wayne Simmonds, one of the National Hockey League's few black players, was stunned to find a banana thrown at him. As a professional, he commented on the incident with a calmness of someone much older and experienced than his 23 years of age. "It shocked me and knew I had to keep going and get a shot off. It was certainly unusual," he said after the game. But anyone who has ever experienced racism surely knows the pain associated with it.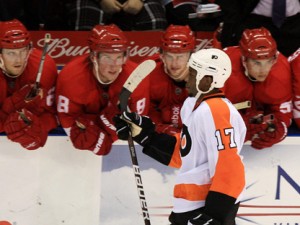 A second round pick in the 2007 Entry Draft, Simmonds grew up in Scarborough, one of Toronto's most ethnically diverse areas. Yet despite this, he admitted that he has been the target of racism. "Over the past 23 years of my life, I've come to expect some things like that," he said.
Racism in sports is nothing new. Soccer players in Europe have related stories of crowds chanting racist epithets. Closer to home, minorities playing predominately "white" sports like hockey face taunts at all levels. The isolation these players feel in an environment where they should be experiencing camaraderie is truly tragic.
Most of us only know Wayne Simmonds as a hockey player. But on a personal level, he handled himself with class and dignity in the face of crassness. Indeed, the only way to combat stupidity is with intelligence.