As NHL training camps get under way next month, senior THW contributor Shawn Reznik will have more in depth power-rankings of the entire NHL but never too early for a sneak peak (or simply another writer's opinion). As a Pacific time zone resident, I'll leave the Eastern Conference to those who follow those teams on a regular basis. But how will the West be won? A Western opinion on the Western conference.
1. Los Angeles Kings
This one is pretty self explanatory, unless they lose a number of key players, the defending Stanley Cup champions deserve the No. 1 spot. The Kings biggest question mark was bringing back Marian Gaborik which they did, so until proven otherwise, this is the team to beat.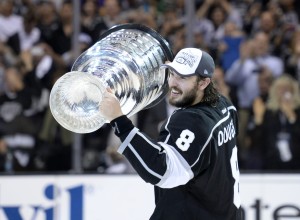 2. Chicago Blackhawks
The Kings have won two of the last three Stanley Cups but Chicago has also won two of the last five. The Blackhawks finally addressed their long time need for a playmaking center by picking up Brad Richards on a bargain one year deal. With the vast amount of talent the Hawks have at the wings and coming up through the system, they ought to be right there with the Kings all season long. If there ever was a safe bet for a Western Conference final rematch, this would be it.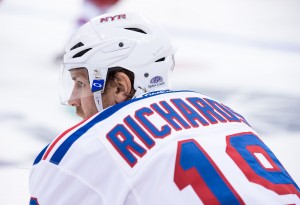 3. San Jose Sharks
The team that can never catch a break. While the Sharks have had good health for the most part over the years, losing Marc-Edouard Vlasic cost them big time in the epic collapse in last year's playoffs vs the Kings. Ranked third behind (who else but) the Kings and the Blackhawks in possession last year, the Sharks are still one of the best teams in hockey. However their penchant for rounding out their forward corps with guys known more for fistacuffs than actual hockey skills is just one of the things costing them playoff success. How exactly are Mike Brown, Adam Burish, and John Scott supposed to help Team Teal get over the hump?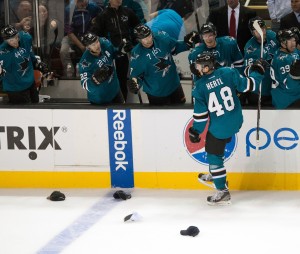 4. St. Louis Blues
Ryan Miller didn't work out last season and they no longer have Jaroslav Halak, so goaltending might actually be their biggest question mark. Jake Allen has promise and Brian Elliot has been good but obviously not great. They still have one of the best blue-lines in the league and have added Paul Stastny up front. However, not sure why they continue to employ this guy.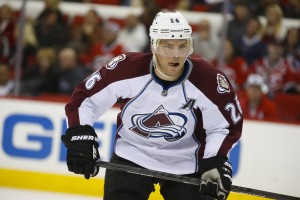 5. Anaheim Ducks
Could call it my Nor-Cal bias if you wish, but the last two seasons the Ducks were top heavy. They won the Pacific division but many smartly picked them to lose their last two first round series. In 2012-13 the Ducks lost in the opening round to the Detroit Red Wings before barely squeaking by the Dallas Stars this past spring. With the addition of Ryan Kesler, this team finally has the necessary depth to be right on par with the top teams in the West. In fact, these top five teams in the Western conference are the top five overall in the NHL.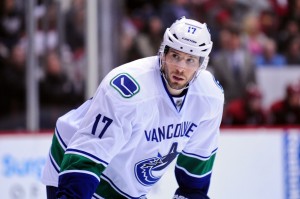 6. Dallas Stars
The Stars will certainly be better than they were a year ago with the additions of Jason Spezza and Ales Hemsky giving them an actual second scoring line. While Kari Lehtonen is a rock between the pipes, the blue-line is their clear weak spot.
7. Colorado Avalanche
The Avalanche made the playoffs for the first time in four years last season. Patrick Roy did a solid job as a rookie head coach but they lost to the Wild in the first round and lost Paul Stastny to free agency. Hard to see them building off last year with a better performance.
8. Minnesota Wild
Speaking of the Wild, while they did beat the Avalanche in the playoffs, and have added talent in recent years, there is still something about this team that doesn't inspire confidence. Matt Moulson is back in Buffalo and in his place comes Tomas Vanek. Is Vanek the right fit for the Wild? Maybe, maybe not. Only time will tell but as well liked as guys like Zach Parise, Mikko Koivu and Ryan Suter are around the league, this team seems to lack a real identity.
9. Arizona Coyotes
The Coyotes are one of those teams that always seems to be in limbo. They are sometimes good enough to even win the Pacific division but have never really had enough talent to challenge for a Stanley Cup. More often than not they finish in the 8-11 spots in the conference. Playoff bubble but not quite bad enough to ever draft a stud rookie in the top-5 of the draft.
10. Nashville Predators
Similar to the Coyotes, the Predators are a consistent and hard working playoff bubble team. While they did draft a stud rookie last year in defenseman Seth Jones, this team has never had nearly enough firepower up front.
11. Edmonton Oilers
Ahh the Oilers, so much potential that never gets reached. Part of me thinks they will actually be decent this year and improve upon that last place finish in the conference from a year ago. Nowhere to go but up, right?
12. Vancouver Canucks
So just who is left in Vancouver? The Sedin twins and Alex Burrows? This team used to be great just a couple of years ago when it featured the likes of Kesler, Mason Raymond, Christian Ehrhoff, Roberto Luongo, Corey Schneider, and Cody Hodgson to go along with the twins . It all started going down hill though the moment they traded Hodgson away for Zack Kassian. It's only gotten worse from there.
13. Winnipeg Jets
All that seems to come out of Winnipeg is rumors surrounding a possible trade of their best player Evander Kane.
14. Calgary Flames
The team that consistently signs second and third line forwards to be top line forwards and bottom pair defensemen to be top pair-defensemen. At least you can see the Oilers potential.
Do you agree with these rankings? Chime in with a comment below!
Andrew has been credentialed to cover the Sharks since 2010 and the 49ers since 2012. He graduated with his BA in Broadcast Electronic Communication Arts in 2013 from San Francisco State University.