The start of the Dallas Stars' training camp is just around the corner, beginning on September 19th in Fort Worth, Texas, but uncertainty lingers in the air as two of the team's core players still remain without a contract.
Center Cody Eakin and defenceman Brenden Dillon are currently waiting for new contracts, with both of their previous deals expiring at the end of last season. Both are restricted free agents, so their rights are still owned by the Stars, but there is a very real chance that neither player will be signed by the time training camp begins.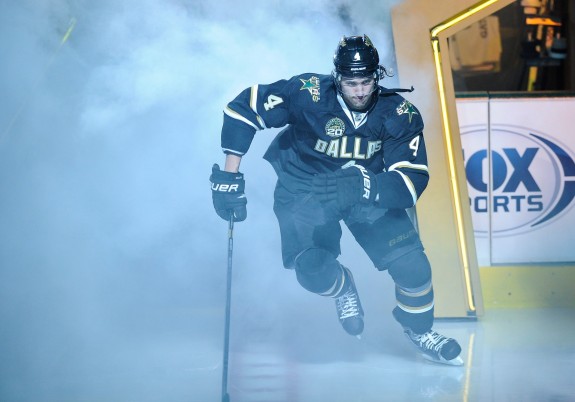 As reported by Defending Big D's Brandon Worley, it seems that the two players, along with Stars general manager Jim Nill, are mired in a game of contractual chicken:
"As we've discussed ad nauseum over the summer, the only negotiating tactic at both players' disposal is to hold out during training camp; when they aren't there next week in Fort Worth, it's important to remember that this is just the business side of the game playing itself out and not some sort of overarching statement by either player."
It's not a new scenario by any means, as many players around the league do it. Dallas captain Jamie Benn missed the first four games of the lockout-shortened 2013 season before coming to terms on a five-year, $26.25 million deal.
The question then becomes: what happens with the Stars if the stalemate continues until Dallas' season opener on October 9th?
As mentioned above, both players are important cogs in the Stars' roster. Dillon was a staple on Dallas' blueline last year, spending the majority of the year on the second pairing alongside Jordie Benn and playing some of the toughest minutes and competition out of the group. Eakin was Dallas' second line center last year, and even though the offseason acquisition of Jason Spezza bumps Eakin down to the third line for this year, he's still expected to play an important role. Eakin, alongside Antoine Roussel and Ryan Garbutt, form a formidable checking line that can neutralize and frustrate top lines from opposing teams. As I wrote earlier this summer, Eakin's impact on the Stars roster stretches into many areas, including special teams.
Luckily for the Stars, the team will have options with which to play around with going forward.
One of Nill's many moves during the offseasn was to re-sign free agent veteran center Vernon Fiddler to a two-year deal. Fiddler is 34 years old and is in the final stretch of his NHL career, but played much of last season as Dallas' third line center and got the job done more often than not. An adept faceoff presence and a regular penalty killer, Fiddler is familiar with the team and his role on it, so he should be able to temporarily slot back on the third line between Roussel and Garbutt without too much hassle.
Dillon's fill-in isn't as obvious, but actually provides an exciting opportunity for Stars management. The team currently has five young defencemen that are all knocking on the door of regular NHL duty: Patrik Nemeth, John Klingberg, Jamie Oleksiak, Jyrki Jokipakka and Cameron Gaunce. Each player is going to get a good, long look during training camp and preseason, and possibly even once the regular season begins.
Nemeth was called up to Dallas from the AHL late last year and impressed, even dressing for five of the Stars' six playoff games in the opening round against the Anaheim Ducks. He's considered a front-runner to grab a roster spot even if Dillon is signed, but could see himself get bumped up to the second unit to play with Jordie Benn. Klingberg comes to North America full-time following a tremendous season in the Swedish Hockey League, but is still recovering from recent hip surgery and might need some time in the AHL to acclimate to the smaller rinks of North America. Oleksiak and Gaunce both dressed for Dallas last season and are very much in the running.
Making things even more interesting is sophomore defenceman Kevin Connauton. Connauton, 24, was the 7th defenceman in Dallas last year, playing in 36 games, but likely needs more ice time now for the sake of his long-term development. The longer Dillon remains unsigned the more ice time Connauton will get, and with so many younger blueliners behind him and nipping at his heels he likely knows that he'll need to perform at a high level to truly establish his place on the team.
The status of Dillon and Eakin could be a big story with the Stars in the coming weeks, but the team should have the tools to stay competitive if things don't get settled shortly. Still, with Dallas aspiring to take a step forward this year in the ever-tough Western Conference, the sooner a deal gets done, the better for Dillon, Eakin and the Stars.