It was a rough season for the Buffalo Sabres, plagued by injuries yet climbing back and falling just short of the playoffs. During the last few months of the season they went 15-5-5 and showed that when healthy this team can be a force to be reckoned with! Many believe the Buffalo Sabres are just a tweak or two away from making a true run at the Stanley Cup. This article is talking about what the Sabres "should" do from a fans perspective, please remember, there is a big difference in what they "will" do. This off-season leaves the Sabres organization in an interesting spot; they have a little bit of money to throw around, they have a new owner who is willing to throw the money around, they have a plethora of draft picks, and have some expendable players but at the same time don't want to mess with the team who went on the historic run to end the season.
Find a number 1 centre
The Sabres need to come to a realization that Derek Roy is not and will not cut it as the number one centre. Roy showed no chemistry when centering Thomas Vanek and Jason Pominville and looked lost on the ice. Not to mention Roy publicly voiced his displeasure with Lindy Ruff leaving many to wonder if the two are on the same page or even in the same book. In all likely hood Roy will be on his way out the door this off-season, as he's become "more trouble than he's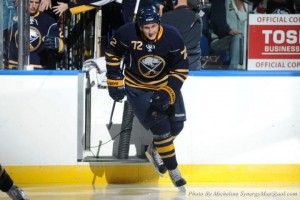 worth" so the Sabres will need to replace him. Tyler Ennis had a great year and showed everyone he was capable of playing centre but he's not ready to take over the role of #1 centre and should stay at the 2nd/3rd line level. Cody Hodgson will likely become the Sabres number one centre one day, key words "one day" he is not ready to takeover that role and it is unfair to expect that of him at this point. Hodgson needs more time to develop and build chemistry with his new teammates before being thrust into that role. Then there's the guy everyone seems to be forgetting about, Luke Adam. When he was with the big club early on in the year he found great chemistry centering Vanek and Pominville, he was almost crucial to their success. It wasn't until the Sabres needed to clear some roster space and demoted Adam that his game started to suffer and ultimately earned him a spot back in the AHL. The Sabres seem to be losing patience with Adam, but at the same time have not given him a proper chance to showcase himself in an important role, every time he messed up he was forced to "ride the bench" even when he had success centering the first line. Inexplicably Ruff decided he didn't fit on that line and demoted him to the 4th line! Now Adam isn't the type of number one centre that will help carry a team to victory, but if the Sabres are unable to find a fit outside of their organization (free agency, trades) then why not let the kid have a shot?
If the Sabres don't find a good fit inside their organization there is always free agency, but this is a very thin free agent market not to mention the impending CBA changes that would likely mess up all the contracts. So the best option for the Sabres would be through trades. If the Sabres wanted to get rid of Ryan Miller and could possibly get Jonathan Bernier away from the Kings they would be able to send Miller to Tampa Bay in exchange for veteran centre Vincent LeCavalier. The Lightning need a solid goalie and if they were able to get a goalie of Miller's caliber they would jump into the Cup favorites discussion. The Lightning no longer have a need for LeCavalier and would be willing to part ways with him, LeCavalier would be able to give the Sabres some magic at the centre spot for a few more years until Hodgson is ready to step into the role. But is it worth trading Miller for a guy who may only stay around for another year or two? If it means a Stanley Cup then the answer is obvious. Other names that come to mind: Jarome Igilna who is itching to get out of Calgary, Stephen Weiss who could be expendable and Jarrot Stoll.
Trade up for Yakopov
Now this isn't exactly an off-season move per say, but it could be a very smart move by Regier. The Edmonton Oilers have the first over all pick for the 3rd straight year, but here's the catch, they don't need another forward. The Sabres could package their two first round draft picks and a player (Roy?) to the Oilers in exchange for the first overall pick Nail Yakopov. Wouldn't it be better for the Sabres to draft a player who is arguably ready to make the jump to the NHL right away instead of waiting 2 or 3 years for a player who may never be ready to make the jump?
Get Back Paul Gaustad
A crowd favorite, a solid power-forward, a face-off magician what more could you want from a 4th line centre? The Sabres had all that in Paul Gaustad before dealing him away at the deadline in a deal that broke the hearts of many Sabres fans. Gaustad has hinted at wanting to come back to Buffalo, so why not get him back? He served his purpose; he got the Sabres a first round draft pick.
Free Agent Pick Ups
Two players come to mind when looking over the restricted and unrestricted free agent list. The first is restricted free agent Shea Weber. The feasibility of him joining the Sabres is remote, but this is a top two defender and someone who brings skill and ferocity the Sabres desperately need. He'd make a solid partner for Tyler Myers on the back end.
The next is unrestricted free agent Alexander Semin. Again considering the amount of money this guy is going to get he may be out of reach for the boys in blue and gold, but he showed in the playoffs this year that he finally gets it and would be a great addition to the Sabres.
Get rid of expendable players
Players like Brad Boyes, Cody McCormick, and Matt Ellis what have they done for the Sabres? Nothing! They are just sitting on the roster eating up cap space that could be used to acquire a number one centre and these guys are easily replaced with guys from the AHL who are waiting for their big break. Problem is they haven't been very valuable so they aren't going to fetch much in return but if you could package them for someone who is going to help in return then do it! You don't build a team around 3rd/4th line players, but they are important and teams need to have that backup scoring for when their stars go into slumps. The Sabres didn't have a lot of that at the beginning of the year and it cost them. If the Sabres were able to get rid of these guys it would free up some major cap space for some better deals!
Do not trade Ryan Miller
Although I mentioned it earlier, unless Darcy Regier could pull of some sort of miracle and land Patrick Kane or another big time talent that is going to help the Sabres he shouldn't even think of trading Miller! Jhonas Enroth is not yet ready to be given the number one goaltending spot so there is no possible way Miller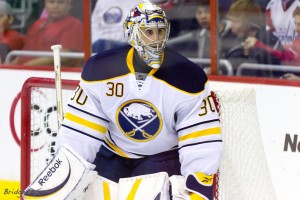 could be traded without a sufficient goalie in return. Trading Miller would send the Sabres back years in their development and move them farther away from their goal of winning a Stanley Cup. Whether people want to believe it or not, Miller is a top notch goalie (an Olympic MVP, Vezina trophy winner) on any other team in which he had solid support he would be playing deep into the playoffs and likely winning a Stanley Cup. He hasn't once asked for a trade out of Buffalo he understands the fact he is their franchise goalie and without him they would be one of the bottom teams in the league. The Sabres would be smart to keep Miller!
Do nothing
Not a popular choice among fans but sometime not making any moves turns out to be better for the organization. The reason the Sabres had such a rough season was in large part due to the injuries, the players are going to be more motivated going into next season after the disappointing season and the majority of the players can't play any worse than they did this year.
Want to play GM? Let us know what you'd do this off-season if you were the Buffalo Sabres GM in the comments below!
Follow me on twitter @Hockeylife30 and like me on Facebook ThePuckStopsHere