This Monday served as the cruel epilogue for the 2011-2012 Calgary Flames season as the team gathered for the final time to clean out their lockers and conduct exit interviews with front office staff.  To say that changes will be happening in Calgary during this lengthy off-season is nothing short of an egregious understatement, as the Flames club failing to make the playoffs for the third consecutive season will likely look decidedly different come next October.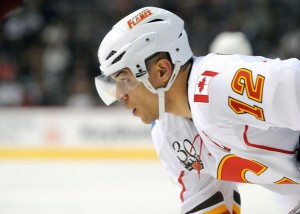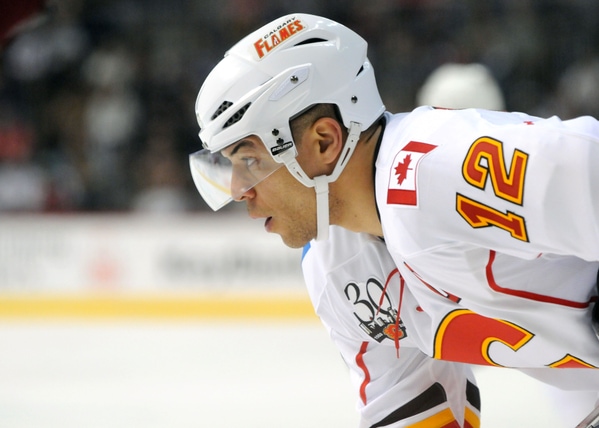 While the Flames will change naturally thanks to contract expirations and the free agent market, the aggressive changes will undoubtedly come from trading.  The Flames have simply been running on fumes since their run to the Stanley Cup Final eight years ago in 2004, and the core of the team has been reduced to the two holdouts from that run- goaltending stalwart Miikka Kiprusoff and franchise icon Jarome Iginla.  While both had solid seasons, they will have a combined aged of 71 by the start of next year's campaign.  This, coupled with the likely rebuild brewing in the Flames organization, means that at the very least speculation will swirl around team captain Iginla and his possible playing future apart from the Calgary Flames.
The first major break in this speculation occurred today during Iginla's media scrum.  Iginla was asked a question relating to a rebuild and he yielded a surprisingly candid response, saying "Do I want to rebuild?  Do I want to be on a team if we're going to fully rebuild? I don't know if I do."
While this statement is naturally shrouded in mystery one can reasonably glean that, going on 35 years old this July, Iginla wants to play on a winning team.  The past three years have done everything but substantiate Calgary as such a team and this simply means that Iginla, the franchise leader in games played, points, and goals, may be donning an NHL sweater bearing something other than the flaming "C" in the near future.
Trading Iginla is a problematic endeavour on two fronts- business and hockey culture.  In terms of hockey culture, trading away Iginla would instantly become the biggest move in franchise history.  Iginla has transcended from the prestige of being the local hockey star to being the local star.  He has become synonymous with the city apart from the sporting landscape and is imbued in its culture.  The few "casual" hockey fans in the city know who Jarome Iginla is, and his jersey is far and away the most dominant amongst home game fans.  Trading away such a figure would end undoubtedly send the franchise into a period of clear transition and anyone who has lived through the Flames' transitional "Young Guns" era of the late-1990s and early-2000s will tell you that such a move would likely bring about a period of fan apathy.
Post-lockout NHL attendance figures have seen the Flames rank among the league's highest in terms of occupied seats as they average a full-capacity 19,289; however it is possible for the local fans to boycott the team should they not enjoy the on-ice product.  The aforementioned "Young Guns" era indicates this perfectly, as the average attendance from 1997-1998 to 2003-2004 was only 16,193- essentially 84% capacity.  Trading Iginla would undoubtedly bring about fan derision at both the loss of their superstar as well as the organizational acknowledgement that the franchise has failed to win with him.  The continued losing combined with the loss of Iginla would certainly make it difficult for the Flames to continue charging above league-average ticket prices that should only accompany a desirable product.
Pertaining to the business side of such a move, it would be difficult to initially move Iginla via trade this summer due to his high salary cap hit. There is one more year remaining on his current contract and it pays a hefty sum of $7 million dollars.  As such, a contending team such as the New York Rangers, Philadelphia Flyers, Pittsburgh Penguins, and Boston Bruins would have extensive difficulties fitting such a high priced player onto their roster without giving up a high-priced player in return.  Further proving problematic would be that the high-priced player coming to Calgary in one of these hypothetical trades would unlikely be the skilled youth the Flames so desperately need but rather an older veteran who has earned his beefy contract over years of production, much like Iginla has.
Due to these cap complications, if Iginla is to be moved it would most likely be during the 2013 Trade Deadline in a rental capacity at a reduced price.  This would not only better serve Iginla's new team but also the Flames as well, as should he be made available Iginla would undoubtedly be one of the most desirable commodities for teams desperate for the last piece of a championship.  This trade would vastly overshadow similar rental-moves in recent memory, such as Bill Guerin to Pittsburgh or Doug Weight and Mark Recchi to the Carolina Hurricanes.  Given the advanced career stage of Iginla, it would perhaps be as significant as the Raymond Bourque trade to the Colorado Avalanche in 2000.
Of course, what actually transpires could negate all the lip-service being paid to this topic in the last few months.  Iginla            could very well choose to close out his career with the Flames despite the obvious struggles of the team.  What remains certain is that the Flames are a hockey team in dire need of transition, youth, and a cultural change.  Moving Iginla wouldn't be the ultimate solution, but it certainly would be a major catalyst in propelling the Flames back to the consistent, competitive standard that Iginla personified for so long.
Having just received a Bachelor of Arts in History (with a concentration in Canadian History) from the University of Calgary, Thomas Strangward is pursuing his passion of sports journalism and has recently accepted a seat in the renowned Radio, Television, and Broadcast News Program at SAIT in Calgary, Alberta.