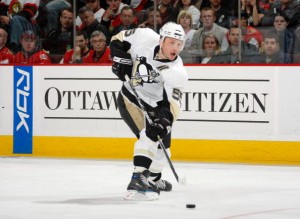 Sergei Gonchar has been medically cleared to play.  Whether he returns on Saturday night against the Toronto Maple Leafs or on Monday night against the New York Islanders, number 55 will be back in a Penguins jersey very soon.
Penguins fans have been waiting for this since he was injured in the preseason.  As the losses mounted and the team fell out of the playoff picture, it was the one hope that we could cling to.  It was the shining light at the end of the tunnel that was rapidly becoming longer and darker.  And now it's here.  "Sarge" will once again quarterback the Penguins power play, a power play that has struggled for months.
But what will it mean?
Sergei Gonchar is a great player.  He is offensively talented, has great vision and is very, very underrated defensively.  During last season's run to the Stanley Cup Finals Gonchar was a rock.  He was the most consistent player on the team.  He is, however, also a notorious slow starter.
Gonchar has rarely had an outstanding October or November in the NHL.  So when Sergei Gonchar returns, will he be the same Sergei Gonchar Penguins fans frequently wanted traded  at the start of the past few seasons?  Or will he be the Sergei Gonchar that held this team together during a long postseason?
Sergei Gonchar is not the Pittsburgh Penguins saviour.  He is not going to go out and singlehandedly put the Penguins in the playoffs.  He will not solve all of the team's problems.  Hopefully he's no expected to.
The Penguins have two serious issues this year:
1) Their power play has been dreadful and has cost them games.
2) Their defense has been soft and has not been clearing pucks or players away from the front of Marc-Andre Fleury's net.
Conveniently, those are two things that Sergei Gonchar is very good at.
But Gonchar is coming off of serious shoulder surgery.  He is not going to leap back in to the front of the net.  Moving players and clearing pucks is hard, physical work.  No matter how well Gonchar has healed, no matter how well-conditioned he is, he is not going to be a defensive force for a while.  He'll need to get back into game shape.
Where he should be able to help right away is the team's power play.
The Penguins have been lost with the man advantage.  While Gonchar may not be able to deliver booming slap shots from the point in game one, he will be able to see the ice and distribute the puck much better than anyone on the Penguins.  Hopefully the team doesn't spend their power plays trying to set up Gonchar slap shots.  They should be spending their time getting into position so that he can hit them with a key pass.
That's what Sergei Gonchar will bring to the Pittsburgh Penguins.  Sidney Crosby and Evgeni Malkin will no longer be expected to set up plays, run the power play, get into position and score goals.  Gonchar will take some of those responsibilities away from them, allowing them to do what they do best: find open ice and score.
Sergei Gonchar will not solve all of the Penguins' problems, but he will definitely help.