Darren Raddysh was recently named the Ontario Hockey League's Defenseman of the Year; not a bad way to end a five-year junior career. The honor capped off a season where the Erie Otters' defender and assistant captain, and his team, were a successful 50-15-2-1 in the regular season, captured the league championship and made it to the Memorial Cup Championship. Raddysh was also named Overage Player of the Year, beating out Santino Centorame and Jeremy Brodeur.
Over the length of his junior career, Raddysh blossomed into a strong, puck-moving offensive defenseman. He started his OHL career with a struggling Otters team that had a 19-40-4-5 record in the 2012-13 season. Raddysh appeared in 24 games, notched two assists and finished the season with a minus-12.
Over the next four seasons, the Otters improved and Raddysh was part of that effort. Players like Connor Brown, Dane Fox, Connor McDavid and Dylan Strome all brought an impressive offensive game, and the team finished with over 100 points in each season. Meanwhile, Raddysh's offensive output exploded in the 2014-15 season; he nearly quadrupled his point production between the 2013-14 and 2014-15 and racked up another 40-point season in the 2015-16 season.
A Career-Best OHL Season
This past season, Raddysh led OHL defensemen with a career-high 81 points, including highs in goals and assists, in 62 regular season games. He finished second among OHL defensemen with 65 assists, one behind Centorame; that tally also broke the Otters' single-season record for assists by a defenseman and made Raddysh the Otters' all-time defenseman assists leader.
We're at the OHL Awards Ceremony! Here's Darren Raddysh picking up the Leo Lalonde Memorial Trophy as the overage player of the year! pic.twitter.com/0wxmDVSFZt

— Erie 🦦🦦🦦 (@ErieOtters) June 8, 2017
He also finished the season a league-best plus-62 among defensemen and simultaneously broke the previously-held Otters franchise record of plus-45. He set a new franchise record for single-season defensive points-per-game (1.290).
In the playoffs, Raddysh averaged a point-per-game (22), including four power play goals and five power play assists. Eventually, the Otters captured the OHL championship, and Raddysh's success continued through the Mastercard Memorial Cup.
In five Memorial Cup games, he scored three goals and added five assists. His eight points were tied for third-most among all players in the tournament, and his three power play assists were tied with a number of other players for most in the tournament. He finished the tournament a plus-5, tied for best with Windsor's Jeremy Bracco, and also registered 20 shots on goal.
It all sounds great, but the question now is: what's next for the talented young defenseman?
At 21, Raddysh's Junior hockey career is over. He's not eligible for the NHL draft and is a free agent. As of June 11, no official offers had been confirmed but there are some teams who could pursue him as an option.
Here are three NHL teams that could be landing spots for this top CHL free agent.
Tampa Bay Lightning
The major connecting point between Darren and the Tampa Bay Lightning is his younger brother. The Lightning drafted Taylor Raddysh, Darren's junior by almost exactly two years, in the 2016 NHL Entry Draft.
The brothers have played alongside each other for the past three seasons in Erie and, despite playing different positions – Taylor is a right-winger – undoubtedly have chemistry and know how to play together. Fun fact: though they played together in Erie, the brothers were assigned to different billet families so they could have the chance to grow independently.
Tampa also has another familiar name on their prospect roster: Anthony Cirelli. Drafted by the Lightning in 2015, Cirelli played with both Raddysh brothers in Erie for the last few months after being traded to the Otters by the Oshawa Generals.
Greg McKegg, who split the 2016-17 season between Tampa, the Florida Panthers and Springfield Thunderbirds (AHL) also developed in the Otters' system, but he left the junior team the year before Raddysh's arrival.
In addition to these connections, the Lightning are also low on offensive defensemen in their prospect pool, and Raddysh could fit well into that slot. He's proven to be a well-rounded blue-liner over the past few years.
Philadelphia Flyers
The Philadelphia Flyers are a recent addition to the Raddysh sweepstakes, mainly because they hired Otters head coach Kris Knoblauch as an assistant coach just days ago. The move prompted speculation that the Flyers could now show interest in Raddysh, reuniting him and his junior coach at the NHL level.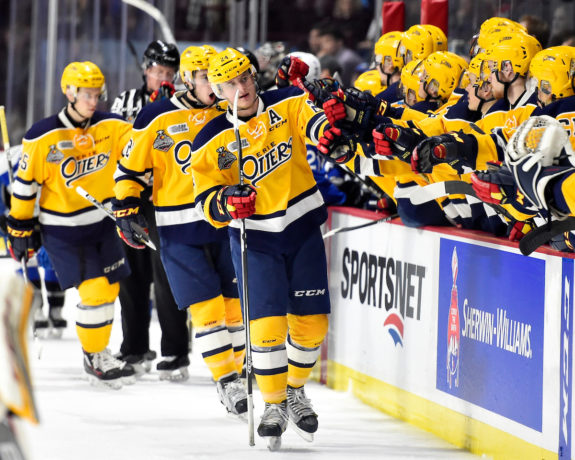 Knoblauch was hired by the Otters on November 29, 2012, just over two weeks before Raddysh made his OHL debut. He coached Raddysh for the entirety of his junior career, and for both of them to move up to the NHL simultaneously and with the same organization would be almost too perfect a tale.
The Flyers drafted two left-handed defensemen in 2016 (Linus Hogberg and David Bernhardt) and their NHL roster at the end of the season had a whopping six left-handed blue-liners, with Radko Gudas the lone right-handed defender. At the AHL level, the Lehigh Valley Phantoms had a blue line corps composed largely of left-handed defenders with a few right-handers mixed in.
The Flyers are light on offensive defensemen, though prospect T.J. Brennan led the Phantoms with 60 points in 76 games last year. Shayne Gostisbehere, who was recently re-signed, led Flyers defensemen with 39 points in 76 games last season. It's hard to predict how Raddysh's game will translate to the AHL and NHL level, but he could provide more of that offensive edge.
Buffalo Sabres
The Buffalo Sabres have a lot of left-handed defensemen in their prospect ranks, but they should take a good look at the right-handed defenseman Raddysh. He could join a depth chart that includes Will Borgen, Casey Fitzgerald and Philip Nyberg.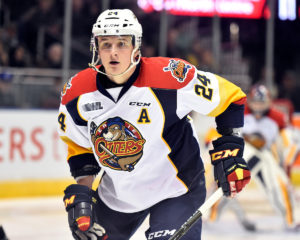 Over the years, Raddysh has shown he can play at both ends of the ice and is a dependable, two-way blue-liner. If the Sabres signed him, he'd likely find himself in the AHL with the Rochester Americans for a handful of years to continue his development before moving up to the NHL.
Raddysh, of course, has already played at the Sabres' home rink, as the Otters faced the Niagara Ice Dogs at KeyBank Center several years ago. In addition, Buffalo is exactly the halfway point between Erie (where he made his home for the past five seasons) and Caledon, Ontario (his hometown.)
Where Raddysh ends up is still to be determined, but there are at least a few teams that are probably out of the picture. The Los Angeles Kings and San Jose Sharks have both invited him to past training camps but didn't sign him. He was also invited to play in the Traverse City tournament by the St. Louis Blues in 2015. In addition, though the Vancouver Canucks have been rumored to be interested, their recent signing of Philip Holm may take them out of the running.
It's been two weeks since Raddysh's junior career ended, and now, it's only a matter of time before his next opportunity arises.