Coming into this season many scouts had one player far above the rest in their 2012 NHL Draft rankings. This player is named Nail Yakupov and most scouts still feel, as of today, that he is still the number one guy. However, he is not guaranteed to go number one anymore as other players and injuries have had serious complications on his ranking. Also, just because a player is a consensus number one doesn't mean that the team picking will take him. Every team has their own needs. For example, if the Edmonton Oilers end up getting the number one pick again this year I feel they wouldn't really need another high scoring forward and should maybe look at trade options. There are lots of good defensemen available in this draft from the 3-10 range that could end up being great players in the NHL.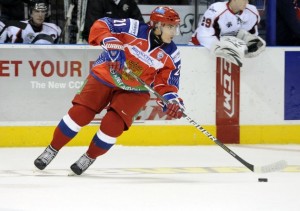 Let's assume that the Columbus Blue Jackets stay in last place and win the draft lottery and the draft is today. Now the Blue Jackets are not in the same boat as the Oilers as they need help pretty much everywhere. They have problems in goal with Steve Mason not having a great season. They have Rick Nash and Jeff Carter upfront, but they are both having off years. The defense is a mess too and could use some upgrades. This has been a total nightmare of a season for Columbus.  Picking first in the draft could be the start of a huge turnaround for the club.
If I was picking for the Blue Jackets it would come down to two players. Nail Yakupov or Mikhail Grigorenko. These two players are both great players who would help any team going forward. The Blue Jackets don't want to look back in five years and say they made a mistake.   If you compare these two players they both play entirely different styles. Yakupov is a speedster who can skate like Pavel Bure used to, while Grigorenko is bigger player with great hands who uses his size to dominate the opposition.  If you look at the below table comparing the two you can see they both have their own set of great skills.
| | | |
| --- | --- | --- |
| Nail Yakupov | | Mikhail Grigorenko |
| √ | Skating | |
| √ | Sense | |
| √ | Shot | |
| | Passing | √ |
| | Physicality | √ |
In the end it is going to come down to taking the best player and I think that has got to be Nail Yakupov. He is just too explosive of a player not to take number one.  He lit up the OHL last year and he was not even eligible for the draft yet.  With Nail coming to North America for two seasons before he could even be drafted really shows his commitment to being an NHL player. He is currently out with an injury he sustained in overtime of the Gold Medal game at the World Juniors.  He will be back soon though and will be ready to dominate, just as he did before the injury. Whoever ends up winning the draft lottery will be getting a future star in Yakupov and will not have to wait too long for him to score at that level as he has been NHL ready for some time.