"Silly sider" is a term we hear ascribed to right-shooting, right-catching, and often left-handed goalies. Like left-handed baseball pitchers, full right goalies supposedly play at an advantage over left-shooting skaters. While a shooter might instinctively snipe to a goaltender's left, or glove side, at lower level play, they're often surprised to find their shot deflected with a blocker or stick save. Retired NHL goaltender, Tomas Vokoun once said it was "a little bit easier" to stop a left-handed shot as right catcher.

So, who were the best left-handed goalies in NHL history? They're a rare breed, but there are a few big names on the list.
Roger Crozier
Across 15 seasons in the NHL, Crozier is known as a Red Wings legend. Despite a broken cheekbone in his first NHL game in 1964, Crozier came back to win the Calder Trophy. In 1966, Crozier pushed Detroit to the Stanley Cup final against the Canadiens, and despite losing the Cup, won the Conn Smythe Trophy.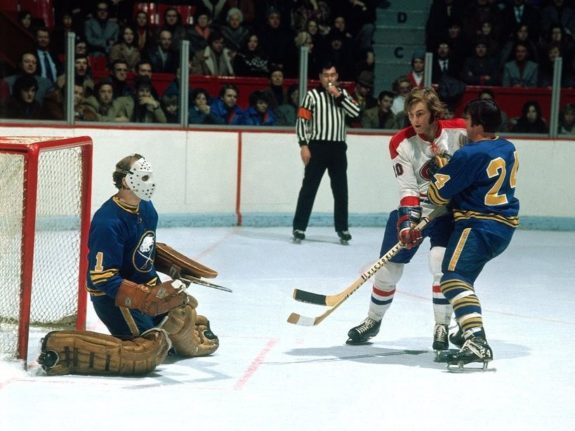 With ulcers and injuries from the stress of goaltending, Crozier overcame both ailments and indecision to backstop the Sabres to the Stanley Cup Final in 1975. Unfortunately, Crozier never won the coveted cup.
Roman Turek
Chosen 113th overall by the Minnesota North Stars in the 1990 NHL Entry Draft, Roman Turek went on to win a Stanley Cup with Dallas in 1999. Turek first made a name for himself playing for the Czechoslovakian and Czech Republic national teams, later earning a gold medal in the 1996 World Championships. Later, Turek shared the William M. Jennings Trophy with Ed Belfour in 1999.
RELATED: Barrasso and NHL Oddities You'll Likely Not See Repeated
---
Latest News & Highlights
---
Turek consistently maintained a save percentage above .900 across his professional career. In 67 games during his first season with the Blues, Turek maintained a goals against average of only 1.95, the second-best GAA of the 1999-00 season.
Tom Barrasso
Drafted fifth overall in the 1983 NHL Entry Draft, left-handed goalie Tom Barrasso is the only goaltender to play in the NHL straight out of high school with no junior or minor league experience. He is also the youngest player to ever win the Vezina trophy, which he received in his rookie season at the age of 18.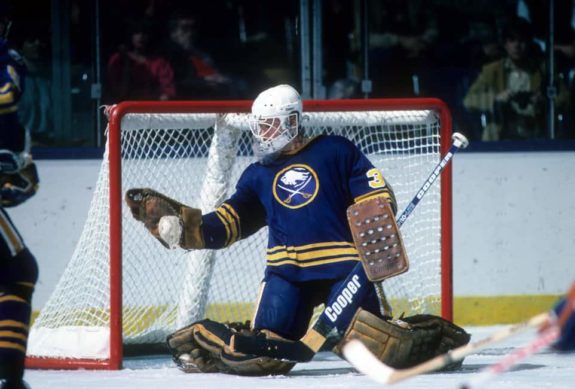 Barrasso also won the Calder Trophy that same year, becoming one of only three players to win both the Calder and Vezina in the same season. Later, he went on to win the William M. Jennings trophy in 1984-85. In his sixth season with the Sabres, Barrasso was traded to Pittsburgh where he spent 12 seasons of his 20-year NHL career. He later led the Penguins to successive Stanley Cup wins in 1991 and 1992.
Bill Durnan
While Bill Durnan's career with the Canadiens was short, he made a big impact. Unlike other full right goaltenders, Durnan was ambidextrous. To make use of this skill, Durnan wore modified gloves and stickhandled with either hand, often changing his shooting direction mid-game.
Related: NHL Goalies – A Breed Apart
Durnan is another goaltender who won the Vezina Trophy in his rookie season, and even won the award each year of his seven-year NHL career excluding the 1947-48 season. Until 2004, Durnan held the record for consecutive shutouts, earning four in a row. Durnan also won the Stanley Cup with Montreal in 1946 and led the league in wins in four separate seasons.
Tony Esposito
Claimed by the Blackhawks in 1969, Tony Esposito won a Calder and Vezina in his rookie season. Esposito was one of the progenitors of the butterfly goaltending style, and one of the best goalies in the league despite the Blackhawks' struggles.
Across his 15-season career with Chicago, Esposito won three Vezina Trophies and made five All-Star rosters. His 15 shutouts in 1969-70 also set a modern-day record for the most a goaltender has recorded in a season.
Grant Fuhr
The Oilers took Grant Fuhr eighth overall in the 1981 NHL Entry Draft, playing him for ten seasons. As a workhorse goaltender, Fuhr won his only Vezina with the Oilers in 1988, even trailing Wayne Gretzky for the Hart Trophy. Fuhr later shared the William M. Jennings Trophy with goaltending partner, Dominic Hasek, in 1994. Across his career, Fuhr was named to the First All-Star Team in 1988, and named to the All-Star Game roster six times.
After retiring in 2000, Fuhr was inducted into the Hockey Hall of Fame in November 2003. He was also inducted into the Alberta Sports Hall of Fame in 2004.
* originally published in March 2015