Jonathan Quick is not among the elite goalies in the NHL right now.
This wasn't a conclusion happened upon last week when he surrendered 16 goals—the most he's ever given up in any three-game stretch—to the San Jose Sharks.
The evidence has been mounting for two years: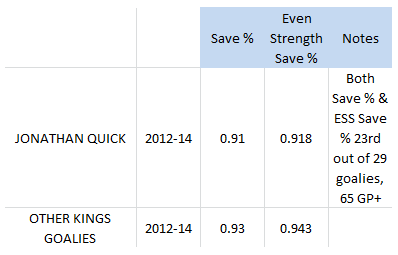 ("An idea blatantly lifted from baseball, Quality Starts [are] a measure of whether a goaltender "gave his team a chance to win". In order to record a Quality Start, the starting goalie must stop at least a league average number of shots (typically 91.3% prior to 2009-10, and 91.7% since), or play at least as well as a replacement-level goalie (88.5%) while allowing two goals or fewer.")
Of course, this below-average play has been punctuated by strong postseason and Olympic efforts. Unfortunately, 5,038 minutes, even if they're in the regular season, tell us more than 1,403 playoff and Olympic ones, however Herculean. But anyway, this article isn't about Quick's place among his peers.
It's about why I'm sad.
A long-time LA Kings fan before 2012 was sure of two things:
The Kings were always destined to lose and their "last line of defense" would always be no more than a bystander to it.
From Rogie Vachon dropping back-to-back "win or go home" heartbreakers to Kelly Hrudey being outlasted in three consecutive Stanley Cup Final OTs to Felix Potvin getting buried by the Colorado Avalanche, fans always knew to expect the worst. And those were the highlights!
Then 2012 happened. And a goalie many had expected to be replaced by hotshot Jonathan Bernier stepped into a realm untrodden by a defender of the crown since Vachon: Jonathan Quick was "elite."
He was our guy, who grew from a quiet 19-year-old third-round draft pick to a Conn Smythe winner f*** bombing a packed Staples Center. Cresting with a Vezina nomination, here was our once-in-a-lifetime answer to a decades-long void between the pipes.
And weren't we proud of him!
For a Kings fan who had spent the better part of the post-Gretzky era shaking his fist at pundits who constantly underrated our stars—if you'd stay up to watch Ziggy Palffy, you'd see how good a two-way player he is!—I treasured every scrap of national recognition—Rob Blake for Norris!—the team earned. This West Coast inferiority complex might explain why the fanbase still gets so riled up whenever Anze Kopitar and Drew Doughty are undervalued.
So it goes for our much-awaited savior occupying the most important position in the game, the memory of his 2012 masterpiece still fresh.
I've let go of that "Jonathan Quick."
Yet, it still hurts to see his carcass being picked over by the vultures (and Sharks). Our hero brought low.
But who cares about my feelings?
For in truth, "elite" is a bystander's designation. And it's a funny thing about being an "elite" goaltender—save Henrik Lundqvist, that list turns over pretty much every year.
That's not an excuse for Quick's Jekyll & Hyde performances since being extended to 2023. Los Angeles expected year in, year out "elite." And that doesn't appear to be the Connecticut native, which is a problem.
But nobody doubts his physical gifts. It's part of why he got to be so overrated, this highlight reel athleticism:
http://youtu.be/Rh_HQCCUAvE
So unlike say, Mike Richards, there's real hope that Jonathan Quick can be "Jonathan Quick" at any moment yet. This playoffs or next season, inconsistency seems to be one thing we can count on with this charming goalie.
Stats courtesy of Extra Skater, Hockey Abstract, and Hockey Reference.