Over the course of the off-season, I'll be examining the essential questions facing the Anaheim Ducks in the 2012-13 season, as they look to regain elite standing in the league. Stay tuned as the pieces start to role out!
Management vs. Coaching vs. The Core
Earlier in the Summer I started out on a series of pieces that would examine the three key elements tied to the Anaheim Ducks' fortunes. The first two pieces dealt with Anaheim's management and coaching respectively (to read these pieces, click here and here). The question of whether Anaheim's core group of players as currently assembled have what it takes to win is a much deeper question, however, and I'll be dividing the pieces into individual spotlights on the following six players: Ryan Getzlaf, Corey Perry, Bobby Ryan, Cam Fowler, Luca Sbisa, and Jonas Hiller.
Last week I weighed expectations on young Ducks rear guard Cam Fowler, and this week Fowler's partner in crime, young defenseman Luca Sbisa gets the same treatment.
Expectations vs. Reality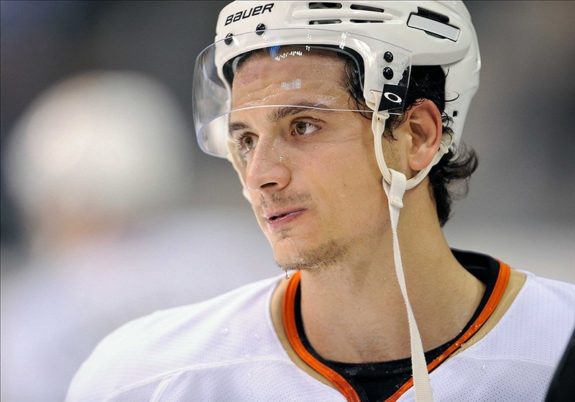 When you're the center piece of a trade that sees a future Hall of Famer like Chris Pronger going the other way, expectations have a tendency to run high. Just ask Luca Sbisa, the 22-year-old blue liner who Anaheim General Manager Bob Murray insisted be part of the deal that sent Pronger to Philadelphia. When Anaheim acquired Sbisa at the 2009 NHL Entry Draft (along with Joffrey Lupul and two first-round draft picks, who turned into Kyle Palmieri and Emerson Etem), the young Italian-born Swiss-national immediately found himself in the unenviable position of being compared to Pronger.
Fair or not, this is how trades work, and at first glance, the Ducks and Sbisa definitely seemed to be on the short end of this one. Chris Pronger, of course, would go on to lead Philadelphia to a Stanley Cup Finals appearance against Chicago. The Ducks, meanwhile, would miss the playoffs altogether for the first time in four seasons, and Sbisa would only play eight games for Anaheim before being returned to the Lethbridge Hurricanes of the WHL.
At the time of Sbisa's acquisition, Bob Murray said:
"Sbisa, I am really excited about. He's my type of defenseman. He can do everything. He's a guy that just shows up and goes out and play, which is what I like. I know Philly was planning on having him on their team this year. My guys tell me that he'll play on our team this year. He will ultimately in training camp determine whether he plays on our team this year or not."
Considering that Sbisa had cracked the Philadelphia roster right out of his first training camp, and played 39 games before being sent back to the WHL, only to be called up again for the Flyers' playoff run, the fact he wasn't able to stick in Anaheim must have been frustrating for Murray. In the long run though, this course events may have been the best thing that could have happened for Sbisa's development into a professional player.
Upon being returned to Lethbridge, Sbisa would continue to play an important leadership role for the Hurricanes, though he would be traded mid-season to the Portland Winter Hawks. In all, Sbisa would miss a significant chunk of the WHL season due to a few minor scheduling conflicts that sprung out of representing Switzerland at the 2010 World Junior Championships (he was also the Captain of the Swiss squad) and the 2010 Olympic Games in Vancouver. Being afforded the opportunity to play in such pressure-packed environments, and against some of the best competition in the world did wonders for Sbisa's development – particularly the physical component of his game.
Well built at 6'2″ and 207 lbs., Sbisa is also an elite-level skater, which allows him to play a physically punishing game without often running out of position. He may never make the significant offensive contributions of a Cam Fowler, but Sbisa moves the puck well and this, combined with his skating ability and physical edge, ought to make him an essential cog on the Anaheim blue line for years to come.
The question is though, when will Sbisa make that one, final developmental leap from young, unfinished prospect with upside to bonafide NHL puck-moving defenseman? The Ducks would obviously prefer the answer to be sooner rather than later.
Will Sbisa Have a Coming Out Party in 2012-13?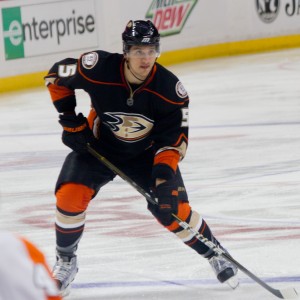 To hear Anaheim coach Bruce Boudreau and the local Anaheim media tell it, Luca Sbisa may have been one of Anaheim's best defenseman down the stretch. Following the firing of Randy Carlyle, and after the Ducks truly hit rock bottom, Sbisa (along with the rest of the team) began to thrive under the positivity Boudreau rained down upon them. In the above-linked article, Boudreau goes as far as to peg Sbisa as a "silent star in the making."
It's amazing what a little bit of positive reinforcement can do for a player. Under Boudreau, Sbisa's role shifted from that of a third pairing shut down d-man, to more of a second pairing two-way blue liner. His confidence soared. During the stretch in January which saw the Ducks finally start to turn their season around, Sbisa scored eight points in twelve games. For context, his previous season high had been eleven points in 68 games.
Sbisa finished the campaign with 24 points (5G, 19A) in 80 GP, and the best plus/minus rating of his NHL career at -5 (he's a career -23). Advanced metrics tell a different story, however.
A look at Sbisa's Corsi Rel QoC (a metric that weighs a player's effectiveness relative to the quality of his competition) reveals that Sbisa was by far the most sheltered defenseman in Anaheim's line-up. His Corsi Rel QoC for the 2011-12 season was -0.288. For comparison's sake, Francois Beauchemin's was 0.988 and Cam Fowler's was 0.781 (any player with a Corsi Rel QoC near, at, or above 1.0 is facing pretty stiff competition night in and night out). What this tells us about Sbisa is that while he definitely improved his offensive output and +/- rating under Boudreau, it's likely more a function of Boudreau intentionally playing Sbisa against inferior opponents. Sbisa's Time on Ice per 60 minutes seems to back this up as well, as he averaged just over 15 minutes a night – hardly big minutes for a defenseman that is supposed to be developing into a workhorse.
So, which Luca Sbisa is the real Luca Sbisa? Is it the smooth skating, strong passing, physically punishing blue liner that Bob Murray was so high on? Or is it the player that seemingly only thrived when he was intentionally hidden away stronger opponents and instead left to play against weaker players? The answer is likely, 'a bit of both.'
Sbisa is a year older, a year stronger, a year smarter, and with a full (?) season under Boudreau it would not be surprising to see Sbisa crack the 30 point plateau. While that is a number that would certainly prove pleasing to the eyes, keep in mind that Bruce Boudreau is the same coach who may (or may not) have turned Mike Green into the second coming of Paul Coffey by hiding him and giving him safe minutes. While goals (and lots of 'em) are ultimately still what win hockey games, it's disconcerting to say the least that a player around whom (and along with Cam Fowler) Anaheim's defensive core was supposed to be built is still in need of being sheltered to be most effective version of himself.
The only real test is to place Sbisa in more difficult on-ice situations and see if he can tread water. Then, and only then can Sbisa be considered to truly have "arrived" at the NHL level, career highs of last year or not. Should he sink more than he swims the effect would, beyond being disappointing, necessarily call into question the value of Sbisa's return on investment for the 4-year contract extension the Ducks signed him to in 2011.
The bottom line is this: Sbisa is still young and, in some regards, an unproven commodity. He still has time – though not much. He will be 23-years-old in January, and if he's ever going to develop into the legitimate Top 4 defenseman that many think he can become, improving upon his overall game from the 2011-12 season to 2012-13 will be imperative.