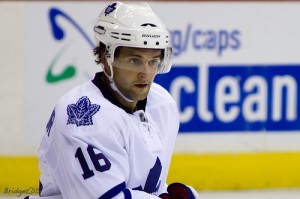 The NHL's trade deadline is now less than a month away─25 days to be exact. Trade rumours began swirling a long time ago and the usual names are being thrown around Toronto again, such as Bobby Ryan, Ryan Getzlaf and Rick Nash. To get any one of those players, though, the Maple Leafs would quite obviously have to give up a lot.
Included in a package for Ryan, Getzlaf or Nash would surely be a top-six forward. The Leafs, like every team, have many of those. However, that doesn't mean that it would make sense to move one of them in order to acquire one of the three named previously.
One top-six forward that has been rumoured to be on their way out of town is winger Clarke MacArthur. With another year remaining on his deal after this season at an affordable cap hit of $3.25 million, it's easy to see why some would believe that he could find himself in a new uniform come February 27. While people are going on about how he would be a nice fit with another team, they are forgetting about what he means to the Maple Leafs.
MacArthur, 26, joined the Leafs as a free agent in the summer of 2010. It was believed that he would take on a third-line checking role, but a quick start to the 2010-2011 campaign earned him more ice time and he has thrived in his current role ever since.
Although it doesn't appear as though MacArthur will match the career highs that he set last season of 41 assists and 62 points, he certainly has been a key part to the Leafs' success this season. He currently sits fifth on the team in points (27) and fourth in goals (16), despite having played in fewer games that many of his teammates (44) due to injury.
MacArthur's current statistics are good enough to put him on pace for 27 goals, which would be a new career-high. If all of he, Mikhail Grabovski, Joffrey Lupul and Phil Kessel reach or come close to the total amount of goals that they are currently on pace to score, the Leafs will have four 25+ goal scorers after 82 games.
This is where people bring in the fact that, if packaged, the Leafs may be able to acquire a big-body, scoring forward for MacArthur. Of course, that gets every Leaf fan excited, which makes them believe that it's the right deal to be made. However, MacArthur's impressive numbers don't tell the entire story.
Too often have we seen a player join a new team with the intentions on scoring plenty of goals and winning a Stanley Cup only to find some way to become upset with where they're at. Of course, that results in problems both on and off the ice and, in the situation of a player like Jeff Carter, could potentially make them unmovable. That's where MacArthur's current situation with the Leafs makes perfect sense.
Ever since he came to Toronto, MacArthur has moved all around the lineup without any problems. He accepts his role, moves on and strives to regain the position that he was at. Because of his determination, MacArthur always manages to get back to where he was, once again helping to improve his team.
Now, here's the big question: How does it possibly make sense to move a player who isn't going to see his contract expire at season's end, is a big part of the team's offence, a leader, a utility player and an all around good guy when they are battling for one of the final playoff spots in the Eastern Conference? Simply put, it doesn't.
Instead, why not try moving one of the seven NHL-calibre defencemen battling for six spots to add to the forward group? Not to mention draft picks and the overabundance of promising young prospects that the Leafs currently have in their system.
It's clear that there are many ways for the Leafs to bring in what they need. With that, there is no sense in moving one of the team's more important players and risk losing out on something that becomes more and more important to not only the fans, but the entire hockey world each year.
Twitter: @LukasHardonk | Email: lukas.hardonk@gmail.com | Lukas' archive
For every Leafs article on THW, follow @THW_MapleLeafs on Twitter.
Lukas, a student at the University of Ottawa, covers the Toronto Maple Leafs on a part-time basis for The Hockey Writers. Contact Lukas at lukas.hardonk@gmail.com or follow him on Twitter, @LukasHardonk.