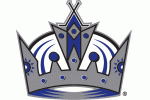 Is it inevitable that Darryl Sutter will become head coach of the L.A. Kings? No. But is it likely? Yes.
With GM Dean Lombardi having hired Sutter as a head coach previously, while with the San Jose Sharks, it would not be a surprise if Sutter was once again retained by Lombardi. As the Sharks coach, Sutter brought the franchise over the .500 winning percentage mark for three consecutive seasons, taking the team to the Western Conference Semi-Finals twice.
Would Sutter be the right fit for this team at this time? Well based on his previous stance regarding what wins championships, I'd say probably not.
What the team needs now is more success on offense. Their defense will hold the line for them, if they can just put an extra puck in the net each game. Three of their last four losses have come by only a one goal deficit. And the other game, against the NHL-best Minnesota Wild, came at a mere two-goal deficit. Figure out how to score one more goal a game and they'll be on their way to success.
You could also say, figure out how to stop one more goal a game, but their defense is top caliber, and they are playing near the top of their talent potential. The offense is not.
So, will Lombardi stick with Stevens for the remainder of the season? Will he go to the familiar Sutter? Stay tuned.