In an effort to reel in his second career Norris Trophy, Duncan Keith faces stiff competition. While the Blackhawks have slipped to fifth in the Western Conference, the ninth year defenseman hasn't been part of the problem for a Hawks team that has gone 5-5-0 in their last 10 games.
If anything, Keith and his consistency has aided the Blackhawks in falling any further in such a competitive division and conference. But will Chicago's struggles hinder Keith in winning the Norris Trophy this year? Or will his dependable production factor into being named the best defenseman in the league?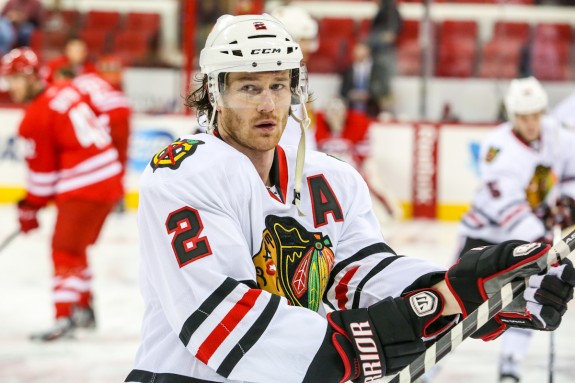 Norris Trophy Winner With Something To Prove
Selected with the 54th overall pick of the 2002 NHL Entry Draft, Duncan Keith gradually increased his point totals from his 2005-06 rookie year to his Norris Trophy winning year of 2009-10. Keith notched 21, 31, 32, 44, and 69 points in consecutive years.
His offensive production has been just part of his story, playing as if he were larger than his 6-1, 200 pound frame. Still, Keith has come a long way since he heard his name on draft day when he was just a 152 pound 19-year-old.
"That's the thing about Dunc, if you don't know him," Blackhawks GM Stan Bowman said. "He's always had a chip on his shoulder, because when he was younger, he was always told, 'You're too small. You're never going to play in the NHL.' He would just train like mad to try to prove everyone wrong. 'I'll show you I'm going to do it.'"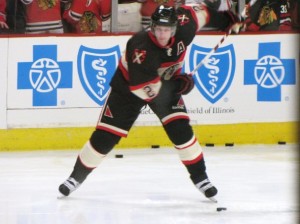 In 2010, that's exactly what Keith did, winning not only the Norris Trophy that year, but also helping the Blackhawks secure their first Stanley Cup in over 40 years. Keith has used his excellent skating ability, along with his superb hockey IQ to become one of the game's elite defenseman. But even that label has not made him a lock for this year's Norris Trophy award.
With so many worthy candidates for the Norris Trophy, Keith is anything but the definitive choice. Keith's underdog mentality, though, is a position in which he's thrived throughout his entire career on.
"He's one of those guys you kind of take for granted because he's back there every night and does pretty much the same thing," said teammate Patrick Kane. "Whether it's shutting down the other team, or creating offensive chances, or jumping in the rush, or how fast he skates, or how good he is defensively with his stick .. . he does so many things that you can name and really is huge for our team."
A Norris Trophy Type Player
Keith is well known for his two way attributes, scoring a total of 360 points through 673 games in the NHL. His plus-minus has been equally rewarding to the Blackhawks, standing at a career plus-124 while only experiencing two seasons with a negative rating. In his rookie season of 2005-06, he suffered his career lowest rating of minus-11, forgivable for a rookie who still added 9 goals and 12 assists.
Five seasons later, Keith brought home the Norris Trophy after posting a career high 14 goals and 55 assists. In the following seasons, however, Keith's production declined. Keith's previous three seasons before the current 2013-14 campaign produced consecutive years of declining point totals. But with last year's lockout-shortened season, Keith's 27 points, along with his playoff presence were hardly anything to criticize.
In the 44 playoff games that Keith appeared in throughout both of Chicago's Stanley Cup runs, Keith has found the back of the net four times while dishing out 26 helpers. And although his 17 points throughout the 2010 playoffs were a career high, his 13 points during last year's playoffs were in addition to a plus-10 rating and 18 penalty minutes – a spirt of plus-8 and eight penalty minutes.
This season, Keith has thrown his name back into the hat of Norris Trophy candidates. The 30-year-old Winnipeg native is second among defensemen in points with 51, while leading the Blackhawks in minutes played. Essentially, Keith is primary contributor to Chicago's 90 points through 66 games.
"Keith gives the Blackhawks everything a team needs from a No. 1 defenseman.

He's reliable. He rarely finds trouble, and when he does, he's smart enough and fast enough to skate away from it. He makes his defense partner, Brent Seabrook, a better player. He helps the forwards. He's a weapon on the power play. He's a dominant possession player." — NHL.com
Norris Trophy Type Minutes
With an obsessive work ethic on and off the ice, Keith has developed into one of the game's biggest minute eaters among other things. With an average time on ice of 24:32, Keith is easily the team leader in racking up minutes, leading Brent Seabrook by an entire 2:32.
The #Blackhawks have played about 260 minutes of hockey (and counting) in their last three games. Duncan Keith on the ice for 254 of them.

— Mark Lazerus (@MarkLazerus) June 16, 2013
#Blackhawks coach Joel Quenneville believes defenseman Duncan Keith is playing at a higher level than when he won Norris Trophy in 2010.

— Chris Kuc (@ChrisKuc) December 2, 2013
While playing for Canada's gold medal-winning team in Sochi, Keith was used as if he were plugged into an electrical outlet. Keith's 126 minutes logged in Sochi were second only to Shea Weber, who saw 131 minutes of time on ice. And even at age 30, Keith returned from the Olympic break as if he had spent the break relaxing.
"He's one of those guys, it doesn't seem like he wears down in games or over the course of the season," said Blackhawks head coach Joel Quenneville. "He's not a big guy but he's lean and he really looks after himself…"
"I'm mentally strong and I've learned from years past that it's long seasons," added Keith. "I've worked on that over the years and it's helped."
Certainly, a workhorse such as Keith should be recognized for his stamina. But the Blackhawks leader in ice time doesn't quite stack up with the rest of the qualified pack in minutes, on the surface at least. Through 66 games, Keith's team-leading minutes are only good enough for 17th in the league, trailing names such as Ryan Suter, Erik Karlsson, Shea Weber, and Alex Pietrangelo.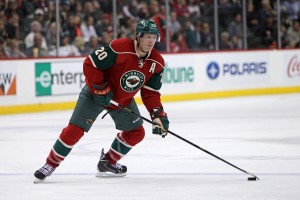 Using the mere statistic of total minutes can be deceiving though. Keith's average shifts per game also trails those previously listed, which indicates longer shifts for Keith. In fact, Suter and Pietrangelo see an average of 32.4 and 32.2 shifts per game. That's over two shifts more than Keith, who has averaged 30.1 to this point.
In terms of production in ice time, Keith's 31:44 trails other candidates miserably. In comparison, Ryan Suter's production time is a weighty 55:39, while Shea Weber's stands at 40:34. The production stat breaks down productive minutes based by a player's ice time per point recorded. And although this barometer is hardly irrelevant, it has not played a vital role in determining past winners.
Keith's 31:44 of production currently stands as the second lowest of his career. In 2010, though, Keith won the Norris Trophy despite a career low production time of 31:36. Furthermore, Erik Karlsson, who leads all defensemen in scoring with 60 points, trails Keith's production time with 30:01 of his own. So while overall minutes matter to some degree, they're clearly far from the most important factor.
Duncan Keith and Other Norris Trophy Candidates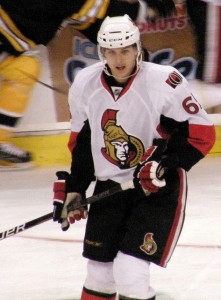 Offensively speaking, Keith trails only Ottawa's Erik Karlsson by nine points, while leading St. Louis' Alex Pietrangelo by six points, and Nashville's Shea Weber by eight points. Adding to that, Keith, Karlsson, and Weber are effective on their respective power plays with Karlsson tallying 26 power play points to Weber's 23, and Keith's 19. That leaves Pietrangelo playing catch up with 16 power play points.
The Blues leading blue liner makes up for that with leading the pack of Norris Trophy candidates in plus-minus with a plus-22 rating. On top of that, Pietrangelo, Keith (plus-21), and Montreal's P.K. Subban (plus-2) are the only candidates to have a positive plus-minus. Karlsson, on the other hand is marred with a minus-15 rating, while Weber's minus-13 rating is nearly as disappointing.
Who Should Win The Norris Trophy?
Obviously, a lot can change from now and the end of the season, even with under 20 games remaining for all teams. With everything taken into consideration, Keith remains to be the Norris Trophy favorite.
"It would be a real surprise if Keith didn't win his second Norris Trophy this season. He ranks second among defensemen in scoring (50 points), first in assists (47) and sixth in shots (162).  Keith also has been a force on special teams with 19 power-play points and 2:22 of short-handed ice time per game. Keith's ability to move the puck quickly to start the breakout and evade the opponent's forecheck has helped Chicago rank second in puck possession. Keith regularly plays against elite competition and averages 24:29 of ice time per game." — NESN

Keith, an assistant captain, has garnered support throughout media circles, as well as among his teammates in his effort to win his second Norris Trophy. Teammate Patrick Sharp even went a step further, insisting that Keith's value cannot be tracked by mere statistics.
"He's skating well, he came into camp in great shape and it's paying off," said Sharp. "He's been playing well on that power play and makes good plays defensively as well. He's getting the (Norris) recognition now because his points and offensive numbers are high, but we know how valuable he is in all different areas."
I believe Keith is the first player ever to win a Stanley Cup, a gold medal and a Norris Trophy in one year. Wow. #Blackhawks

— Adam Jahns (@adamjahns) June 24, 2010
Duncan Keith is a two-time Stanley Cup and Olympic gold medal winner. It just so happens that the last time Keith won the Norris Trophy, he also won an Olympic gold medal. If you're Duncan Keith, you have to like that omen, even if it is ultimately irrelevant.