The conflict between Max Pacioretty and the Montreal Canadiens has become a popular topic of conversation this summer. With one year remaining in his contract, general manager Marc Bergevin has made it clear he wants to trade the talented winger who must have fallen out of favour with management.
The media has been left to speculate about the rift. Was it the 2017-18 season when his offensive output plummet to 17 goals and 20 assists in 64 games? Is it his lack of leadership after assuming the captaincy in 2016? Is it the money and length of the contract he is seeking? Perhaps only Pacioretty, his agent, owner Geoff Molson, and Bergevin know the answer.
What's certain is that by openly disclosing their desire to move him, the Canadiens have compromised their chances of getting a fair deal in the trade market. While his value as a goal-scoring left winger is high, any GM sensing desperation may ask the Habs to throw another player in the deal, especially a highly-coveted prospect.
Sometimes a simple solution is the best option and the team should let Pacioretty play out his contract and return to the club next year.
What Happens If Pacioretty Stays Put?
If he remains with the Canadiens, Pacioretty will have to balance his love for Montreal with the discomfort of playing for a team that effectively doesn't want him. If he decides to put his ambitions first, he could play for his next contract and try to regain the spark that led him to score 30 goals or more over five consecutive seasons.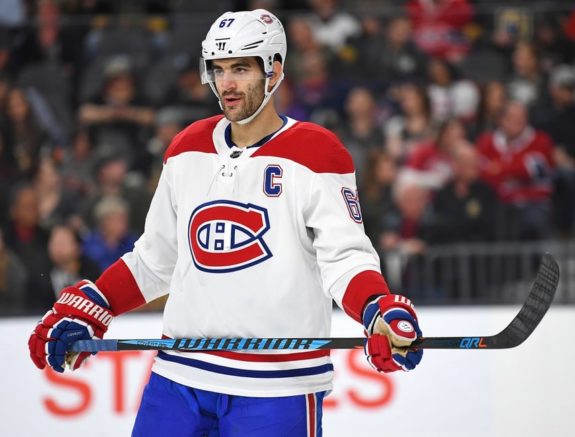 The risk is huge. Should he succeed, he will have a crack at a large payday as a free agent, even though he turns 30 in November. His current $4.5 million deal is regarded as a steal given his past offensive output and he could be a solid goal-scorer for several more years.
Pacioretty is not a natural playmaker, so he relies heavily on his linemates to succeed. If Jonathan Drouin continues to develop at centre he could improve Pacioretty's goal-scoring stats. There is also a good argument for putting the captain on a line with Phillip Danault again. If Drouin is an artist with the puck, Danault is the grinder who works hard in the corners and unselfishly looks for the stick of his linemates.
After his best season to date, right winger Brendan Gallagher would be a good choice to play with Danault and Pacioretty. With Paul Byron likely missing training camp to recover from shoulder surgery, they will have a lot of time to practice together. Like Danault, Gallagher's tireless work ethic could be the boost Pacioretty needs.
What if Pacioretty Struggles?
A player in their prime can be forgiven an off season, especially if they were injured as Pacioretty was for the final 18 games of 2017-18. However, after two consecutive years with reduced production, rumours tend to circulate about whether that player is still at the top of his game, especially once he reaches his 30s.
While there is reason to believe Pacioretty will recover from his knee injury and regain his old form, if he fails to do so by the end of his current contract, chances for a lucrative long-term deal with any team will diminish. Last year, he seemed to lose the spark that made him an offensive threat; if this was due to mental, rather than physical issues, I fear how his relationship with Bergevin will affect his game.
Can Pacioretty and Bergevin Reconcile?
If the Canadiens cannot trade Pacioretty by the time training camp begins in September, both he and Bergevin will have to sit down to dinner and split the bill, followed by a dessert of photo ops and smiles all around. The end result does not have to be a bromance but for the sake of expediency, perhaps a ceasefire is a more reasonable expectation.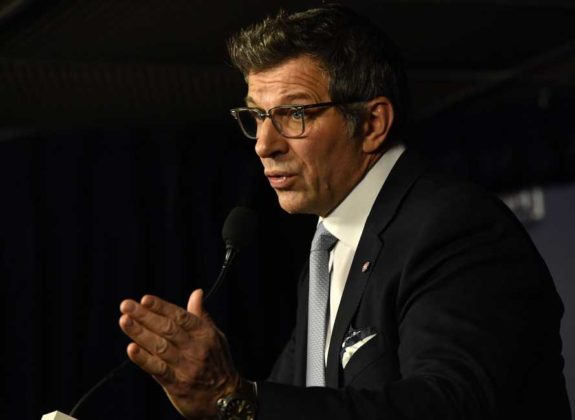 The team cannot be divided into Bergevin vs. Pacioretty camps which would create the kind locker room mess that fans are tired of. If Bergevin and Molson want to change the attitude of the team, they can't do it by starting the season with their GM and captain taking shots at each other through the media.
Bergevin Has a Precedent: P.K. Subban
This is not the first time that a contract dispute between Canadiens management and a star player resulted in a temporary truce. In 2013, defenseman P.K. Subban sat out the beginning of the walkout-shortened season before signing a two-year bridge contract. It was a tense time but Subban rebounded by winning the Norris Trophy that year.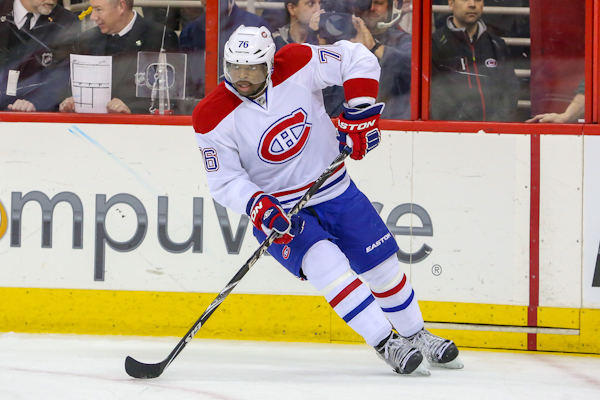 While Bergevin was hailed for his skills at negotiating. he also had to compromise for the sake of his reputation, knowing this would be his first major test as the Habs' GM. This was also before he failed to sign Alexander Radulov and Andrei Markov and made several questionable trades including the one that sent Subban to the Nashville Predators for defenseman Shea Weber in 2016.
As we enter August, both men have to look beyond their egos to see their futures are at stake. For Pacioretty, it means elevating his level of play to earn a chance at a contract with a contending team that recognizes his value. For Bergevin, it could be the final act in his career as Canadiens general manager.