The Winnipeg Jets, in past years, have at most dipped a toe in the muddy waters of free agency. This year they hiked up their bathing suits, held their breath and dove in.
Never before have the Jets handed out so much money to free agents as they did on this July 1. The contracts given to Dmitry Kulikov and Steve Mason represent the biggest chunk of change ever to leave the organization's bank account on Canada Day.
Calculator says that #NHLJets rare big foray into July 1 free agency totals $21.19M; is their biggest in 2.0 era.

— Tim Campbell (@TimNHL) July 1, 2017
While Kulikov and Mason are hardly the final pieces of the puzzle, they are an improvement on the depth chart over what Winnipeg had previously in those positions.
The two newest members of the Jets likely represent a sign that the organization has decided now is the moment to begin pushing forward after so many years of treading water.
Whatever you want to say of the two, they do plug some holes in an organizational depth chart that's starting to look a little more impressive. So how do they fit in?
Steve Mason
I don't wish to alarm you but the Jets (are you sitting down?)… this is hard to say… the Jets did not have very good goaltending at times last year.
Phew, now that it's out there I feel so much better.
Mason didn't have a stellar year last year, but although he's struggled to find consistency since his rookie year he fits right in with the Winnipeg Jets and their plans in goal.
Don't expect Mason to steal the starter's job from Connor Hellebuyck, though if he plays well enough to earn it Jets fans won't complain. He's probably destined to be a '1B goaltender' starting 30-35 games to take some heat off Hellebuyck.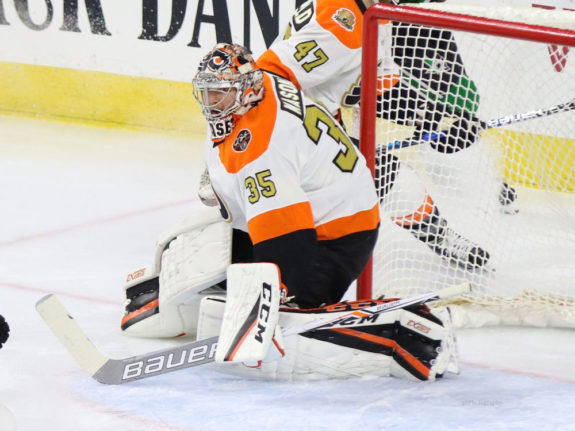 Mason is only 28, but he's a veteran of many NHL seasons. His overall numbers are quite good given some of the teams he's played for. Expect him to be used in a mentor-role to the young netminder as well, helping him through the ups and downs of being a young goalie with big expectations on his shoulders.
Mason was always the most likely of the Jets free agent options in goal, and there was no doubt they needed help in that department. His AAV is a bit high, even for a '1B goaltender', but if he solidifies things in goal, as there is every reason to expect he will, no one will mind.
And, in two years when his contract is up, the Jets can re-up with him if they like or let him step aside for Eric Comrie. This was a pricey signing, but a short term and necessary one.
Dmitry Kulikov
Kulikov had a rough year in Buffalo, but then Buffalo had a rough year in Buffalo. His career numbers have been a bit iffy, but some of that can be put down to playing as many minutes as he did on bad Florida teams. Playing almost 22 minutes a night last year with the Sabres didn't help either.
We're muddying the waters of cause and effect here, though. Did Kulikov's ice time on bad teams drag him down or did he drag the team down playing so many minutes?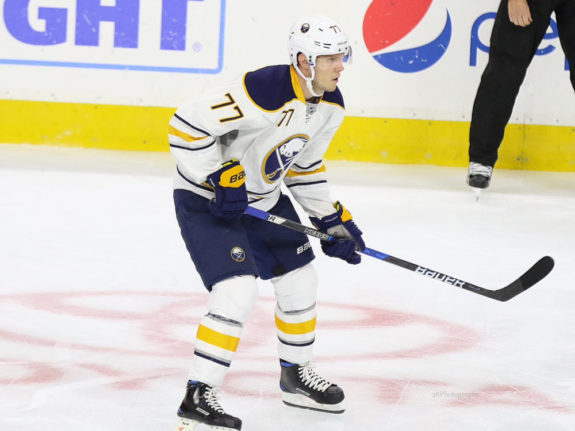 Well, the first time he was ever on a playoff team in his career — the 2011-12 Florida Panthers — he put up 28 points in 58 games. On the other hand, he played on another playoff bound Panthers squad in 2016 and put up just 17 points in 74 games. He also put up some of the worst possession numbers of his career that year.
In either case, however, the Jets did shore up a major weakness on the left-hand side by signing Kulikov. He's in for much more sheltered minutes with the Jets as Josh Morrissey develops and Toby Enstrom handles a good chunk of the time as well.
Given the supporting cast he'll have, Kulikov will also be better supported than ever by what is, on paper at least, the best defense corps he's ever been part of. He and Enstrom should take some pressure off each other and he'll give the Jets another serviceable body. These are both good things.
And of course, there's the physical element to his game. If you've followed my work much you know I'm a big fan of open-ice hitters. Kulikov can bring the fans out of their seats with his physical style. The Bell-MTS Centre crowd (I'm still getting used to typing that) will love it.
If there's a drawback to Kulikov, it's that he cost the Jets a lot of money for what will almost certainly be second or third line minutes. He's said he can help on the power play, but with Trouba, Morrissey and Byfuglien all ahead of him on that front, and with Laine and Perreault often manning the point (to say nothing of a healthy Tyler Myers) his PP usage is going to be limited.
Still, Kulikov does go a long way toward reinforcing the Jets depth on the left side, which is a huge plus for the team. It creates competition and it will force the Jets other left defenders to be at their best.
They paid a hefty price for it, but the term of both Mason and Kulikov's contracts are acceptable and neither has an NMC. The Jets made out all right on July 1 this year, and in silly season that's a victory.