For the first time since after the 2004 season, the NHL is going to send its best players to the World Cup of Hockey. In September 2016, eight teams composed of the best players in the world will play for the World Cup, serving as a tournament to whet the appetite of hockey fans starved for action after a long summer break. In addition to the top six hockey nations in the world, two teams consisting of a multitude of players from many countries will compete in the eight-team elimination tournament.
Speculation has already started as to who these teams will name to their squads in their quest to claim the World Cup, but there is still more than a full year until Team USA and Team Europe hit the ice to kick off the tournament. A handful of players break out every year, as players such as Vladimir Tarasenko and Jiri Hudler had seasons that catapulted them into the NHL's elite. Listed below is a player for every World Cup team that could have a breakout year and get himself into the discussion for inclusion in the World Cup.
Team Canada
Coming off an Olympic gold medal in 2014, Team Canada could opt to bring the same squad to Toronto that they took to Sochi, minus the retired Martin St. Louis. Established superstars such as Sidney Crosby, Steven Stamkos, and Anaheim duo Corey Perry and Ryan Getzlaf are all locks to make the team, but Canada could have some interesting choices to make regarding the rest of their roster.
Look for a few members of the 2014 Sochi team to struggle to make the team, as aging players such as Roberto Luongo and Patrick Marleau could see their roles snatched up by younger players without as much international experience. Minnesota Wild goalie Devan Dubnyk exploded onto the scene last season, going from backup goalie to starting netminder on a playoff team and Vezina Trophy finalist. With Mike Smith, the third goalie from Sochi, a long shot to make the team playing behind the rebuilding Arizona Coyotes, the goalie depth chart behind presumed starter Carey Price is fluid. Washington Capitals stud Braden Holtby is an early frontrunner for a spot, but if Dubnyk continues his hot play, he could beat out incumbent backup Roberto Luongo for a depth role in the Canadian nets.
Team USA
USA started off the 2014 Olympics as one of the hottest teams in the tournament, but ended it in disappointment, missing out on a medal by losing 5-0 in the bronze medal game. There aren't many locks to make the USA roster, as several American stars such as Jonathan Quick and Phil Kessel suffered through down seasons in 2014-2015. Patrick Kane is facing some serious off-ice issues as well, so the roster that USA takes to the World Cup could look drastically different to the one that didn't medal in Sochi.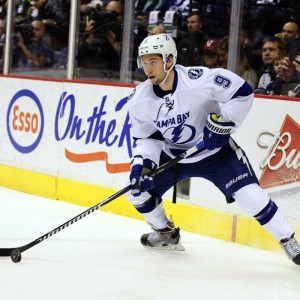 Tampa Bay centre Tyler Johnson had one of the most surprising breakout seasons in the NHL last year, posting 72 points and leading all players in scoring in the playoffs. With the team facing an uncertain future of their most skilled player in Kane, if Johnson posts another big year like he did last season, he could take on a huge role with the Americans in the World Cup.
One player who could break out and provide a boost to Team USA is Chris Kreider of the New York Rangers. In Sochi, the Americans iced a "Meat Line" of David Backes, Ryan Callahan, and Dustin Brown; their combination of skill and physicality proved an important complement to the finesse of Kane and Phil Kessel. Brown's declining play makes him unlikely to return to the team, which opens the door for another bruising forward with scoring touch such as Kreider to step into a role with Team USA.
Team Sweden
The Sochi silver medal winners, Team Sweden is another country that could see some significant turnover before the World Cup begins. Assistant captain Daniel Alfredsson has retired, and it wouldn't be surprising to see bottom six forwards like Patrik Berglund or Jimmie Ericsson fail to make the team. Veteran defenders like Johnny Oduya or Henrik Tallinder also could be replaced by younger talent.
Up and coming Dallas Stars defender John Klingberg could make a push for a roster spot if he continues to flash the explosive offensive potential he displayed last season. One of the best first-year defenseman in the league, the former 5th-round pick in 2010 put up an impressive 40 points in just 65 games. His swift skating ability and strong hockey sense could put him in the running for one of the final defensive spots on Sweden.
Team Russia
Russia failed to medal on home ice in Sochi 2014, so change is coming to the roster for the upcoming World Cup. Veteran KHL player holdouts from the Olympic team such as Alexei Tereshenko and Alex Popov could be bypassed for roster spots by rising Russian players. The defensive corps could also be seeing some turnover, with Slava Voynov in legal trouble and out of play for almost all 2014-2015.
Nail Yakupov, the first overall pick from 2012, has experienced a rocky beginning to his NHL career, but would provide a combination of skill and physicality that not many players on the roster provide. After finishing his third season strong playing alongside veteran centre Derek Roy, Yakupov is slated to open 2015-2016 lining up with either Ryan Nugent-Hopkins or Connor McDavid. Playing with an abundance of offensive talent on the young and improving Oilers, Yakupov could be in line for a big season.
Team Finland
Led by NHL legend Teemu Selanne, the Finns surprised many by capturing the bronze medal in Sochi. However, Selanne has since retired, leaving a large hole in Finland's top-six forwards. Goaltender Pekka Rinne missed the 2014 Olympics with a hip injury, but fully recovered last season and looks to be a lock to capture one of Finland's top two goalie spots. Sami Salo and Kimmo Timonen retired this year as well, so a few fresh faces will take part for Finland and possibly play big roles.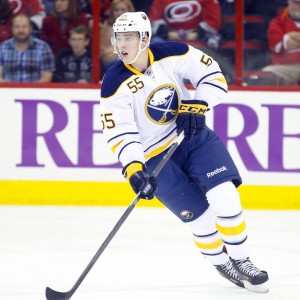 One player to watch for Finland is Buffalo defenseman Rasmus Ristolainen. A big, mean defender with great draft pedigree (8th overall pick in 2013), Ristolainen could be a great replacement on the powerplay for the retired Timonen and would be a great partner for a smaller, skilled defender such as Sami Vatanen for the Finns. Although Ristolainen struggled last season with a -32 plus/minus rating with the Sabres, the team made several significant upgrades this offseason and Ristolainen has the talent to be a huge part of the overhauled defensive unit in Buffalo.
Team Czech Republic
Another team that could be losing several important players from their 2014 Olympic team due to age and declining play, the Czech Republic could be without arguably the best Czech player of all time in Jaromir Jagr. Jagr, who turns 44 in February of next season, could be retired before the puck drops on the World Cup, leaving a huge hole to fill in their forward corps.
A player who could break out next year and fill some of the scoring lost by the departure of legend Jagr is Jiri Sekac of the Anaheim Ducks. An under-the-radar signing by the Montreal Canadiens last offseason, Sekac was traded to the Ducks midseason and flashed an impressive array of offensive abilities. The talented 23-year-old has good size (6'2″, 195 pounds) and great talent, and should be in the running for a role amongst the Ducks' wingers for a second- or third-line role. If he lines up with consistent linemates, he could have a breakout year and place himself squarely in the running for a spot with the Czechs.
Team Europe
One of the two teams participating in the World Cup that is representing more than one country, Team Europe will be comprised of players from every nation without a team already in the World Cup. Players from lesser-known hockey nations such as Slovenia's Anze Kopitar, Marian Hossa of Slovakia or Roman Josi of Switzerland will have a chance to prove they can keep up with the best of the best in the World Cup. It's hard to predict how the lineup will take shape without any previous teams like this unique squad, but a few young players from emerging hockey nations could make a push for a spot on the team with a strong season next year.
One player to watch is Leon Draisaitl of the Edmonton Oilers. The third overall pick in 2014, Draisaitl has been dubbed the "German Gretzky" due to his prolific scoring numbers in Germany and in the WHL. His large frame, superb hockey vision, and strong scoring ability could allow him to re-join Edmonton in the NHL after being sent back to juniors by the team in January. Playing alongside offensive stars such as Taylor Hall, Jordan Eberle, or Connor McDavid could lead to a big season from the talented Draisaitl. Team Europe will have a tough time contending for the World Cup championship, but with a big season next year Draisaitl could have a big impact against the NHL's best.
Team North America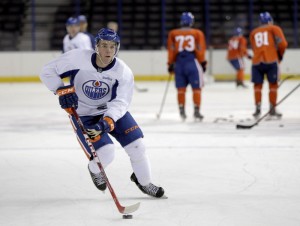 The second multinational team competing in the World Cup, Team North America could be one of the most surprising teams in the tournament. Consisting of American and Canadian players under the age of 24, Team North America could have some of the league's most exciting young talent on their roster. Players like Connor McDavid and Nathan MacKinnon will line up for the North Americans, so the team won't be short of any firepower on the offensive side of the rink.
Team North America is particularly strong down the middle, where players like McDavid, MacKinnon, Sean Monahan, and Jack Eichel all have extensive experience playing. A player who could really make an impact for this squad is Damon Severson of the New Jersey Devils. A young defenseman who really made a name for himself last season, Severson was arguably a contender for the Calder Trophy before suffering an injury in December that sidelined him for more than 20 games. His two-way play and experience playing big minutes could be crucial for Team North America, as their defense and goaltending situations are filled with promising young players but lag slightly behind the impressive forward unit.
---
The World Cup of Hockey should be a very exciting tournament for all hockey fans, as the best players on the planet will be competing in the same tournament. The choice to include two multinational teams may have been slightly controversial, but it will undoubtedly allow some extremely talented players otherwise excluded from the tournament to showcase their skills against the best the NHL has to offer.
If there's a player who you think can break out next year and crack his respective World Cup roster, have your say in the comments below.