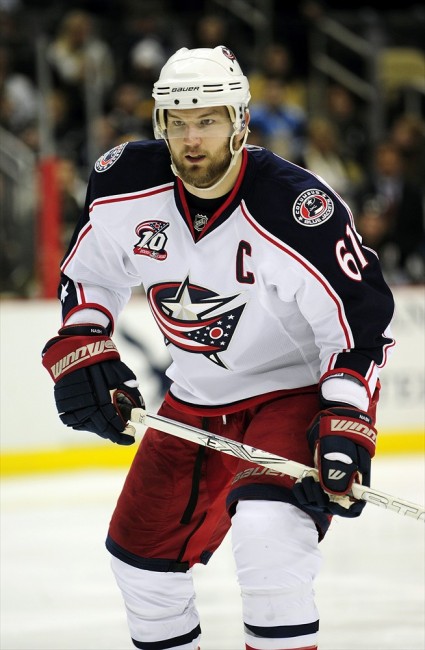 Since their season ended a month ago, most of the talk about the Tampa Bay Lightning's needs have revolved around goaltending – and with good reason. The duo of Dwayne Roloson and Mathieu Garon (with cameos by Dustin Tokarski and Sebastien Caron) finished near the bottom of almost every goaltending stat recorded. However, finding a competent puck stopper is not the only item on their to-do list.
Despite finishing in the top-ten in goals scored the Lightning need help up front at well. Vincent Lecavalier's injury showed that their offensive depth isn't what it should be. Once he was out of the lineup the Lightning were reduced to basically a one-line team built around Steven Stamkos. Adding a legitimate top-six forward in the off-season would go a long way to strengthening the team and vaulting them back into playoff contention. If Steve Yzerman is shopping for offensive talent why shouldn't he take a look at one of the best names rumored to be available – Rick Nash.
It's no secret that Nash is looking to leave Columbus on the first plane out of town. Rumors flew around like lawn chairs in a hurricane during the trade deadline that the goal-scoring winger was on his way to being dealt. At the time no one stepped up to the plate to meet General Manager Scott Howson's demands. Many feel that the relationship was permanently soured when Mr. Howson revealed to the public that the request to be traded was initiated by Nash, not by the team.
Now that summer is approaching the rumors of where the 27-year-old will play next season should start springing up again. Could it be possible that Tampa Bay is on his list of teams that he would expect a trade to? If so, what would it cost the Lightning?
In February, Aaron Portzline of the Columbus Dispatch reported that the Bruins, Kings, Rangers, Sharks, Maple Leafs and Canucks were allegedly on Nash's list of teams that he would waive his no-movement clause for should the Blue Jackets find a match. Now that some time has passed, could Tampa become a more attractive alternative for Nash?
The Lightning could offer Nash the chance to play with a top-flight center for the first time in his career. A line consisting of Nash, Stamkos and Martin St. Louis would instantly become one of the top lines in the entire league. That would allow Coach Boucher to play Teddy Purcell with Lecavalier making for a fairly lethal second line alternative. For once Nash wouldn't be expected to generate all of the offense for his team.
Tampa also offers Nash a chance to succeed without much pressure from the media. Should he go to New York, Boston and especially Toronto he would be expected to produce immediately and all season long. Should he suffer a 7 game pointless streak like he did in April the press hounds would be relentless in their criticism. The worst he would receive in Tampa would be a sternly worded column from Gary Shelton.
The Ontario native would give the Lightning a true sniper that they've never really had since Fredrik Modin. With seven seasons of 30+ goals Nash would be the shoot-first type of forward that will help Stamkos get open for his own shots or generate more rebound and deflection opportunities in front of the net. St. Louis, who always prefers to set other players up (sometimes to his own detriment), could possibly be up in the 60 assist range with Stamkos and Nash on the same line.
Of course, Nash would also bring some baggage into Tampa as well. His $7.8 million cap hit would vault him to the top of team's list and unlike Lecavalier's deal, Nash's actual salary does not decrease over the life of the deal. A trade for Nash would end any speculation of the Lightning going after Roberto Luongo or Ryan Suter. Even if they move salary, they'd still be too cap-strung to bring in a free name big agent to fill some of their other needs.
They could buyout Mattias Ohlund to free up some space immediately, but would have to deal with the consequences of a portion of his contract taking up space until 2019-20. The aging defenseman claims that he wants to play next season, but how effective he would be following two knew surgeries is hard to predict. Eric Brewer's name could enter the rumor market, but moving him would leave them extremely thin on defense.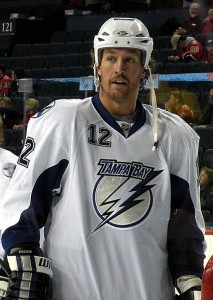 It is doubtful Columbus would be interested in getting Brewer back in any sort of trade, but what could Mr. Yzerman offer them that would make them willing to part with their franchise player? They would need to absorb some cap money back so that immediately brings Ryan Malone's name into play. The rugged forward finished the season strong to hit the 20 goal plateau for the sixth time in his career, and more importantly, appeared healthy for the first time in a couple of seasons.
Columbus is obviously in another rebuilding mode after shipping off most of their other assets at the deadline. A young power forward like Brett Connolly could find a lot playing time for the Blue Jackets and could be extremely valuable since he's under team control for several more seasons. The extra first round pick the Lightning picked up in the Steve Downie trade could be attractive to a team looking to the forward as well.
Mr. Yzerman professes that he doesn't like to trade young prospects for existing talent, but if the opportunity to acquire one of the top scorers in the league arises shouldn't he explore it? The free agent market isn't exactly swimming with big names. After Alex Semin and Zach Parise the market dries up rather quickly. During his first two off-seasons Mr. Yzerman has focused on re-signing players (Stamkos, Purcell and St. Louis) and taking flyers on lower-tier forwards (Sean Bergenheim, Ryan Shannon and Tom Pyatt). He has yet to deal for or sign a game-changing player to the roster. Perhaps that changes now that he has complete understanding of his organization.
A trade for Rick Nash would show the fans that the team is committed to winning right now, which is important in a market where the fans are notoriously fickle when it comes to supporting teams. New scoreboards and Tesla coils will only bring the fans in for so long. At some point the front office has to show that they are willing to invest in on-ice upgrades as well.