The New York Rangers are coming off two straight losses and are looking to get back on track so they do not begin to slide too far down in the standings.
Center Mika Zibanejad is expected to return to the lineup in the club's next game Tuesday, when they host the Dallas Stars. Zibanejad has missed the club's past 25 games with a broken left fibula, suffered back on Nov. 20 when he crashed awkwardly into the boards in a home game against the Florida Panthers.
His return first became apparent when the Rangers waived Marek Hrivik on Sunday (he has since cleared and been assigned to AHL Hartford), presumably to open up a roster spot for Zibanejad. That assumption was confirmed on Monday.
Zibanejad said he's playing tomorrow. #NYR

— Brett Cyrgalis (@BrettCyrgalis) January 16, 2017
The skilled and well-rounded Swedish pivot should give the Rangers' lineup a boost in several areas.
An Offensive Weapon
All season, New York's strength has been its offense, aided by excellent forward depth. Even with injuries to Zibanejad, Rick Nash, and Pavel Buchnevich, they have remained the top scoring team in the league with an average of 3.4 goals per game. With Nash and Buchnevich already having returned recently, the Rangers are an extremely difficult team to defend and match up against. Zibanejad only exacerbates that problem for opponents.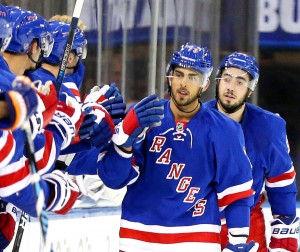 The 23-year-old had gotten off to a strong start in his Blueshirts career, tallying five goals and 10 assists in 19 games. His injury came at a time when he was really beginning to put together a nice scoring run, with three goals and three assists in his past six games. Zibanejad might need a few games to adjust and get back to top form, but he should be able to provide the Rangers with consistent top-six production.
Zibanejad will also add another element to New York's power play. Even though the Rangers rank sixth in the NHL with a 22.4% success rate with the man-advantage, Zibanejad's strong one-time right-handed shot from the left circle (otherwise known as Alex Ovechkin's office) gives opponents another thing to worry about.
Perhaps it comes as no coincidence that forward Brandon Pirri has not been productive in Zibanejad's absence. Pirri, a power-play specialist and left-handed shooter, typically sets up for shots in the opposite circle. Without as much of a shooting threat opposite Pirri, opponents can cheat a bit toward his side and clog his shooting lanes. With Zibanejad on the same power play, the Rangers are lethal from either side. As such, that could open things up for Pirri. An uptick in power-play production from Pirri could be on the horizon.
Defensive Help
Zibanejad does not only help the Rangers from an offensive standpoint. He is a strong two-way center who can help shore up coverage in the defensive and neutral zones as well. While he does not fill the team's most dire need (help on the blue line), he can help the defensemen with sound play in his own zone and the ability to quickly move the puck the other way. His strong five-on-five Corsi-for percentage of 52.9 percent underscores the fact that the team does not often get hemmed in its own zone when he is on the ice.
http://gty.im/621801460
Zibanejad will also help the Rangers in the faceoff circle. New York ranks dead last in the NHL with a paltry faceoff win percentage of 47.4 percent. Their top two centers in Zibanejad's absence, Derek Stepan and Kevin Hayes, win faceoffs only 45.8 percent and 45.1 percent of the time, respectively. Before his injury, Zibanejad was successful on 53.7 percent of his draws.
While faceoffs might not be extremely important, they certainly have some value, and Zibanejad will help the Rangers in that department. Between that, his defensive acumen, and his offensive skill set, New York will be happy to see him on the ice once again.