July 1st, 2016 is rapidly approaching, especially so for the 14 NHL franchises who found themselves out of the Stanley Cup Playoff picture in 2015-16.
A date of massive popularity and importance in the NHL, July 1st signifies the beginning of Free Agency, the first day in which players of unrestricted status, or without contracts for the coming 2016-17 season, can officially sign with a new club.
Related:
As July approaches, the 2016 Free Agent class remains poised to be one of the strongest in recent history. A number of high-end players find themselves without contracts, especially so when it comes to forwards, the most notable of which being Steven Stamkos, who despite lighting up goaltenders for eight years with the Lighting could soon be leaving the Sunshine State.
However, as mentioned, Stamkos is just one of a handful of incredibly skilled players projected to be available in free agency this off-season.
But who exactly are the top forwards available come July 1st?
Steven Stamkos
Signed: 8 Years, $8.5 Million AAV
2015-16 Team: Tampa Bay Lightning
Stamkos is undoubtedly one of the NHL's greatest young talents.
Having scored over 300 career goals in under 600 games played, including one season of 60 tallies, Stamkos has established himself as one of the most prolific scorers in the NHL today, and as such will surely demand a monumental contract.
At the age of 26 and standing 6'1″, 195 pounds, Stamkos has all the tools of the ideal franchise centre-ice man, and if he does in fact manage to reach free agency, will be highly coveted by the vast majority of NHL teams.
Coming out of his entry-level contract in 2011, Stamkos signed a five-year, $37.5 Million contract, which carried an annual cap hit of $7.5 Million. Given his consistent offensive output, most recently notching 36 goals and 64 points over 77 games, it is safe to say that, if he does not re-sign in Tampa Bay, Stamkos will surely command a contract with a cap hit in the $10 Million range, if not higher in free agency.
Loui Eriksson
2015-16 Team: Boston Bruins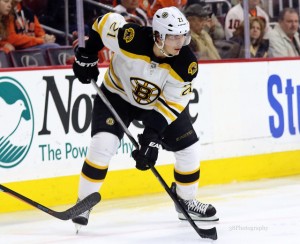 In his third year with the Boston Bruins, Loui Eriksson had a stellar 2015-16 season, recording a career-high 30 goals alongside 63 points, a total which ranked second best on his team.
Given his great season and pending contract status, many expected Eriksson to be traded come the Trade Deadline, as he was arguably one of the top talents reportedly available via trade. However, when 3:00 P.M came and went, Eriksson remained a Bruin.
Eriksson's most recent contract came while he was still a member of the Dallas Stars. In 2010-11, Eriksson agreed to six-year, $25.5 Million contract with the Stars which carried a very cap friendly hit of a mere $4.25 Million per season.
As the most offensively gifted Left-Winger available on the market in 2016, Eriksson will surely land a contract worthy of his consistent offensive play. A new multi-year deal with an annual cap hit in the range of $5-6 Million is certainly not out of the question, especially so considering the number of NHL clubs in need of scoring help.
Kyle Okposo
2015-16 Team: New York Islanders
The Islanders made what was perhaps one of the greatest, most financially efficient deals in NHL history in 2011 when they signed Kyle Okposo to a five-year extension worth $14 Million.
The deal, set to expire come July 1st, 2016, carried an annual cap hit of just $2.8 Million.
In his five years and 337 games played following his extension with the Islanders, Okposo recorded an impressive 95 goals and 253 points, a total which ranks 49th best in the League over that period of time, greater than the likes of Gabriel Landeskog, Paul Stastny, Bobby Ryan and Rick Nash.
With that being said, Okposo appears to be in line for a massive, well-deserved raise come his next contract, whether it comes with the Islanders or not. Averaging 20+ goals and nearly 70 points per year in recent seasons, Okposo would serve as a tremendous offensive addition to any team in search of a big-bodied, consistent and at times physical first-line winger.
Mikkel Boedker
2015-16 Teams: Arizona Coyotes, Colorado Avalanche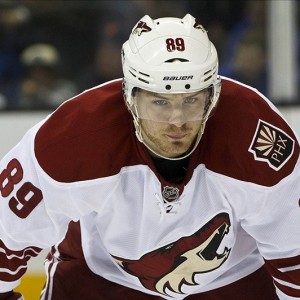 One of the top trade targets at the 2016 Trade Deadline, Boedker was dealt from the Arizona Coyotes to the Colorado Avalanche in what many considered to be a lop-sided deal in favour of Arizona. In his 18 games with the Avalanche, Boedker netted just four goals but registered 14 points.
In all during the 2015-16 season, Boedker's 80 game, 51 point total tied his previous career high set in 2013-14 with the Coyotes.
A speedy and highly skilled winger who brings great vision and passing to the ice, Boedker is a pass-first style of player who likes to generate offence for his teammates. As a result, Boedker is a quality complimentary player and is best utilized in a top-9 role.
Boedker's previous contract saw him reel in $3.75 Million on a one-year deal – an indication of the Coyotes' perception of the skilled winger and his future projection as an NHL player.
Coming off of one and two-year deals, respectively, Boedker will surely be looking for a multi-year deal come free agency, and one which will pay him slightly greater than his previous deal. Any NHL club looking for a talented, playmaking winger will surely take a flyer on Boedker, who at just 26 years of age certainly has plenty of upside.
Andrew Ladd
2015-16 Teams: Winnipeg Jets, Chicago Blackhawks
Andrew Ladd was arguably the most highly sought after forward at last year's deadline, and wound up heading back to Chicago for what was supposed to be a long playoff run. However, Ladd struggled in his return to the Blackhawks, scoring just 12 points over 19 games while adding only two points in seven playoff games.
Whether or not his late season performance will impact his upcoming contract remains to be seen, however, Ladd will remain one of the most desired free agents on the market come July 1st.
Ladd's most recent contract was signed with the Jets in July of 2011, and saw him carry an annual cap hit  of $4.4 Million over five years, totalling $22 Million. In the years following, Ladd averaged roughly 25 goals and 50+ points per season, including individual campaigns of 28 goals and 62 points. Yet, in his ever important contract year, Ladd stumbled out of the gate, and although he netted 25 goals in 2015-16, his 46 points tied for the second lowest total of his career.
At the end of the day, Ladd is an incredibly valuable power-forward, and will surely receive a solid raise from his previous contract. With Winnipeg likely out of the equation, where Ladd lands will be one of the biggest stories of the off-season (next to Stamkos).
Milan Lucic
2015-16 Team: Los Angeles Kings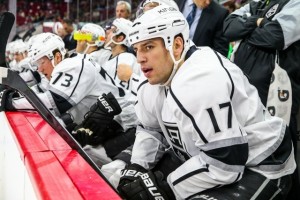 The Los Angeles Kings surrendered a wealth of valuable players in the trade which brought Milan Lucic from the East coast to the West, but fortunately for the Kings, Lucic was exactly what they longed for, if not better in his first year in L.A.
Following eight seasons with the Bruins, Lucic brought his patented style of grit and skill to an incredibly deep Kings squad and found immediate success. In all, Lucic scored 20 goals and 55 points, totals which both ranked fourth best on his team.
With that being said, only time will tell whether the Kings, or any other NHL franchise feels Lucic remains worth $6 Million per season, as he was when the Bruins signed him to a three-year, $18 Million contract in 2012.
With the exception of 2012-13, Lucic's offensive production has remained fairly consistent, with the rugged winger typically recording 20 goals and 50+ points on an annual basis. Realistically, soon to be 28 years old, Lucic has a ton of hockey ahead of him, however a short-term contract in the ballpark of three years could be more likely for Lucic, whose style of game remains fairly rare yet highly desired in today's NHL.
Most recently, rumours have been swirling of Lucic heading to one of Edmonton or Vancouver, with many believing that the rugged winger could possibly have already worked out a contract with the Oilers.
David Backes
2015-16 Team: St. Louis Blues
One of the NHL's most competitive, beloved and determined Captains, David Backes has enjoyed an incredibly successful tenure in St. Louis, yet it is one that could soon be coming to an end.
A life-long Blue since entering the NHL in the 2006-07 season, Backes has long been a consistent offensive and physical force, leading his team on the ice with his energetic and devoted style of play.
The Blues extended Backes on a five-year, $22.5 Million contract in November of 2010 which carried an annual cap hit of $4.5 Million, a deal which was of great value to the Blues.
Coming off of yet another solid regular season in combination with a seven goal, 14 point playoff campaign, Backes has shown no signs of slowing down, and as a result, is likely deserving of a contract of similar financial term, whether it comes in St. Louis or not.
Backed has emphasized his desire to remain with the Blues on numerous occasions, however, the Blues will have a number of important contracts to deal with despite restricted financial flexibility, including the likes of Dmitrij Jaskin and Jaden Schwartz in 2016 and Jake Allen, Colton Parayko, Kevin Shattenkirk and Alex Steen in 2017.
Troy Brouwer
2015-16 Team: St. Louis Blues
Troy Brouwer's name won't be on the market long come free agency, as the long-time depth forward once again illustrated his incredible value throughout yet another deep St. Louis Blues playoff run.
While Brouwer's regular season was on par with his career averages, netting 18 goals and 39 points, it was the playoffs where Brouwer's game truly shone.Over the Blues' 20 playoff games, Brouwer recorded a highly impressive eight goals and 13 points, with a number of tallies of incredible timeliness and importance.
Brouwer's previous contract with the Washington Capitals was a three-year, $11 Million deal which carried a cap hit of $3.6 Million. At the age of 30 and checking in at 6'3″, 215 pounds, Brouwer is a physical force with plenty of hockey ahead of himself, and could be of extreme value to a club looking to add both scoring depth and shutdown defending.
For Brouwer, a two to three-year deal, likely in the same ballpark financially makes sense, yet which team will attain his services is another question entirely.
Lee Stempniak
2015-16 Teams: New Jersey Devils, Boston Bruins
Lee Stempniak was the best signing of the 2015-16 season. Simply put.
After heading to New Jersey training camp on a tryout, the Devils were impressed enough to sign the veteran forward to a one-year, 850k deal. Stempniak went on to record his highest point total in nine years, and the second best of his career, registering 51 points between the Devils and Bruins alongside 19 goals, the second best total of his career.
As such, Stempniak was made available at the Trade Deadline, and the Devils cashed in on their gamble by acquiring two draft picks from Boston, who despite adding Stempniak, ultimately failed to reach the playoffs.
The major, in reality only, question surrounding Stempniak come July 1st will be whether or not he can produce at the same incredible level which he did in the 2015-16 season. At the age of 33, Stempniak is likely nearing the final years of his career, making a long-term contract very unlikely. In fact, Stempniak has not been signed to a multi-year contract since 2012 while with the Calgary Flames.
Come July 1st, NHL teams interested in his services will likely be offering strictly one-year contracts. If Stempniak can have a similarly successful season in 2016-17, only then could a multi-year deal become possible. Whichever the case, the veteran winger remains a valuable and responsible top-9 NHL forward.
Eric Staal
2015-16 Teams: Carolina Hurricanes, New York Rangers
Oh how the mighty have fallen.
Once considered one of the most dominant and offensively dangerous centre-ice men in the NHL, Staal's game has continued to regress on a yearly basis. In 2015-16, Staal managed just 13 goals and 39 points, his lowest goal and point totals since his rookie season way back in 2005-06.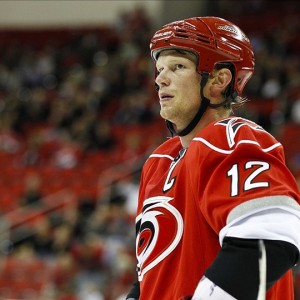 Where Staal's career has fallen off is a separate topic in and of itself, yet one thing which is common knowledge is that Staal is in line for a major pay-cut in 2016-17.
In 2008, Staal inked a seven-year, $57.75 Million contract with the Carolina Hurricanes, a contract which carried a massive annual cap hit of $8.25 Million.
Once producing at a 1.22 points per game (PPG) pace at the height of his career, Staal's 0.47 PPG in 2015-16 was the second lowest total of his career, and given his consistently plummeting projection, will see Staal reel in a much different contract than he did as a 24 year-old.
Sure, he remains a physical force on the ice, but the offense just isn't there anymore, or at least hasn't been in recent years. If he can regain his old form, Staal has the potential to be one of the game's best, however, given his current status, it appears as though Staal could sign a short-term contract come July 1st, and one of incredibly lesser term.
It would appear safe to say that a two-year deal in the $3-4 Million range will be the best offer Staal will receive.
Radim Vrbata
2015-16 Team: Vancouver Canucks
A successful five-year tenure with the Coyotes allowed Radim Vrbata to garner a two-year, $10 Million contract from the Vancouver Canucks in 2014, and Vrbata made good on the deal with a stellar first season in 2014-15.
In his first year with the Canucks, Vrbata netted 31 goals, the second highest total of his career, as well as 63 points, a total good for third best behind the Sedin twins. Vrbata's signing immediately appeared to be the deal of the off-season.
However, Vrbata's second season with the Canucks was a dud in comparison to his first, as the veteran winger scored just 13 goals and 27 points, totals which ranked fifth and sixth best on a poor Vancouver team, respectively.
With that being said, what Vrbata can bring to the table as a free agent remains incredibly vague. While he possesses a solid amount of experience and ability, Vrbata will be 35 years old come the beginning of the 2016-17 season, and will likely be hard pressed to receive the multi-year deal he most certainly desires.
As an aging winger with solid skill and a very solid physical frame, Vrbata has the potential to contribute offensively and could be poised for a major bounce back season.