Our current prospects articles can be found here. Below are some of the current top prospects already affiliated in the NHL, as well as the top-ranked prospects ahead of the NHL Entry Draft.
Top-10 NHL Prospects
1. Cale Makar, Colorado Avalanche
Cale Makar won't be on this list for very long. The defender went from NCAA finalist and Hobey Baker winner straight into the NHL Playoffs seamlessly, helping the Colorado Avalanche to the second round. He can control the game and pull off big plays, which he showed in the playoffs with a goal and five assists in his first 10 games. He should be a regular contributor in 2019-20.
2. Quinn Hughes, Vancouver Canucks
Just like Makar, Vancouver Canucks prospect Quinn Hughes got the call-up near the end of the 2018-19 season and he was able to show just how well he fit in. He played five games with the Canucks, collecting three assists. Hughes has an amazing ability to hold the puck, show off his patience, and then shock defenders as he goes coast-to-coast.
3. Vitali Kravtsov, New York Rangers
Vitali Kravtsov has it all. He has great speed, a dangerous shot and the power to go with it. What's promising for New York Ranger fans is his ability to absolutely take over a game and impact it in a way that leaves his team on top. He's a winger who has been playing centre for Traktor Chelyabinsk in the KHL and has proven that he can adapt and succeed no matter where he plays.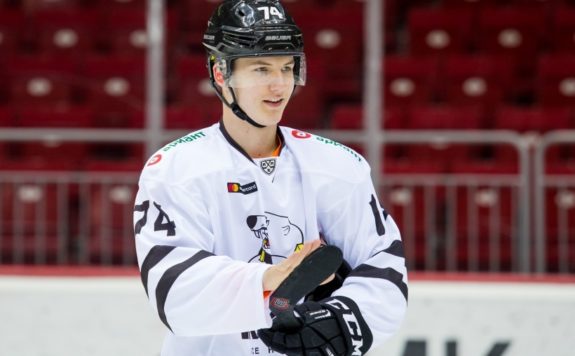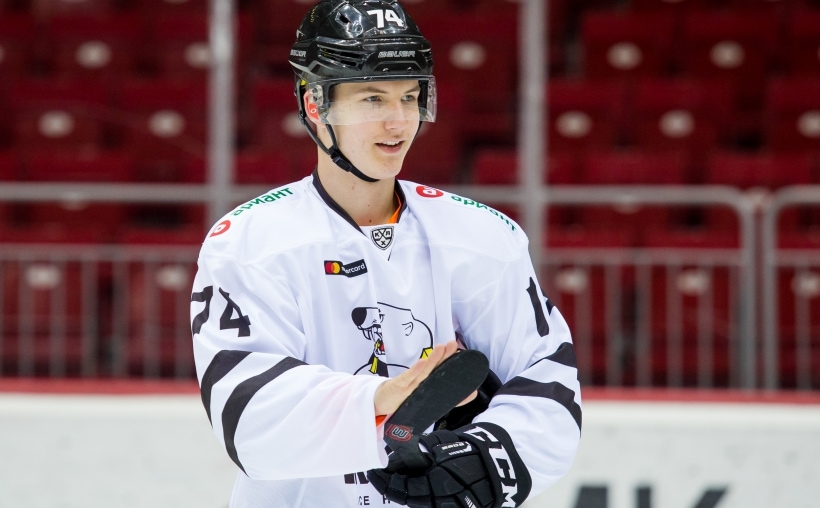 4. Grigori Denisenko, Florida Panthers
One of the most confident players on this list, Grigori Denisenko has already shown that his play is elite. In fact, his style of play has even been compared to Tampa Bay Lightning star Nikita Kucherov. He's a dynamic offensive player with a ton of upside just waiting to show it off in the NHL.
5. Cody Glass, Vegas Golden Knights
The first-ever draft pick of the Vegas Golden Knights looks to be a home-run for the expansion team as Cody Glass looks to be a number-one centre in the NHL. He's an elite skater, allowing him to open up the ice, create offensive opportunities and always be a threat to punish opposing teams.
6. Eeli Tolvanen, Nashville Predators
After playing in the KHL for the 2017-18 season, Eeli Tolvanen came overseas to jump into the North American game. He may have been sent down to the AHL for the 2018-19 season, but there's no questioning his skill. He's a sniper who gets his shot off quickly from anywhere on the ice. He's creative, he's smart and can make room for himself which is a deadly arsenal to have.
7. Martin Necas, Carolina Hurricanes
Carolina Hurricanes' Martin Necas proved his high ranking this season with a big rookie season in the AHL in 2018-19. His speed and high hockey IQ led to him being the 12th overall pick in 2017 and so far, he's been living up to the hype. He's already shown great leadership on the Czech Junior team, an asset that the young Hurricanes team will be anxious to have in their lineup.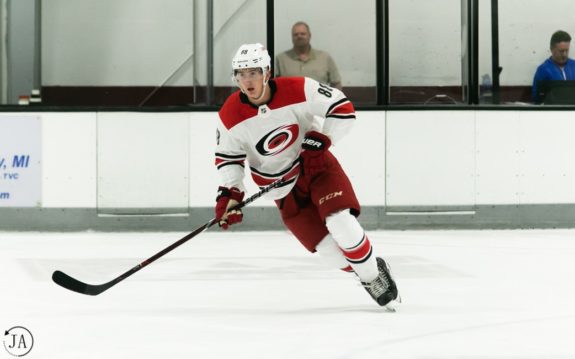 8. Ilya Sorokin, New York Islanders
The top goaltender on this list is already drawing comparisons to Sergei Bobrovsky, which is a lofty comparison. The netminder has put up ridiculous numbers over his KHL career, including a 1.16 goals against average and a .940 save percentage in 2018-19. He is extremely athletic with strong reflexes and great movement. He's got elite upside and should be in the NHL soon.
9. Erik Brannstrom, Ottawa Senators
Coming to the Ottawa Senators from the Golden Knights in the Mark Stone trade, Brannstrom just may be the next Erik Karlsson. He's already shown elite puck-moving abilities and a strong shot. He has extremely high hockey sense and uses it to surprise defences. He controls the power play and currently leads all NHL prospects in PNHLe which predicts offensive potential.
10. Igor Shestyorkin, New York Rangers
The second goaltender and second Ranger prospect on this list, Igor Shestyorkin looks to be an absolute steal from the 2014 draft. He was taken 118th overall and has dominated everywhere he's played. He has an Olympic gold medal and a Gagarian Championship under his belt already. What stands out about the young prospect is his ability to read the play, his rebound control, and how he keeps his composure in critical scenarios.
Top-10 NHL Entry Draft Rankings
Related: NHL Draft Guide | 2019 Edition
1. Jack Hughes, USNTDP
The top-ranked prospect for the 2019 NHL Entry Draft is Jack Hughes who set records in the USNTDP as the most prolific point producer. He's a dominant offensive threat with elite speed, vision, hands and hockey IQ. Look for him to be an impact player in 2019-20.
2. Kappo Kakko, TPS (Liiga)
The one player who may just take over the first-overall pick in the draft is Finnish prospect Kappo Kakko. Just like Hughes, Kakko is an elite talent already. He'll be able to step into a top-six role in 2019-20 and produce at a high level.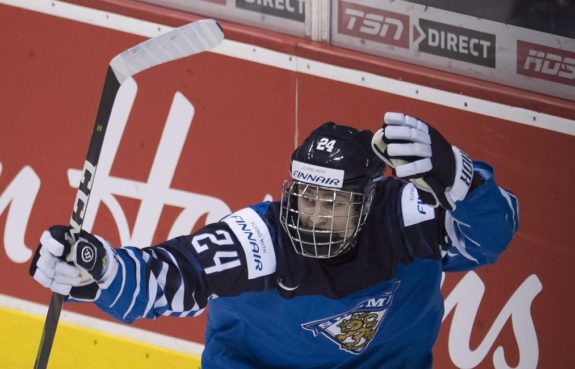 3. Bowen Byram, Vancouver Giants (WHL)
The top defender in the draft, Bowen Byram has incredible skating abilities from his end-to-end rush to his edge work and acceleration. He has a hard shot, quick hands and can take over a game. He'll be running the power play for whatever team takes him in June.
4. Alex Turcotte, USNTDP
Alex Turcotte is the best two-way player available in the draft. He has great offensive sense, while matching that with his ability to battle the puck off opponents. He's a solid skater and can handle the puck. It won't be long before he brings that talent to the NHL.
5. Trevor Zegras, USNTDP
A very creative prospect on the ice, Trevor Zegras could be one of three USNTDP players drafted this year in the top-five. He's a pass-first player and excels in that role. Th combination of his elite patience and his hockey IQ should transition to the NHL game nicely.
6. Dylan Cozens, Lethbridge Hurricanes (WHL)
One of the best skaters in his draft class, Dylan Cozens. He is an all-around forward with a big, accurate shot. But don't be surprised to see him make a big passing play either. His big frame allows him to win most of the one-on-one battles he faces.
7. Vasily Podkolzin, Neva St. Petersburg (VHL)
Some rankings have seen Vasily Podkolzin as high as third overall due to skill, but others have him lower due to his contract in Russia. But there's no denying his ability. Podkolzin is a high-end talent with speed, vision, passing and a shot to match. He'll only get better with a couple more years overseas.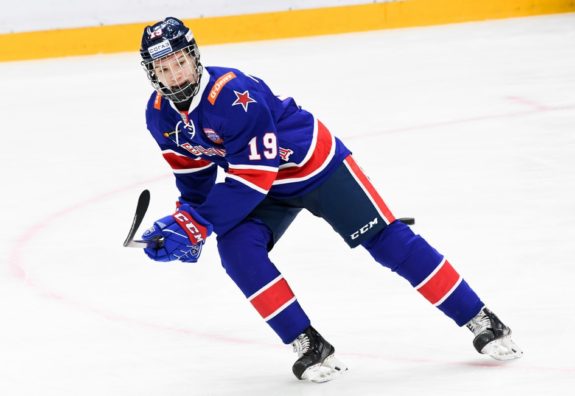 8. Kirby Dach, Saskatoon Blades (WHL)
Just like Zegras, Kirby Dach is a pass-first centreman. The difference between them is Dach has an extra four inches to work with. He has great awareness and has used his big size to protect the puck. He's a big point producer who plays a very smart game.
9. Matthew Boldy, USNTDP
Matthew Boldy is your do-it-all forward who has shown the ability to adapt his game to fit those around him. He can dish the puck to his teammates or fill the back of the net himself. He also has great vision and the size of an NHL player.
10. Peyton Krebs, Kootenay Ice (WHL)
Rounding out the top ten is Peyton Krebs, a skilled, elusive and shifty forward whose creativity can make opposing teams look bad. His high hockey IQ makes it seem like he's two steps ahead of defenders. He has terrific puck skills and outstanding skating ability.