Wayne Gretzky turns 60 on Jan. 26.
Though he has been retired for nearly 22 years, most of his dozens of NHL scoring records have not been matched or broken. Take away his record 894 regular-season goals and his 1,963 assists would still make him the league's all-time points leader.
How much do you know about "The Great One?" Take our quiz and find out.
1. Which of these awards did Gretzky win in his first NHL season?
a) Art Ross Trophy
b) Calder Trophy
c) Hart Trophy
d) All three

2. Which goalie surrendered Gretzky's record-setting 77th goal in 1981-82?
a) Ken Dryden
b) Don Edwards
c) Pete Peeters
d) Bob Sauve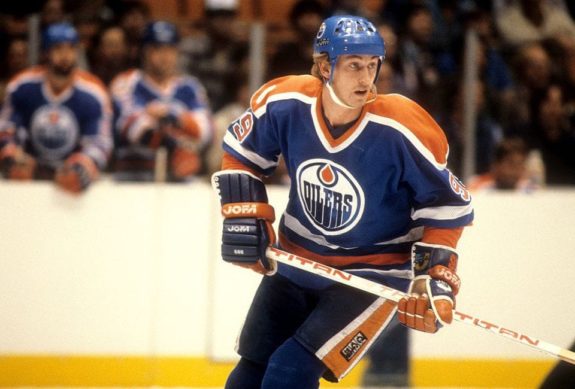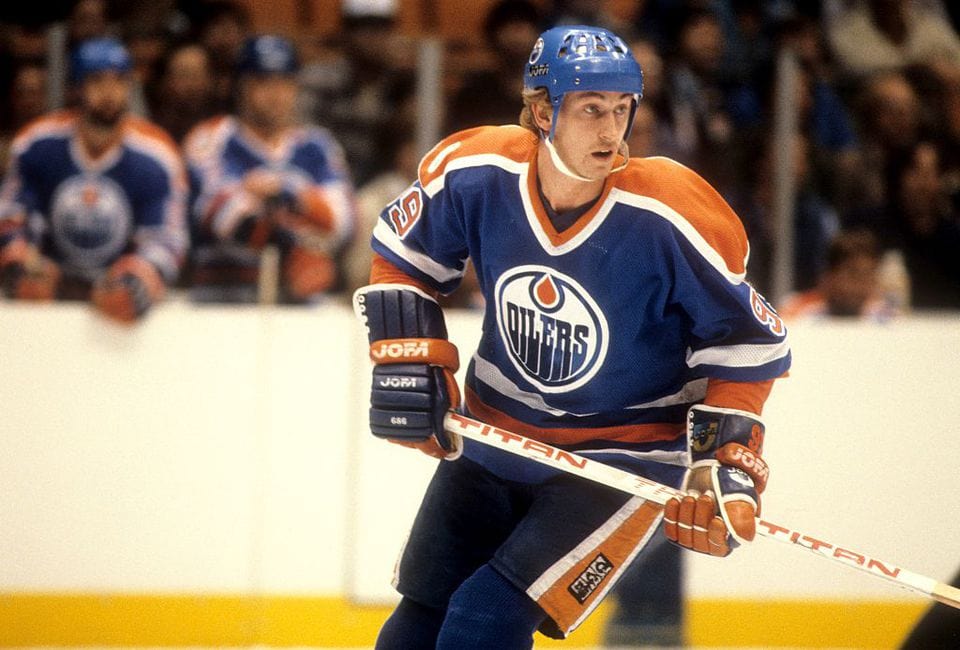 3. How many times did Wayne Gretzky score at least 200 points?
a) 2
b) 3
c) 4
d) 5

4. How many games did Gretzky need to score 50 goals in 1981-82?
a) 39
b) 42
c) 45
c) 48

5. Which of these regular-season career records does Gretzky hold?
a) Most overtime goals
b) Most power-play goals
c) Most shorthanded goals
d) All three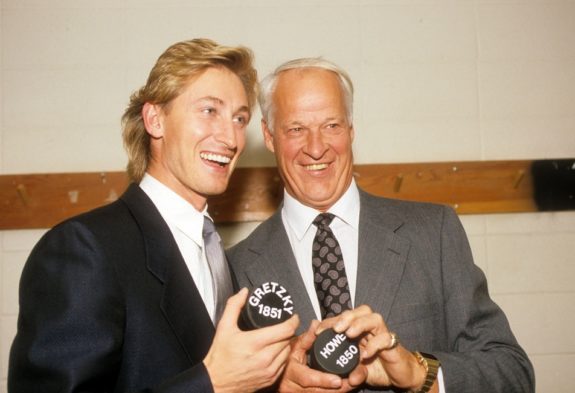 6. Gretzky became the NHL all-time leader with 1,851 career points on Oct. 15, 1989. Which team did he break the record against?
a) Chicago Blackhawks
b) Edmonton Oilers
c) Los Angeles Kings
d) Vancouver Canucks

7. How many times did Gretzky score at least 50 goals in a season?
a) 7
b) 8
c) 9
d) 10
8. Which team signed Gretzky to his first professional contract?
a) Birmingham Bulls
b) Cincinnati Stingers
c) Edmonton Oilers
d) Indianapolis Racers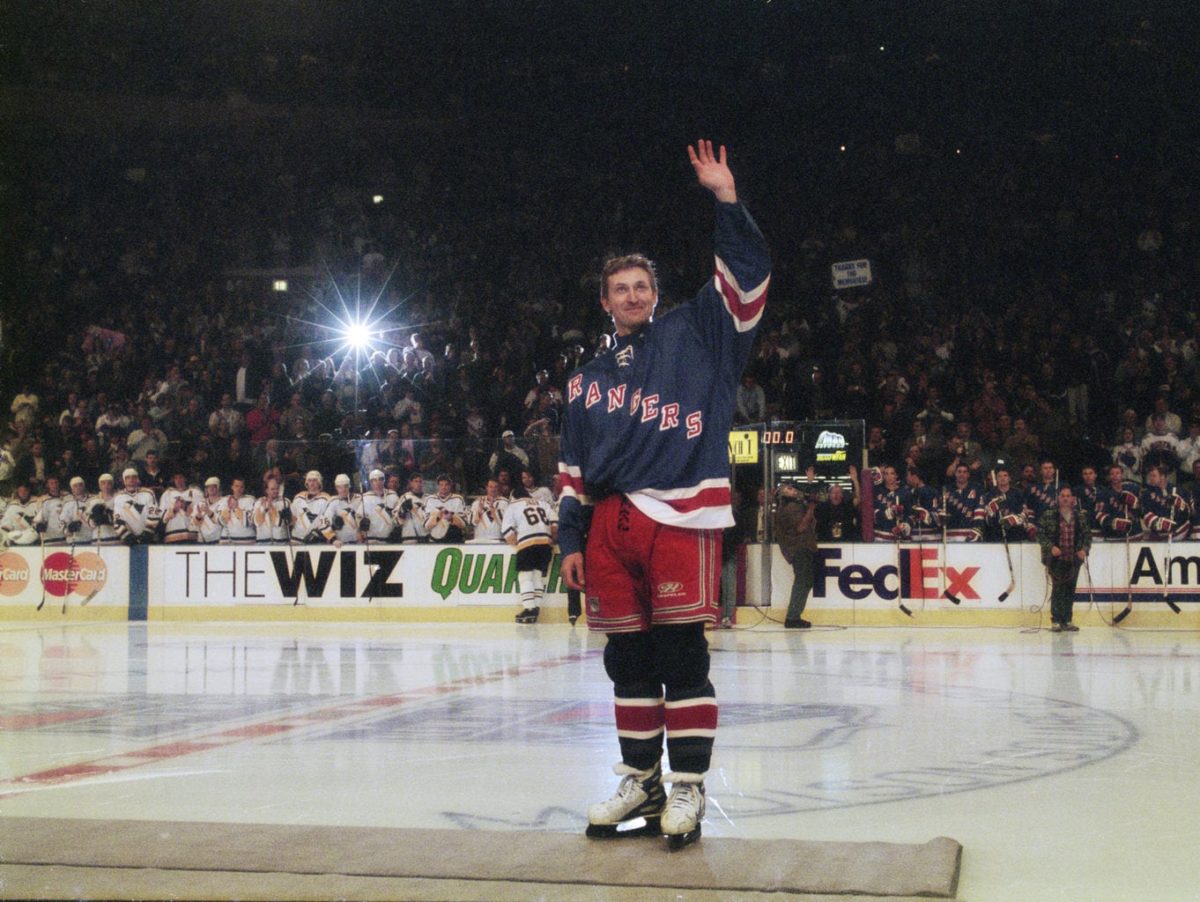 9. Which area of the rink became known as Gretzky's "office?"
a) Behind the net
b) Left half-wall
c) Right  half-wall
d) The slot

10. Against which team did Gretzky score the most goals?
a) Atlanta/Calgary Flames
b) Detroit Red Wings
c) Vancouver Canucks
d) Winnipeg Jets/Phoenix Coyotes
Answers
1. Answer: (c) Hart Trophy
Gretzky won the Hart Trophy as the NHL's most valuable player in 1979-80, his first season in the league after playing in the World Hockey Association in 1978-79. That season in the WHA made him ineligible for the Calder Trophy (top rookie), and though he tied Marcel Dionne of the Los Angeles Kings for the NHL scoring lead with 137 points, Dionne won the Art Ross Trophy because he scored two more goals.
2. Answer: (b) Don Edwards
His 77th goal of 1981-82 broke Phil Esposito's single-season record. Gretzky scored the record-setting goal against Don Edwards and the Buffalo Sabres at Memorial Auditorium at 13:24 of the third period on Feb. 24, 1982. (from 'Wayne Gretzky scores 77th goal to break Phil Esposito's single-season NHL goal-scoring record,' Edmonton Journal, 02/25/1982) For good measure, he scored two more goals in the next six minutes to finish the night with a hat trick.
3. Answer: (c) 4
Gretzky became the first player in NHL history to reach the 200-point mark in 1981-82 when he finished with 212. He also had 205 in 1983-84, 208 in 1984-85, then broke his own NHL record with 215 points in 1985-86.
4. Answer: (a) 39
With 50 goals in 39 games for the Edmonton Oilers in 1981-82, Gretzky set an NHL record that still stands. He scored the last five of those goals in Edmonton's 39th game, a 7-5 win against the Philadelphia Flyers on Dec. 30, 1981.
5. Answer: (c) Most shorthanded goals
Gretzky's 73 career shorthanded goals are more than anyone else in NHL history; longtime teammate Mark Messier is second with 63. His 204 power-play goals are 16th all-time, and he scored just two overtime goals in the regular season after the NHL restored overtime for the 1983-84 season.
6. Answer: (b) Edmonton Oilers
Gretzky surpassed Gordie Howe's NHL career record of 1,850 points when he scored the game-tying goal with 53 seconds remaining in the third period for the Los Angeles Kings against the Edmonton Oilers, his longtime team, on Oct. 15, 1989. That gave him 1,851 points, and he got No. 1,852 by scoring the winning goal in overtime.
7. Answer: (c) 9
No. 99 shares the NHL record for most 50-goal seasons with Mike Bossy of the New York Islanders. Gretzky and Bossy each reached the 50-goal mark nine times, one more than Alex Ovechkin of the Washington Capitals, who leads active players with eight 50-goal seasons.
8. Answer: (d) Indianapolis Racers
Gretzky was 17 years old when he signed his first professional contract with the Indianapolis Racers of the WHA. However, he played just eight games for Indianapolis before being sold to the Edmonton Oilers. At the time, Gretzky was too young to be drafted by an NHL team, so no team held his rights. He remained with the Oilers when they were one of four WHA teams absorbed by the NHL in 1979-80.
9. Answer: (a) Behind the net
Gretzky was dangerous no matter where he was, but the area behind the opposition's net became known as his "office." He was the first player to set up behind the net on a consistent basis and use the net to set up teammates for scoring chances. In recognition, on the day of his final NHL game (April 18, 1999), the New York Rangers painted his No. 99 behind each net at Madison Square Garden. Gretzky got his final NHL point, an assist, for the Rangers in a 2-1 overtime loss to the Pittsburgh Penguins.
10. Answer: (d) Winnipeg Jets/Phoenix Coyotes
Gretzky scored 79 goals in 105 games against the Winnipeg Jets/Phoenix Coyotes franchise, the most he had against any rival team. He scored 76 in 117 games against the Canucks and 69 in 117 games against the Flames, who moved from Atlanta to Calgary in 1981. Gretzky's 239 points against Vancouver were the most he scored against any opponent.
---
---