*This was last updated in March 2023
From the Ted Lindsay Award to the James Norris Trophy, hockey (and sports) have a history of naming things after former players, coaches and integral people. It's no different when it comes to the Gordie Howe hat trick.

No, we're not talking about a three goal performance of some kind. Rather, a Gordie Howe hat trick includes three different hockey plays for a player to accomplish the feat.
What is a Gordie Howe Hat Trick?
It's actually pretty simple. The trifecta consists of the player collecting a goal, an assist and a fight in a single game.
The first recorded instance came back on December 22, 1920 — well before Howe was even born. According to the Official Guide to the Players of Hockey Hall of Fame, it belongs to Hall of Famer Harry Cameron who played for the Toronto St. Pats.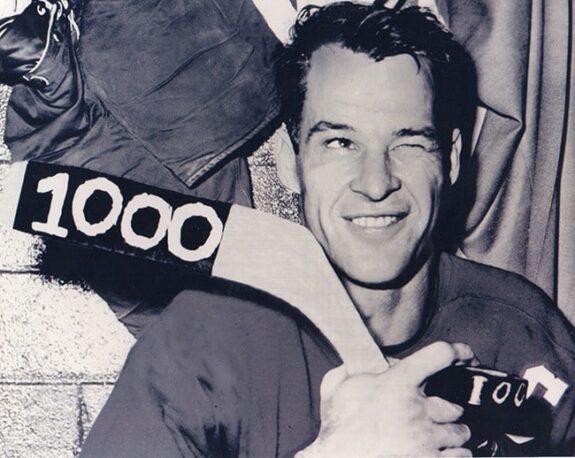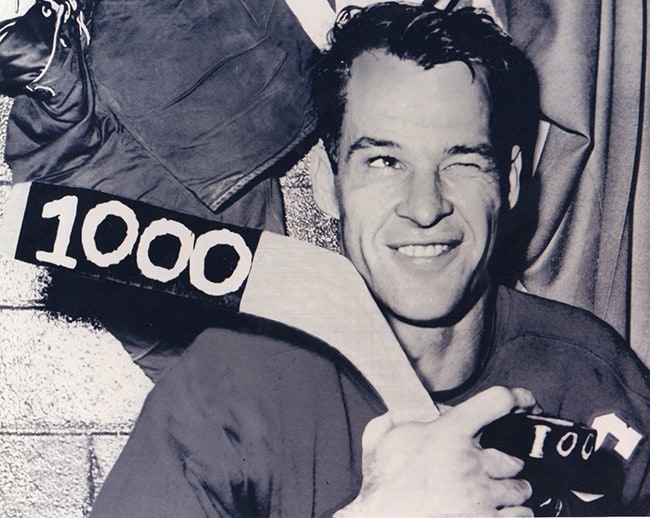 The hat trick, though, was named after Mr. Hockey himself, which is odd seeing as Howe only collected two over his long career. So why was it named after him?
By all accounts, the collection is named after Howe because of the former great's all-around game. Over his career, Howe was a major force offensively collecting 801 goals and 1,049 assists in 1,767 career regular season games. But he wasn't a player that shied away from the physical game either. In fact, he averaged nearly a minute in penalties per game during his regular season career collecting 1,685 penalty minutes over that span.
---
Latest News & Highlights
---
That being said, as was mentioned before, he only achieved the hat trick twice in nearly 1,800 games.
"Gordie Howe hat trick? Ha," said Glenn Hall to Dave Stubbs of NHL.com. "Gordie just kicked the [crap] outta the tough guys and then he didn't have to fight."
Still, on two occasions, that didn't work.
Gordie Howe's 2 Hat Tricks
Howe's first hat trick of his nature came on October 11, 1953. The Red Wings were playing the Toronto Maple Leafs at Olympia Stadium. The Red Wings would eventually go on to a 4-0 win over their long-time rivals, but not before Howe notched three significant plays.
Related: 10 NHL Oddities You'll Never See Again
Howe assisted on the first goal of the game — scored by Red Kelly — and added his own tally moments later. But it was a fight against Fern Flaman that earned him his first Gordie Howe hat trick.
The game sheets from the first "Gordie Howe Hat Trick" on October 11, 1953. #9RIP pic.twitter.com/QyYed9HESx

— NHL (@NHL) June 10, 2016
Interestingly enough, Howe recorded his second and last hat trick just over five months after his first and against a familiar foe nonetheless.
Related: Hat Tricks Fun Facts & Trivia
Once again, the Maple Leafs were hosted by the Red Wings and the home team blew out the Leafs with a 6-1 victory. This time, however, Howe had a different dance partner. Ted Kennedy decided to take on the Wings' big winger helping Howe achieve the feat for the second time in less than a year.
Doubles and Triples
On occasion, we've seen double and triple Gordie Howe hattys. But it happens almost as often as Howe recorded one himself. Twice in NHL history, we've witnessed a double Gordie which is when two players, who fought each other, also recorded a goal and an assist in a single game.
The first came on March 9, 2010. The Columbus Blue Jackets were in Anaheim to take on the Ducks — a game the Jackets would eventually win 5-2. After recording a goal and an assist in the second period, Fedor Tyutin fought Ryan Getzlaf at the buzzer ending the second frame. Getzlaf would go on to record his own goal and assist to start the third – giving both their respective hat tricks.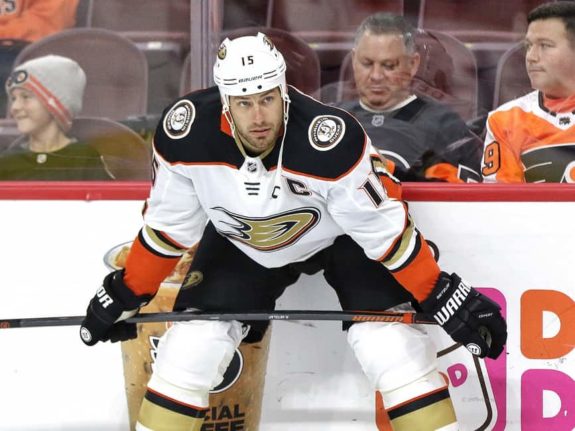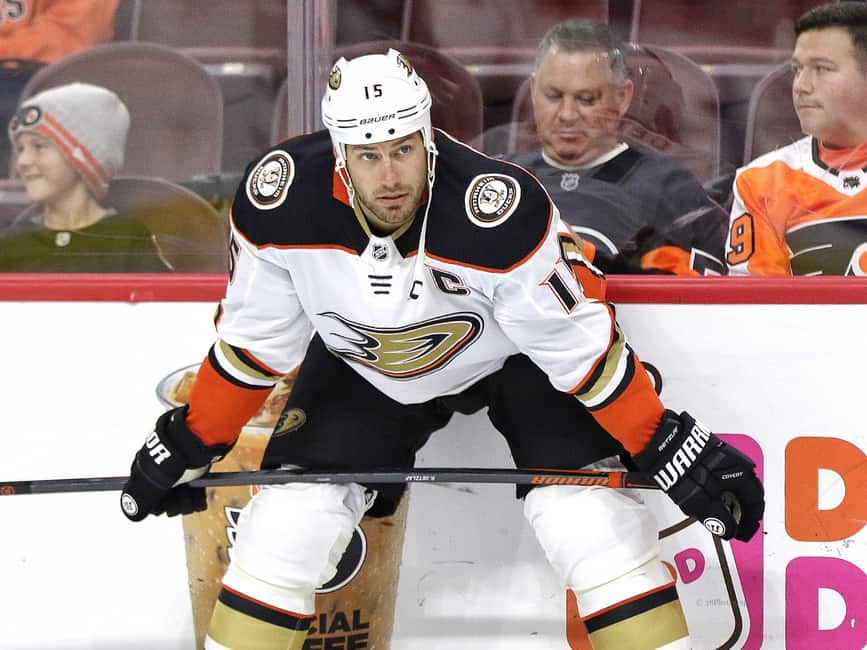 It happened again on January 10, 2012. Adam Henrique and Jarome Iginla took part in a little tango, while both players would go on to notch a goal and assists (with Iginla recording a second assist in the game as well).
Teammates have also recorded this kind of hat trick in the same game on a number of occasions — including once this season (2016-17).
In a game between the Los Angeles Kings and San Jose Sharks back on April 5, 2012, both Joe Thornton and Ryane Clowe battled their way to Gordie Howe hat tricks. It was the fourth of Thornton's career and the third of Clowe's.
Most recently, on March 30, 2017, Dale Weise and Wayne Simmonds locked up their own pair of hat tricks when their Flyers took on the Islanders.
Finally, a triple Howe hat trick occurred once back in 1992. On November 14, the Buffalo Sabres met up with the New York Islanders. When the final horn sounded, Tom Fitzgerald (1g-1a), Wayne Presley (1g-2a) and Benoit Hogue (2g-1a) all finished with at least a goal, an assist and a fight.
Leaders of the Gordie Howe Hat Trick
No one recorded more Howe hat tricks than Rick Tocchet did over his NHL career. In fact, spanning from 1985 to 2000, Tocchet landed 18 of them – including three during the 1986-87 season (two in the month of January).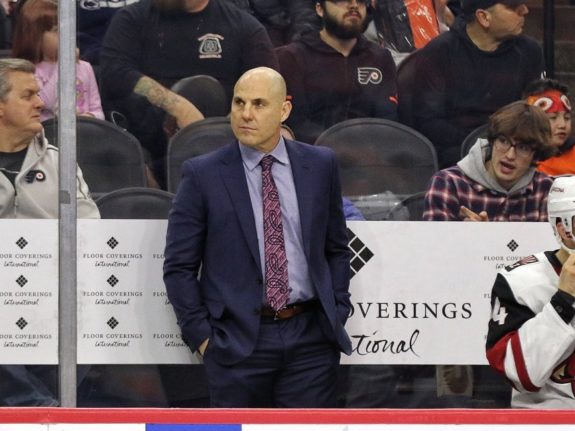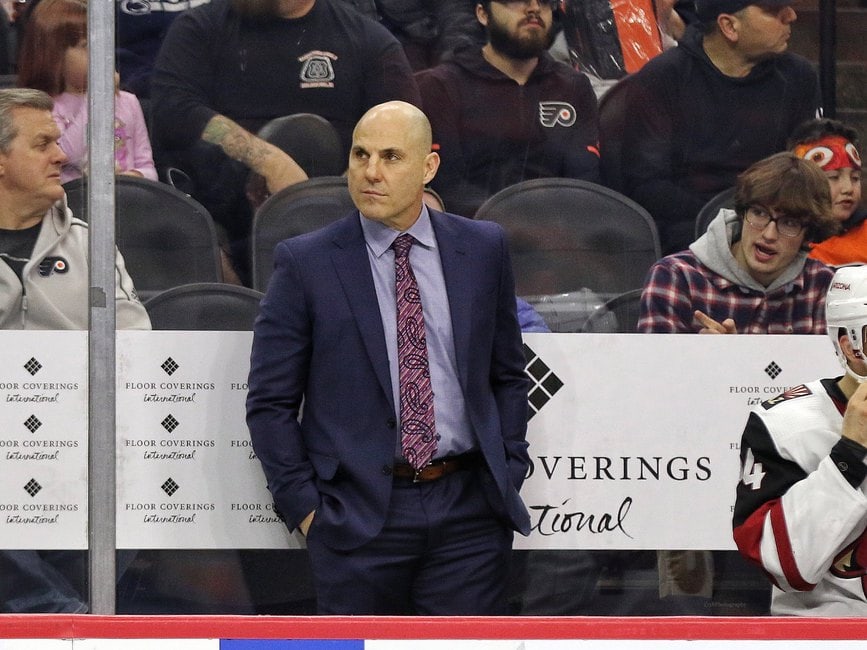 From there, the list is filled with big-name, well-known players. Ironically, former league disciplinarian Brendan Shanahan sits second all-time to Tocchet with 17 of his own Gordies tied with Brian Sutter.
Wilf Paiement (16), Cam Neely (12), Jarome Iginla (11), Keith Tkachuk (10), Gerard Gallant (10), Al Secord (10) and Paul Coffey (9) close out the top 10.
Bobby Orr had eight of his own. Wendel Clark finished with seven and Lanny McDonald had six during his career. Heck, even Ilya Kovalchuk and Pavel Datsyuk had one in their playing days.
Who Has the Most Gordie Howe Hat Tricks?
Rick Tocchet – 18
Brendan Shanahan – 17
Brian Sutter – 17
Wilf Paiement – 16
Cam Neely – 12
Jarome Iginla – 11
Keith Tkachuk – 10
Gerard Gallant – 10
Al Secord – 10
Paul Coffey – 9
Even the great Pavel Datsyuk had a 'Gordie'.
Assuming he comes back next season, Iginla is the current active leader in this category that remains relatively unrecognized by the NHL. After him, there's Zdeno Chara (5), Thornton (5) and Corey Perry (4) – all of whom have some more time ahead of them in terms of NHL playing time.
Climbing Gordie's List
While Chara and Thornton might not add to their current numbers when it comes to Howe hat tricks, Perry could grind out a few more Gordies.
Guys like Milan Lucic (3) could jump up the list.
But the players that are most likely to add to their hat trick totals are Simmonds and Evander Kane.
Simmonds is just 34 and has scored 263 goals and 261 assists in 1,019 career regular season games. He's also added 1,264 penalty minutes – including 70 regular-season fighting majors.
Kane isn't much different. At 31, he has a lot of hockey ahead of him. He has offensive prowess and has notched 287 goals and 261 assists in 816 career regular season games. His 1,052 penalty minutes over that time haven't gone unnoticed either. He has 21 fighting majors in the regular season and surely isn't done yet.
Howe Hat Trick Oddities
While we've talked about double and triple Gordies, we've also talked about career leaders and where the name was derived. But we haven't discussed one time occurrences yet — oddities of the Gordie Howe hat trick.
There are two instances that stand out when we're talking about one-time happenings of the Howe hat trick. The first was hockey's version of the triple-double. It happened on April 9, 1981. In a playoff game between the North Stars and Bruins in which Minnesota won 9-6.
The game consisted of three players reaching the Howe hat trick while two of those players ended up fighting each other on their way to accomplishing the feat. Bryan Maxwell and Bobby Smith both notched hattys for Minnesota, while Brad Park scored a goal, three assists and fought Smith in the process on the Bruins side.
The other oddity happened on November 19, 2014. In that game, Steve Pinizzotto was called up by the Edmonton Oilers to take on his former club — the Vancouver Canucks. The oddity was that Pinizzotto notched his first career NHL goal in the process of reaching the Gordie Howe hat trick. Pinizzotto went on to score just one more goal in his NHL career, a 50% Gordie rate is surely the highest we'll ever see.
While Pinizzotto isn't the same type of player that this hat trick was named after, most of the Gordie career leaders are – rugged goal scorers, what many consider to be the prototypical hockey player. Sure, they might not take to the ice looking for a Howe hat trick, but every time they get one we pause to think about the legend that bears the name.
---