Born:
July 1, 1977
Draft:
1995 Stars, 11th Overall
Hometown:
Edmonton, AB, CAN
Position:
RW
Known For:
1500+ Games Played
"Iggy"
Shoots/Catches:
Right
National Team:
Canada
Jarome Arthur-Leigh Adekunle Tig Junior Elvis Iginla (born July 1, 1977) is a Canadian former professional ice hockey winger. He played over 1500 games in the National Hockey League (NHL) for the Calgary Flames, Pittsburgh Penguins, Boston Bruins, Colorado Avalanche and Los Angeles Kings.
As a junior, Iginla was a member of two Memorial Cup winning teams with the Kamloops Blazers and was named the Western Hockey League (WHL) Player of the Year in 1996. He was selected 11th overall by the Dallas Stars in the 1995 NHL Entry Draft, but was traded to Calgary prior to making his NHL debut. Nicknamed "Iggy", he led the NHL in goals and points in 2001–02, and won the Lester B. Pearson Award as its most valuable player as voted by the players. In 2003–04, Iginla led the league in goals for the second time and captained the Flames to the Stanley Cup Finals, leading the playoffs in goals.
A six-time NHL All-Star, Iginla is the Flames' all-time leader in goals, points, and games played, and is second in assists to Al MacInnis. Iginla scored 50 goals in a season on two occasions and is one of seven players in NHL history to score 30 goals in 11 consecutive seasons. He is one of 20 players in NHL history to score over 600 goals and is one of 34 players to record 1,300 points in his career. He is a past winner of the Mark Messier Leadership Award and has been recognized by both the Flames and the league for his community work; while a member of the Flames, Iginla donated $2,000 to the children's charity Kidsport for every goal he scored. His number 12 was retired by the Flames during a pre-game ceremony on March 2, 2019.
Internationally, Iginla has represented Canada on numerous occasions. He was a member of championship teams at the 1996 World Junior and 1997 World Championships as well as the 2004 World Cup of Hockey. He is a three-time Olympian and two-time gold medal winner, including at the 2002 Winter Olympics where he helped lead Canada to its first Olympic hockey championship in 50 years.
Iginla was selected for the Hockey Hall of Fame in 2020, during his first year of eligibility. Iginla is the fourth Black player inducted after Grant Fuhr, women's hockey pioneer Angela James and Willie O'Ree. Iginla and Fuhr are the only Black NHL players enshrined for their on-ice accomplishments, while O'Ree was chosen in the builder category in 2018 for breaking the league's color barrier 60 years earlier.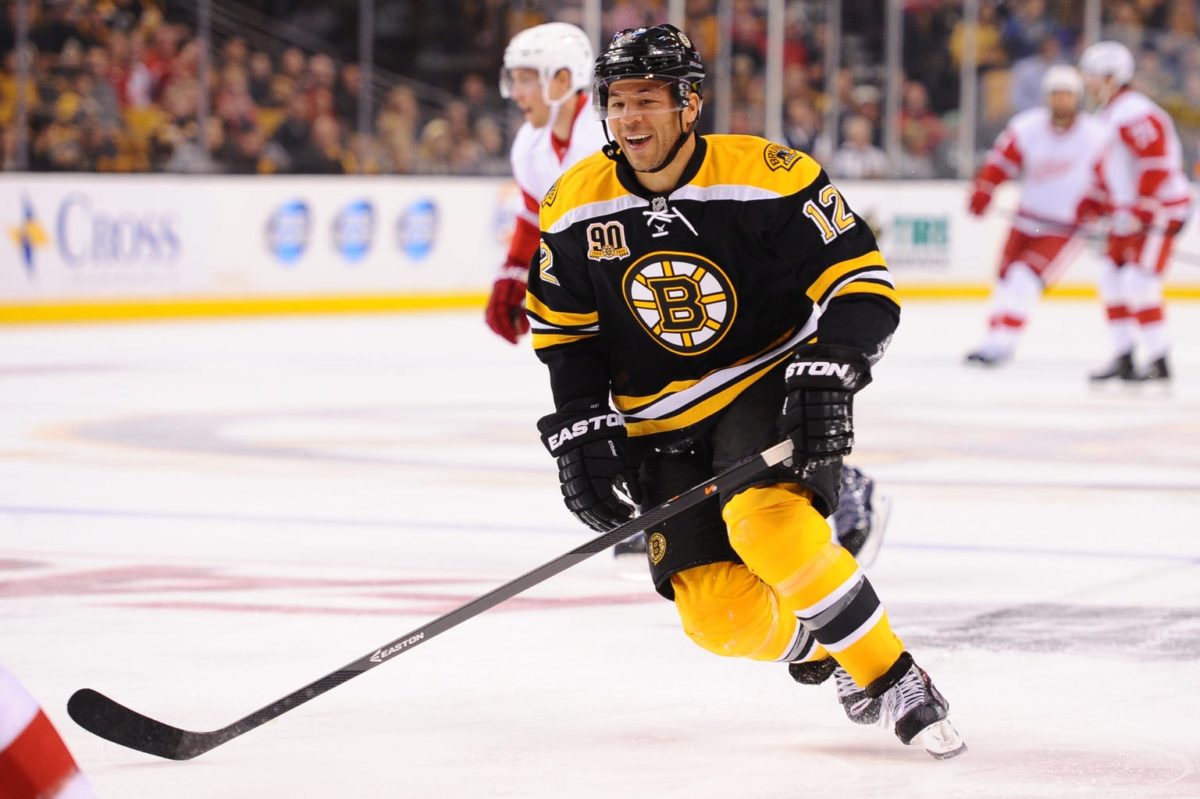 Jarome Iginla Statistics
Trade Tracker
Date
Traded From
Traded With
Traded To
Traded For
Dec. 19, 1995
Corey Millen
Joe Nieuwendyk
Mar. 27, 2013
First-Round Pick 2013
(Morgan Klimchuk)
Ben Hanowski
Kenny Agostino
Mar. 1, 2017
Fourth-Round Pick 2018
Deeper Dive
Achievements
AMBHL Most Sportsmanlike Player — 1991-92
AMHL Most Points — 1992-93
CHL Memorial Cup Champion — 1993-94
WHL Champion — 1993-94
CHL Memorial Cup Champion — 1994-95
CHL Memorial Cup Most Sportsmanlike Player — 1994-95
WHL Champion — 1994-95
CHL First All-Star Team — 1995-96
U20 WJC All-Star Team — 1995-96
U20 WJC Best Forward — 1995-96
U20 WJC Gold Medal — 1995-96
U20 WJC Most Goals (5) — 1995-96
U20 WJC Most Points (12) — 1995-96
WHL (West) First All-Star Team — 1995-96
WHL Player of the Year (Four Broncos Trophy) — 1995-96
NHL All-Rookie Team — 1996-97
World Championship Gold Medal — 1996-97
NHL All-Star Game — 2001-02
NHL First All-Star Team — 2001-02
NHL Most Goals (Maurice Richard Trophy) (52) — 2001-02
NHL Most Points (Art Ross Trophy) (96) — 2001-02
NHL MVP Selected by NHLPA (Ted Lindsay Award) — 2001-02
Olympic Gold Medal — 2001-02
NHL All-Star Game — 2002-03
NHL All-Star Game — 2003-04
NHL Foundation Player Award — 2003-04
NHL Leadership-Humanitarian Award (King Clancy Trophy) — 2003-04
NHL Most Game Winning Goals (10) — 2003-04
NHL Most Goals (Maurice Richard Trophy) (41) — 2003-04
NHL Playoffs Most Goals (13) — 2003-04
NHL Second All-Star Team — 2003-04
World Cup Gold Medal — 2004-05
NHL All-Star Game — 2007-08
NHL First All-Star Team — 2007-08
NHL All-Star Game — 2008-09
NHL First All-Star Team — 2008-09
NHL Mark Messier Leadership Award (CGY) — 2008-09
Olympic Gold Medal — 2009-10
Olympic Most Goals (5) — 2009-10
NHL All-Star Game (Selected, did not play) — 2010-11
NHL All-Star Game — 2011-12
Alternate Captain (Flames) — 1999-03
Captain (Flames) — 2003-13
Alternate Captain (Avalanche) — 2014-16
Hockey Hall of Fame — 2020-21
Sources