The Boston Bruins are the oldest US-based club in the National Hockey League, joining in 1924. They've won six Stanley Cups, ranking them tied for fourth. They are known as one of The Original Six NHL clubs.
Deeper Dive
2022-23 Season Roster
Boston Bruins Jersey History
It's almost enough to distract you from the fact that, for a solid decade, the Bruins wore what were, essentially, football jerseys. These kits featuring no logo and player numbers on both the front and back were joined, for 1940-41, by a special jersey featuring a collegiate wordmark on the front. After all, nothing says "professional" quite like something you'd find in a student union bookstore. Check out the entire history of the Bruins Jerseys…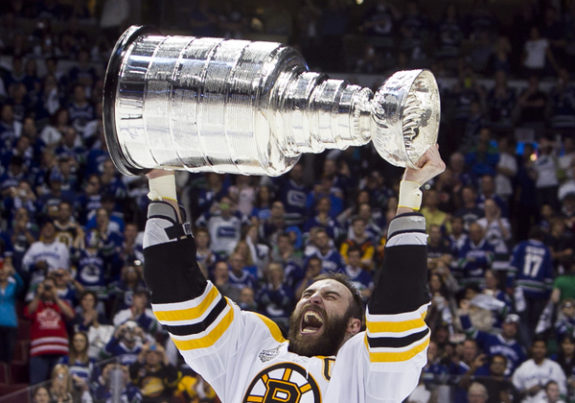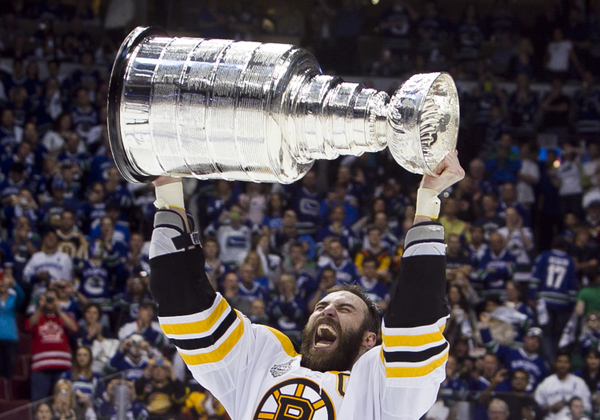 ---
The Players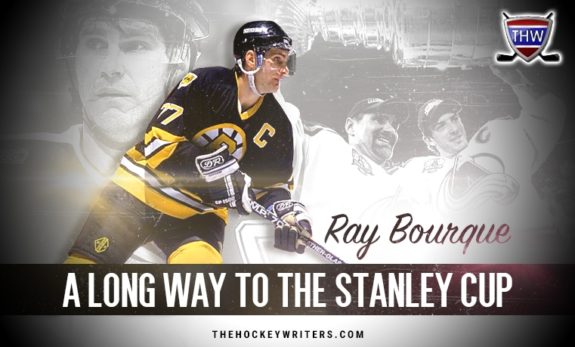 ---
More Bruins History
Bruins Top Goalies of All-Time
---
A Post Mortem on the 1964-65 Season
As bad as the Bruins were up front, the blue line corps was probably the team's most glaring weakness.  But there were players who showed some promise.
Twenty-four-year-old Ted Green was the leader on the back end, and by the attention he garnered from the other five NHL teams who tried to acquire him, he looks to be a real force on defence once he matures. He led the Bruins defenders in scoring with eight goals, 27 assists for 35 points, fine totals for a blueliner on any team. Read More…
---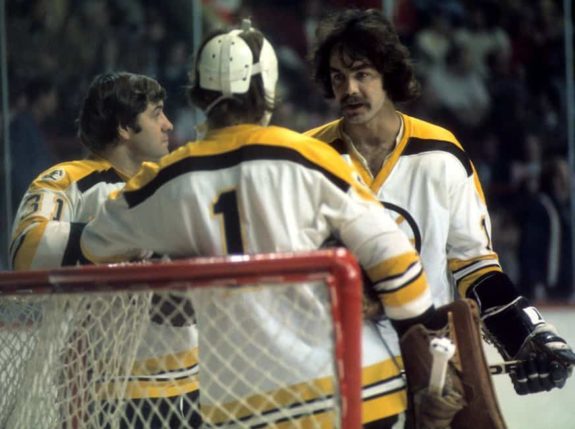 General Managers
Don Sweeney: May 20, 2015 – Present
Peter Chiarelli: May 26, 2006 – April 15, 2015
Jeff Gorton: March 25 – May 26, 2006
Mike O'Connell: Nov. 1, 2000 – March 25, 2006
Harry Sinden: Oct. 5, 1972 – Nov. 1, 2000
Milt Schmidt: May 1, 1967 – Oct. 5, 1972
Hap Emms: April 5, 1965 – May 1, 1967
Lynn Patrick: April 1, 1954 – April 5, 1965
Art Ross: Nov. 1, 1924 – April 1, 1954
Head Coaches
Jim Montgomery: July 1, 2022 – Present
Bruce Cassidy: Feb. 9, 2017 – June 6, 2022
Claude Julien: Oct. 5, 2007 – Feb. 4, 2017
Dave Lewis: Oct. 6, 2006 – April 7, 2007
Mike Sullivan: Oct. 8, 2003 – April 15, 2006
Mike O'Connell: March 21 – April 17, 2003
Robbie Ftorek: Oct. 4, 2001 – March 18, 2003
Mike Keenan: Oct. 26, 2000 – April 7, 2001
Pat Burns: Oct. 2, 1997 – Oct. 20, 2000
Steve Kasper: Oct. 7, 1995 – April 13, 1997
Brian Sutter: Oct. 8, 1992 – May 14, 1995
Rick Bowness: Oct. 3, 1991 – May 23, 1992
Mike Milbury: Oct. 5, 1989 – May 11, 1991
Terry O'Reilly: Nov. 8, 1986 – April 25, 1989
Butch Goring: Oct. 10, 1985 – Nov. 5, 1986
Harry Sinden: Feb. 14 – April 16, 1985
Gerry Cheevers: Oct. 9, 1980 – Feb. 10, 1985
Harry Sinden: March 22 – April 22, 1980
Fred Creighton: Oct. 11, 1979 – March 19, 1980
Don Cherry: Oct. 10, 1974 – May 10, 1979
Bep Guidolin: Feb. 7, 1973 – May 19, 1974
Tom Johnson: Oct. 11, 1970 – Feb. 4, 1973
Harry Sinden: Oct. 19, 1966 – May 10, 1970
Milt Schmidt: Nov. 21, 1962 – April 3, 1966
Phil Watson: Oct. 11, 1961 – Nov. 18, 1962
Milt Schmidt: Dec. 25, 1954 – March 19, 1961
Lynn Patrick: Oct. 14, 1950 – Dec. 19, 1954
George Boucher: Oct. 12, 1949 – March 26, 1950
Dit Clapper: Oct. 24, 1945 – March 30, 1949
Art Ross: Nov. 8, 1941 – April 3, 1945
Cooney Weiland: Nov. 4, 1939 – April 12, 1941
Art Ross: Nov. 7, 1936 – April 16, 1939
Frank Patrick: Nov. 8, 1934 – March 26, 1936
Art Ross: Dec. 1, 1924 – March 18, 1934
Sources: