| | |
| --- | --- |
| Born: | Oct. 21, 1949 |
| Hometown: | Bowmanville, ON, CAN |
| Known For: | Flyers, Rangers tenures |
| National Team: | Canada, Italy |
| Current Team: | Italian National Team |
Michael Edward Keenan (born October 21, 1949) is a Canadian professional hockey coach who most recently coached the Kunlun Red Star of the Kontinental Hockey League (KHL). Previously, he served as head coach and/or general manager with several NHL teams between 1984 and 2009. He is noted for his early career success in coaching Team Canada to win the 1987 Canada Cup round-robin tournament in a thrilling best-of-three series finale against Viktor Tikhonov's Red Army team.
Keenan won a Stanley Cup championship as coach of the New York Rangers in 1994. He also won the Gagarin Cup while coaching Metallurg Magnitogorsk in 2014, and he is the only head coach to have won championships in both the NHL and KHL.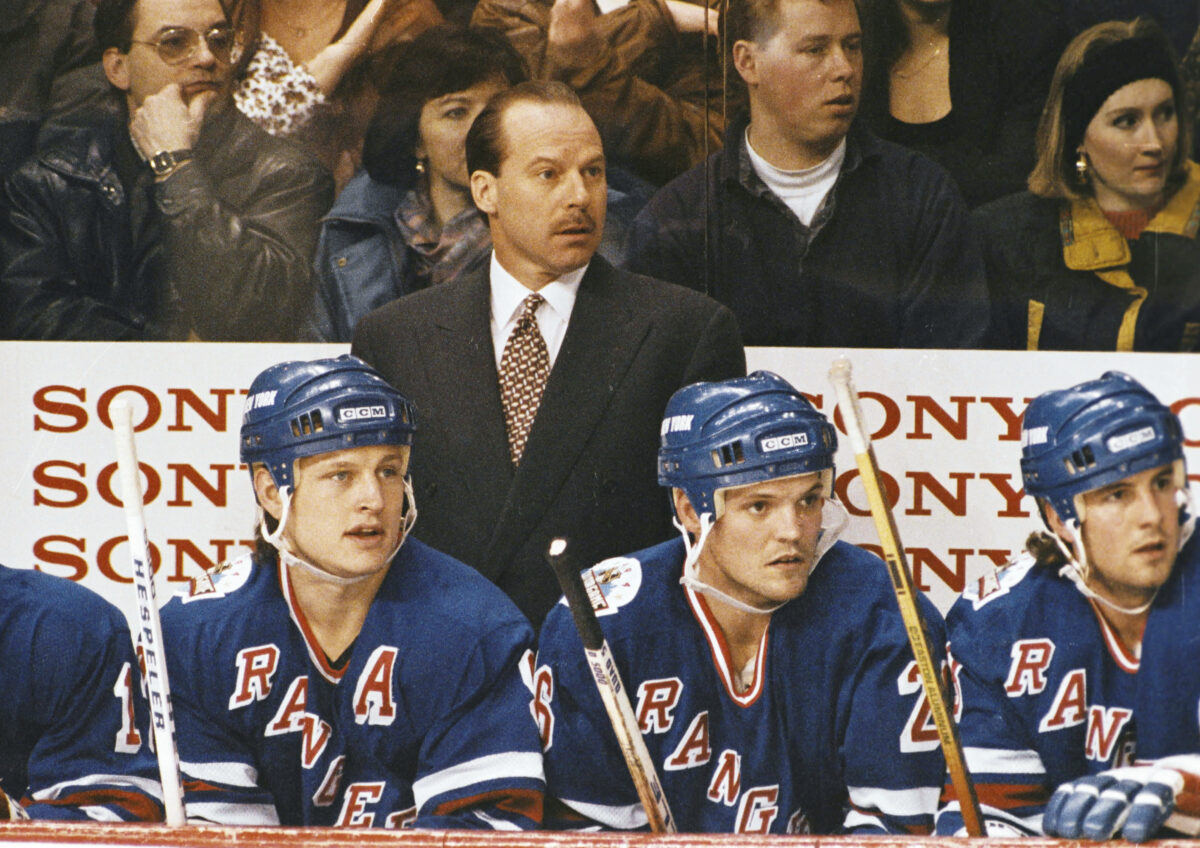 Deeper Dive
Staff History
Oshawa Legionaires (MetJBHL)- Head Coach 1977-1979
Peterborough Petes (OMJHL)- Head Coach 1979-1980
Canada (WJC U20)- Head Coach 1979-1980
Rochester American (AHL)- Head Coach 1980-1983
University of Toronto (CIAU)- Head Coach 1983-1984
Philadelphia Flyers (NHL)- Head Coach 1984-1988
Canada (CC)- Head Coach 1988
Chicago Blackhawks (NHL)- Head Coach 1988-1992
Chicago Blackhawks (NHL)- General Manager 1990-1992
Canada (WC)- Head Coach 1993
New York Rangers (NHL)- Head Coach 1993-1994
St. Louis Blues (NHL)- Head Coach 1994-1997
St. Louis Blues (NHL)- General Manager 1994-1997
Vancouver Canucks (NHL)- Head Coach 1997-1999
Boston Bruins (NHL)- Head Coach 2000-2001
Florida Panthers (NHL)- Head Coach 2001-2004
Florida Panthers (NHL)- General Manager 2005-2006
Calgary Flames (NHL)- Head Coach 2007-2009
Metallurg Magnitogorsk (KHL)- Head Coach 2013-2016
Kunlun Red Star (KHL)- Head Coach 2017-2018
Kunlun Red Star (KHL)- General Manager 2017-2018
Italy (International)- Head Coach 2022-23
Achievements
MetJBHL Champion 1977-1978
MetJBHL Champion 1978-1979
OMJHL Champion 1979-1980
AHL Calder Cup Champion 1982-1983
CIAU (OUA) Champion 1983-1984
CIAU University Cup Champion 1983-1984
NHL Coach of the Year (Jack Adams Award) (PHI) 1984-1985
NHL Patrick Division Champion 1984-1985
NHL Patrick Division Champion 1985-1986
NHL Patrick Division Champion 1986-1987
Canada Cup Champion (Head Coach) 1987-1988
NHL Norris Division Champion 1989-1990
NHL Norris Division Champion 1990-1991
Canada Cup Champion (Head Coach) 1991-1992
NHL Atlantic Division Champion 1993-1994
NHL Stanley Cup Champion 1993-1994
KHL All-Star Game 2013-2014
KHL Coach of the Year 2013-2014
KHL Gagarin Cup Champion 2013-2014
KHL All-Star Game 2014-2015
Sources