Iron Mike Keenan is one of the most popular hockey coaches in the world. In Europe, his popularity increased thanks to his Gagarin Cup triumph, 20 years after winning the Stanley Cup with the New York Rangers. In this translated interview originally appearing on SovSport website, Iron Mike, currently the head coach of KHL team Metallurg Magnitogorsk, talked about his experience in Russia, his summer, and the KHL pre-season.
– Mike, your first season in Russia was a triumph and you just started your second one. What did surprise you the most among non-hockey things?
– Russia's size. Vladivostok, Khabarovsk. I have been to Moscow and St. Petersburg before, then I discovered Magnitogorsk and during the season, I really got to understand how large Russia is. I had a chance to have a look at Russia from inside, and that has been the most interesting aspect of this adventure.
– Dave King, who coached in Russia and in Magnitogorsk before you, decided to write a book about his experience. Did you ever think about doing the same?
– Now I'm not planning anything similar. But if I will ever write a book, it will be about my whole career, not only about Russia. I will talk about all my experiences as I did work in many different leagues and level of play.
– There have been rumors about your passion not only for Russian cuisine, but also for Russian chanson.
– It was very important to me to understand Russian culture and Russian mentality in order to understand better my players. In one year, I learned a lot. I'll continue to be interested in all things Russian. And all this went so far, that at home, in Canada, sometimes when my friends asked me a question, I try to reply in Russian.

And regarding Russian chanson… I can take on [Grigory Leps' song] "Ryumka vodki na stole" (A glass of vodka on the table).
– What about the kitchen? Do you have a favorite dish yet?
– I really enjoy Russian food. By the way, at home they asked me the same thing. And I replied the same way. I can't really recognize a single dish which I can call my favorite.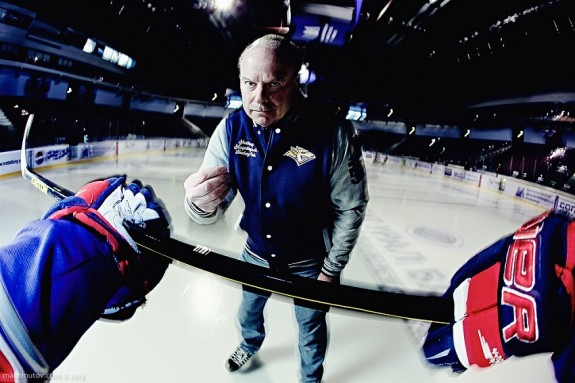 – Most likely you visited the Magnitogorsk Iron and Steel Works. What did impress you the most?
– What impressed me? I worked in a factory myself. My father worked in a factory for fifty years, and my uncle for thirty years. I started working there too. Well, it wasn't a steel work, but an automotive plant. I worked there as a mounter of car's body parts. Therefore, if at the steel works they'd offer me to try some other specialization, why not?
– How did you spend the summer?
– Unfortunately, getting back home was pretty sad as I lost my father and we had to spend a lot of time for the funerals and all the related activities. Later, I simply lived in my house in the country. I took care about the garden, chopped some wood for the fireplace. These things make me relax a lot
– Did you follow the FIFA World Cup?
– A few games. I was cheering for Spain, but their campaign ended too early. I know you actually wanted to ask me about Team Russia, but I didn't watch any of their games.
– Nowadays we are in a politically hard situation. What if someone will call you and say: "Sanctions against Russia. Get back home"?
– I can't even think about such things happening. We are sportsmen, not politicians. Everyone knows that between Russia and Canada there is an exciting and interesting sports rivalry. And excellent ties. Therefore I really doubt that things can do that bad.
– Now your goal will be to defend the KHL title.
– We're working for that since the first day of the training camp. We'll be in good shape for the start of the regular season. Everyone understands that each team will play even harder against us.
– Who will be Metallurg's main contender?
– I think there are six or seven teams, maybe even more. The most important thing is to avoid injuries in sight of the key games.
– What do you think, if you'll manage to win the second straight title in Magnitogorsk they'll build you a monument?
– A monument? For now I'm thinking about how to win the first game of the season.
– What if they'll offer you to coach Team Russia?
– It would be very interesting, but I'm sure that there are enough good Russian coaches.