Many articles have been celebrating the fact that the Blackhawks will no longer play 'The Stripper' during shoot the puck. I, too, am glad the franchise is listening to its fan base to a certain extent.
Marissa Miller, a Blackhawks fan and a woman, circulated a petition online with three main points regarding the way the Blackhawks directly and indirectly objectify and ignore their female fans. Firstly, the petition demanded that the Blackhawks ban the use of 'The Stripper' that the organist would play while a woman chosen at "random" from the audience, always dressed in high heels and tight or revealing clothing, shot the puck between periods. Second, the petition required that the team provide alternate attire for the Ice Girls and third, that the Blackhawks hire women as moderators for the panels during their regular summer convention.
On August 14th, Mark Lazerus of the Chicago Sun-Times broke the news via his Twitter account:
I just spoke with #Blackhawks CEO John McDonough. "I think you've heard the last of Frank Pellico playing The Stripper." #BanTheStripper

— Mark Lazerus (@MarkLazerus) August 13, 2014
Obviously, this is great news for fans of the Blackawks, many of whom are women. And this is great news for the 'Hawks from a business perspective.
For starters, lowering the objectification rate at games makes women more comfortable in the arena, and more likely to return. They — we — are more inclined to bring family members, friends, and groups when they — we — know the atmosphere is a friendly one.
It also demonstrates to women that we, and by extension, our dollars, are valued. Women hold 80% of the purchasing power in sports, and 60% of those dollars were spent on men's clothing. We buy merchandise for ourselves, our children and families. We, in fact, hold 80% of the purchasing power in North America.
It's not difficult to understand that when your gender is objectified you're less likely to come back, let alone buy merchandise, tickets, etc. My only question is how this practice went on for so long.
Women comprise approximately 40% of the Blackhawks fan base and as a demographic are growing at a rate 10 times that of the male fan base across the NHL. We want to be respected, and we want to be catered to, just as men who are Blackhawks fans are catered to.
If that means that men lose the opportunity to blatantly ogle scantily-clad women between periods, then so be it. If that means great female moderators at the Blackhawks summer convention, so be it. If that means qualified women hired as head and assistant coaches, then so damn be it.
We cannot be satisfied with the bare minimum. We cannot be satisfied with simply not being treated like sexy objects (objectified, for you fancy college grads) at games.
"We have to listen," Blackhawks President and CEO McDonough told the Chicago Sun-Times "We have to be aware. We have to react when appropriate — not overreact, but react. We take all of this very seriously. We have had to take a look at every single element, every aspect of our operation, our hockey business from A to Z. I certainly have read the stories, and I understand the sensitive nature of all of that."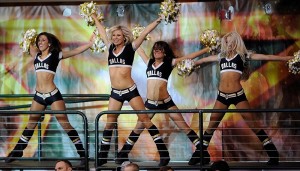 If McDonough does follow through on what his words imply here, then we will see a number of changes come about within the Blackhawks organization. We will see the Ice Girls given alternate uniforms to choose from — because they are entitled to bare as little or as much of their bodies as they like — as well as the draconian rules surrounding Ice Girl/Blackhawks player interaction changed drastically. We will see women higher up in the organization, behind the bench, and as moderators at panels during the convention. We will actually see and experience equal representation, and people of my gender will feel welcome as fans, reporters, and purchasers of goods.
Or the status quo will continue on, with one little change by Blackhawks management being seen as sufficient to appease the female fan base while they still refuse to extend the personhood male fans enjoy.
Sexism still runs rampant in hockey, even in respect to how women are treated as fans.
This petition was an excellent first step. But we must understand that it was a first step. We need to follow through with letters, phone calls, additional petitions and continue to make our case for fair representation and respectful treatment at games and events.
Miller, the creator of the original petition, gave an interview to ESPN writer Scott Powers, which you can read here.
"I love that the conversation is happening," Miller said. "I love the fights that people are having on the Internet. I love people finding their voices. Not all people are ever going to be convinced, but people feel empowered based off this.
"I wouldn't be doing this if I didn't love this team. I would otherwise go spend my time and money doing something else. I want them to succeed. I want them to be the envy of other fan bases in the country. I think they can do that. I think they're smart enough to do it. We'll see if they prove me right. I hope they do."
Me, too.