Welcome to The Hockey Writers Docs section where you'll discover our player pages, full of stats, history and awards. We also have detailed pages on drafts, awards, GMs, team histories and much more.
Here are our latest additions:
---
Today's Feature Article
The Winnipeg Jets will start the 2021-22 season with a California road trip and will face the Anaheim Ducks all three times before the end of October. Read about the positives and negatives of this early-season schedule in this article from Keith Forsyth:
The Advantage
The oddity of the season's first month for the Jets is that all three California teams are expected to be at the bottom of what most pundits predict as the weakest division in the NHL. In a year where the Stanley Cup is very much in the conversation in Manitoba's capital, the ability to get off to a good start is staring the Jets right in the face. Of the 16 possible points up for grabs before November, the Jets should be in possession of at least 11. In that time, they also play the Predators, a team slated for the lower-midrange of the Central Division, and the Wild, the Jets' definite 2021-22 rival. Minnesota promises to be a team the Jets will be battling for playoff positioning by season's end. That first divisional matchup looks to be the one true test for the team this month and a prelude to the season in which it's predicted the Jets and Wild could be scrapping for second place in the Central behind the Colorado Avalanche.
To learn more about the impact of this bizarre schedule on the Jets, click here…
Today's Pic of the Day
Our Amy Irvin was in the right place at the right time as Vancouver Canucks rookie Vasily Podkolzin (left) celebrates his first NHL goal against the Philadelphia Flyers.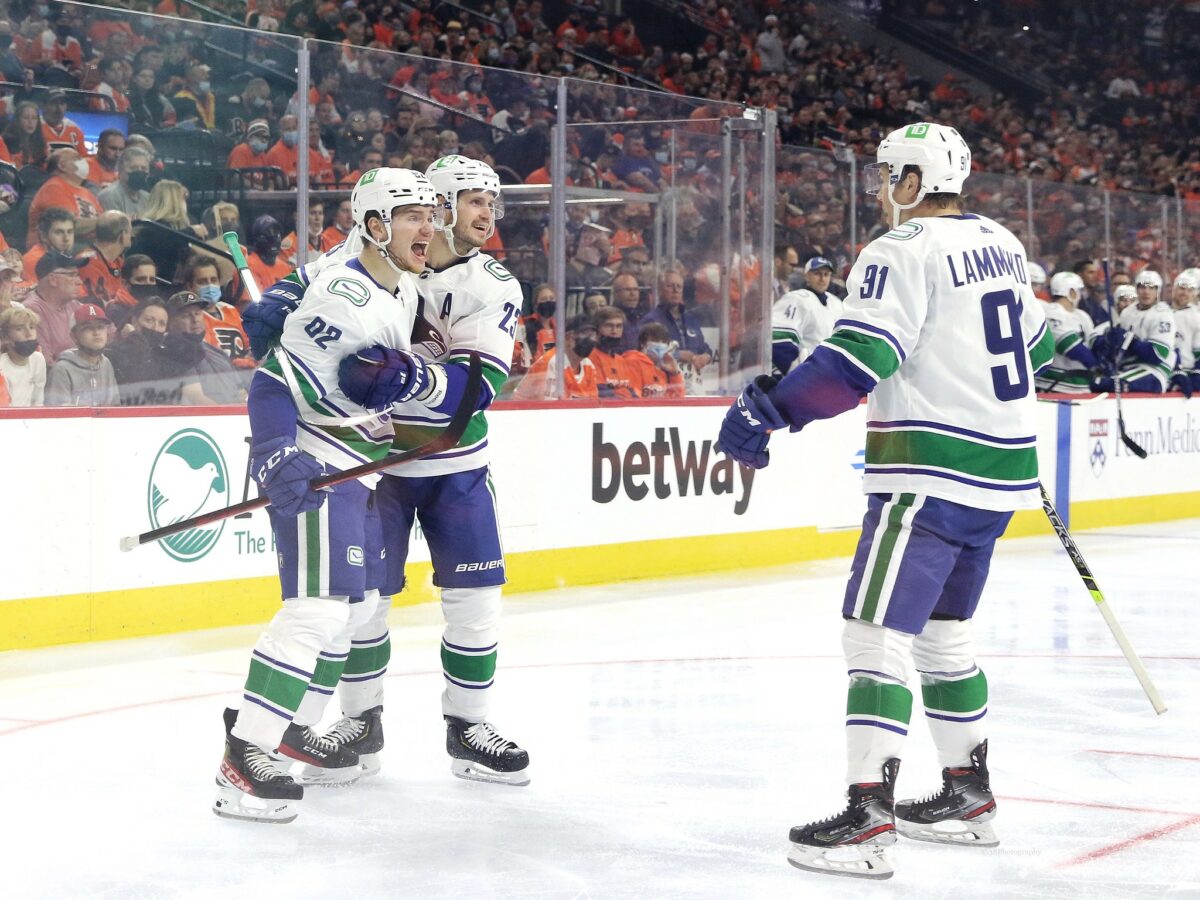 ---
Other Sections of The Hockey Writers
The Hockey Writers offers hockey news and insight packaged the way you like. From our morning newsletter, The Morning Skate, to our YouTube channel, you won't miss any hockey news. We also have a very deep archive of historical posts for the hockey history fan as well as podcasts for those who like listening. If you want to skip to only the 30 most recent headlines, we have a page for that too.
---