Welcome to The Hockey Writers Docs section where you'll discover our player pages, full of stats, history and awards. We also have detailed pages on drafts, awards, GMs, team histories and much more.
Here are our latest additions:
---
Today's Feature Article
The Toronto Maple Leafs and Detroit Red Wings are going to be interesting teams to watch in the offseason. Devin Little added to the intrigue with an article about a potential trade between the two teams involving Tyler Bertuzzi. Here is a snippet of the piece.
Maple Leafs Need Skill & Grit
It's no secret that the Maple Leafs don't really have a player that is the proverbial "pain in the butt" to play against. While they have loads of skill spread throughout their lineup, their most physical forward this season was 14-year veteran Wayne Simmonds. In his prime, he was the exact type of player Toronto needs today, but those years are long gone, and he has recorded just 25 points through 110 games with the Maple Leafs. What the Leafs need today is a player that can play in their top six, be a thorn in the opposition's side, and produce at a level that is befitting of that top six ice-time.
Enter Tyler Bertuzzi.
To read the rest of the article click here…
In the News
The Nashville Predators have signed head coach John Hynes to a 2-year extension.
The Tampa Bay Lightning have taken a 2-0 series lead over the Florida Panthers, while the St. Louis Blues have even their series at one game apiece against the Colorado Avalanche.
The Jack Adams Award finalists for coach of the year have been announced with Darryl Sutter (Calgary Flames), Andrew Brunette (Florida Panthers), and Gerard Gallant (New York Rangers) making the cut.
The Carolina Hurricanes and Calgary Flames each won to take 1-0 series leads against the New York Rangers and Edmonton Oilers, respectively.
Today's Pic of the Day
Matthew Tkachuk scored the first postseason hat trick of his career in the 9-6 barnburner of the Battle of Alberta on Wednesday (May 18).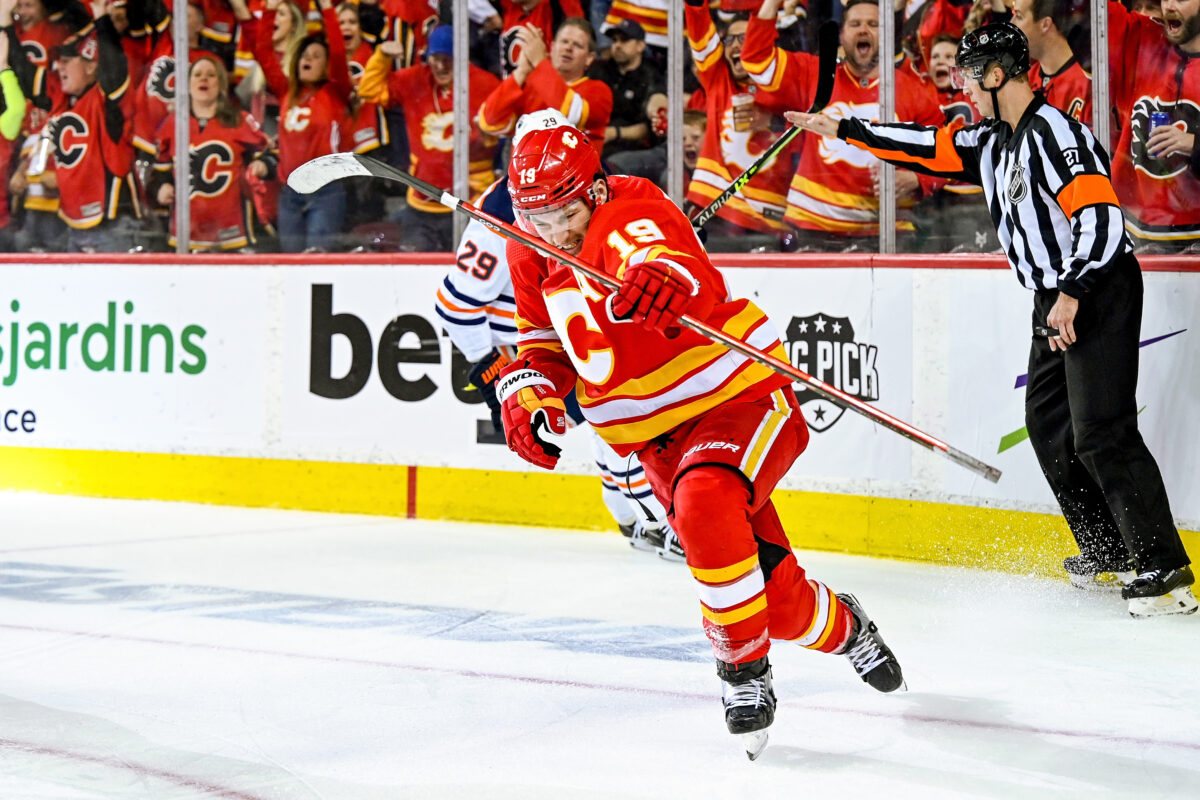 ---
Other Sections of The Hockey Writers
The Hockey Writers offers hockey news and insight packaged the way you like. From our morning newsletter, The Morning Skate, to our YouTube channel, you won't miss any hockey news. We also have a very deep archive of historical posts for the hockey history fan as well as podcasts for those who like listening. If you want to skip to only the 30 most recent headlines, we have a page for that too.
---